IQads organizeaza cea de-a patra editie a Atelierelor sub umbrela IQadsKadett, un program special de training si coaching dedicat tinerilor care isi doresc sa lucreze in publicitate. Editia de anul acesta va avea loc intre 12 si 21 august si este realizat cu sprijinul Grolsch, Proud Sponsor of the Experimentalists since 1615.
Programul permite unui numar de 25 de tineri, grupati in 5 echipe de lucru, sa interactioneze, timp de o saptamana, cu specialisti din domeniu, oameni de creatie si strategie care ii vor ajuta sa creeze o campanie de publicitate pornind de la brief-ul oferit de Grolsch.
"Scopul brandului nostru este de a provoca si inspira oamenii creativi si de a aduce spiritul experimentalist in lumea berii. La Ateliere ne dorim sa provocam inca o data si sa aducem in primplan experimentalismul made in romania", a declarat Andreea Munteanu (Grolsch).
Echipa de traineri si coachi implicati in proiect este formata din Andreea Munteanu (Grolsch), Andrei Tripsa (Creative Partner, Three), Bogdan Gheorghiu (Creative Director, HyperActive), Costin Radu (Managing Partner, The Geeks), Liviu Turcanu (Creative Director, Mercury360) si Stefan Chiritescu (Head of Planning, Graffiti BBDO).
Pentru a se inscrie in program, tinerii interesati trebuie sa trimita un e-mail la adresa Atelierele@IQadsKadett.ro cu urmatoarele informatii: datele de contact, CV-ul, campania de publicitate favorita si 3 motive pentru alegere, precum si o scrisoare de intentie care sa raspunda la intrebarea "In ce departament ti-ar placea sa lucrezi in cadrul unei agentii de publicitate?".
Inscrierile sunt deschise pana la data de 9 august 2011, in urma procesului de selectie fiind alesi 25 de participanti. Din acest numar, 5 locuri sunt rezervate membrilor IQads Kadett, primul program de talent scouting pentru industria locala de marcomm, initiat de IQads cu sprijinul Mercury360.
La finalul Atelierelor IQads Kadett, cei 5 membri ai echipei castigatoare vor avea sansa de a efectua un stagiu de practica de o luna in cadrul unora dintre cele mai importante agentii locale de publicitate.
Mai multe informatii despre program se afla pe site-ul Atelierele.IQadsKadett.ro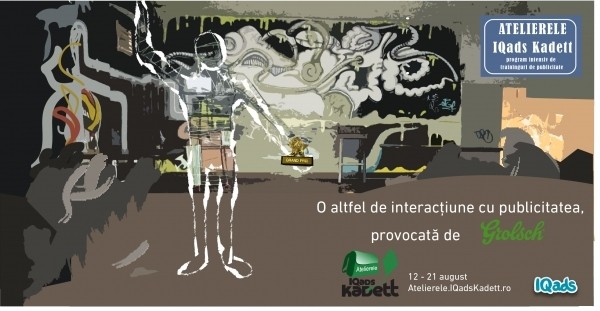 [UPDATE]: Proiectele IQads din zona educationala au fost trecute sub IQads Kadett.
IQads Kadett este proiectul care identifica si contribuie la formarea tinerilor talentati din Romania pentru a-i recomanda si directiona catre companiile (departamente de marketing, comunicare sau vanzari) si agentiile de comunicare (advertising, relatii publice, branding, cercetare de piata etc.) care isi doresc selectarea celor mai buni tineri profesionisti.
IQads Kadett face legatura intre mediul academic si industria de marketing si comunicare, oferind tinerilor sansa de a acumula argumente si experiente relevante in incercarea lor de a-si incepe cariera in zona comunicarii si marketingului.