Joi, 18 septembrie, start-up-ul romanesc The Pole Society va prezenta in premiera in America de Sud, in cadrul Brasil Signage Expo, prima solutie de advertising de pe mobil pe outdoor digital (DOH) din lume! Aplicatia The Pole, lansata acum un an in Romania, va fi disponibila publicului larg in Brazilia incepand cu luna octombrie a acestui an.
Solutia The Pole va putea fi testata in mod gratuit pe 18 septembrie in cadrul primei expozitii din Brazilia dedicate in exclusivitate solutiilor de afisaj digital. Publicul brazilian va putea transmite in timp real imagini create de ei cu ajutorul smartphone-ului, pe ecranele din aeroportul din Sao Paolo, pe tabletele disponibile in 100 de taxi-uri, precum si pe un totem aflat la eveniment.
The Pole este cea mai rapida si accesibila solutie pentru a distribui continut promotional pe ecranele digitale din centrul orasului, adresata in special business-urilor mici si mijlocii. Pasii sunt simpli: se descarca aplicatia The Pole, se incarca un poster deja existent sau se creeaza de la zero cu ajutorul unei palete de functii grafice si in cateva minute posterul este vizibil pe un ecran digital selectat din lista disponibila. Plata pentru spatiul media se realizeaza tot de pe dispozitivul mobil, cu ajutoul unui card de debit sau de credit, dintr-o interfata securizata. Intregul proces dureaza intre 30 de secunde si cateva minute, iar solutia este disponibila oricarui utilizator de smartphone care descarca aplicatia la nivel local si international.
"Premiera in America de Sud ne aduce cu un pas mai aproape de scopul nostru – cel de a conecta orasele si oamenii din intreaga lume cu ajutorul unei solutii de advertising la indemana oricui. Astfel, pentru prima oara, o pensiune din Romania va putea, de exemplu, sa-si promoveze serviciile pe un ecran outdoor din centrul orasului Sao Paolo, pentru a atrage turisti brazilieni", afirma Bogdan Savonea, co-fondator The Pole.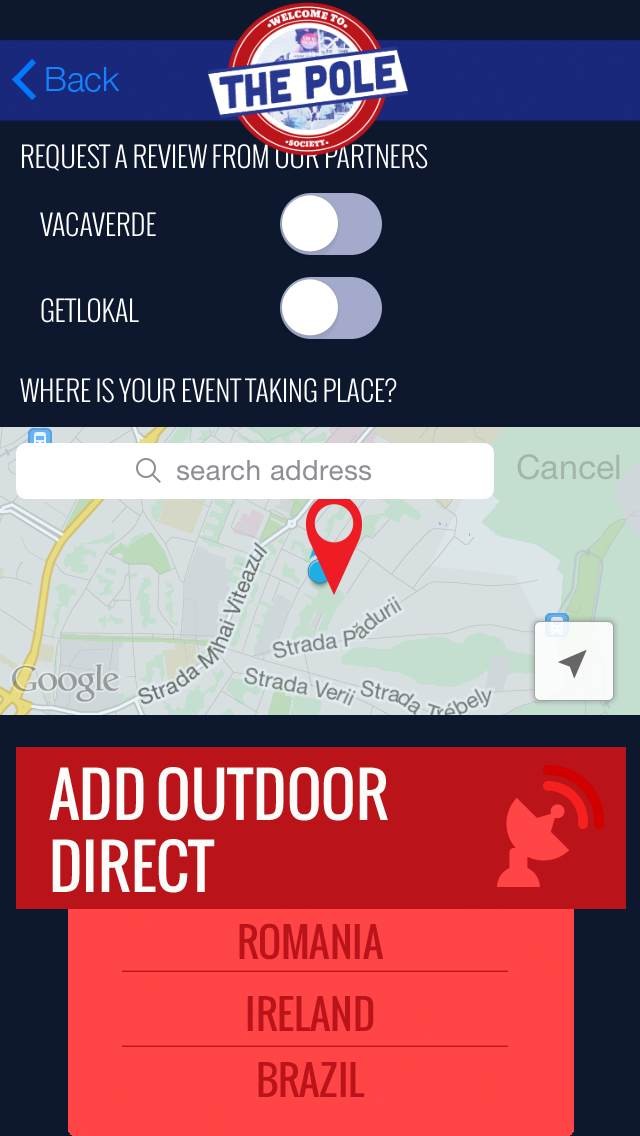 Partenerii cu care The Pole Society colaboreaza pentru evenimentul de lansare a aplicatiei in America de Sud sunt companiile braziliene YMIDIA si Comtecno. YMIDIA este una dintre cele mai inovatoare companii braziliene din domeniul solutiilor de afisaj digital indoor si outdoor. Comtecno are o experienta de peste 10 ani in domeniul Digital Interactive Media si a creat primul sistem din Brazilia, destinat turistilor, prin care acestia pot accesa o serie de informatii educative sau alerte legate de calatoria lor, cu ajutorul unor tablete instalate in taxi-uri.
Incepand cu luna octombrie, odata cu lansarea din Brazilia, aplicatia The Pole va primi un update care aduce imbunatatiri semnificative serviciului. Utilizatorii din toata lumea, inclusiv din Romania, se vor putea bucura de noi functii, precum posibilitatea de a cumpara bilete la evenimentele favorite direct de pe telefonul mobil, prin intermediul parteneriatului cu Bilet.ro.
Pentru moment, aplicatia acopera peste 40 de ecrane digitale in Bucuresti. Dupa lansarea din octombrie in Sao Paolo, The Pole are in plan extinderea in America de Nord si Asia.