13 startup-uri tech cu potential la scara globala au fost selectionate pentru a participa la cea de a doua editie a programului de pre-accelerare MVP Academy. In perioada 23 martie – 14 mai, acestea vor lucra la dezvoltarea produselor si vor forma conexiuni valoroase in industrie participand la workshop-uri practice, sesiuni de mentorat si alte activitati dedicate. Lista completa a echipelor finaliste este disponibila online pe site-ul programului.
Cele 13 echipe finaliste ale programului de pre-accelerare MVP Academy dezvolta produse in domenii precum securitate, comert online, comert mobile, analytics sau fashion tech si s-au remarcat prin experienta lor. Astfel, majoritatea startup-urilor au infiintat anterior alte companii sau sunt formate din profesionisti care au dezvoltat diferite initiative in tehnologie de-a lungul timpului.
Selectia finalistilor a fost realizata luand in considerare echipa si experienta acesteia, dimensiunea si tendintele actuale ale pietei, validarea utilizatorilor si costul de achizitie, tractiunea initiala, scalabilitatea si fezabilitatea produsului. Din juriu au facut parte Bogdan Iordache (Investment Manager, 3TS Capital Partners & Board Member, How to Web & TechHub Bucharest), Cosmin Ochisor (Business Development Manager, hub:raum, care a evaluat startup-urile din partea hub:raum si Telekom Romania) si Alex Negrea (Co-Fondator, docTrackr).
Startup-urile care vor participa la cea de a doua editie a programului de pre-accelerare MVP Academy sunt:
1. Accelerole: software de management care ajuta freelancerii si agentiile sa isi structureze sistemele de tarifare orara si sa isi gestioneze mai bine procesele interne;
2. Catwalk15: aplicatie mobila care ajuta utilizatorii sa primeasca sfaturi vestimentare si sa se inspire;
3. Clepsisoft CyberFog: solutie proactiva de securitate care deviaza atacurile cibernetice;
4. CloudHero: platforma de management si raportare care permite companiilor si persoanelor sa isi gestioneze mai bine infrastructura digitala si sa controleze costurile;
5. Conversion Network: software de marketing integrat care permite marketerilor afiliati sa isi dezvolte si scaleze afacerile fara efort, cu rezultate mai bune;
6. InnerTrends: solutie de web analitics care ajuta aplicatiile web si site-urile de ecommerce sa monitorizeze activitatea clientilor.
7. MyDog.xyz: platforma care pune in legatura stapanii de caini cu furnizorii de servicii si proprietarii de parcuri canine;
8. SafeDrive: aplicatie mobila care imbunatateste siguranta traficului rasplatind soferii care nu utilizeaza telefonul la volan cu puncte care pot fi apoi convertite in produse si servicii;
9. Seeds: platforma integrata pentru realizarea de chestionare, adresata celor care gestioneaza un volum mare de date;
10. Squady: platforma care ajuta utilizatorii sa descopere, sa creeze si sa se alature activitatilor sociale intr-o maniera simpla si intuitiva;
11. Swapr: aplicatie mobila care ajuta femeile sa faca schimb de haine in functie de locatie si preferintele vestimentare ale acestora;
12. SwipeTapSell: aplicatie care imbunatateste experienta cumparatorilor de pe dispozitive mobile si tablete, ajutand astfel magazinele online sa interactioneze cu clientii lor si sa isi mareasca rata de conversie;
13. Unloq: software care propune o noua modalitate de autentificare si autorizare a tranzactiilor care inlocuieste parolele cu dispozitive, oferind astfel utilizatorilor mai multa siguranta, simplu si gratuit;
MVP Academy este un program organizat in parteneriat cu Telekom Romania & Bitdefender, cu sprijinul CyberGhost, Raiffeisen Bank, hub:raum si Microsoft.
In perioada 23 martie – 14 mai, cele 13 echipe finaliste vor trece printr-un proces de pre-accelerare complex, adaptat pentru a corespunde nevoilor lor specifice, vor lucra la dezvoltarea produsului si vor invata cum sa acceseze oportunitatile existente pe piata globala. Toate acestea participand la workshop-uri practice, sesiuni de mentorat si coaching 1 la 1, pitching practice si alte activitati dedicate.
Pe parcursul celor 7 saptamani ale programului, startup-urile vor avea ocazia sa dezvolte conexiuni valoroase cu mentori cunoscuti si lideri din industrie, printre care se numara Jon Bradford (Managing Director, Techstars UK), Mike Butcher (Senior Editor, TechCrunch Europe), Alex Barrera (Co-Fondator, Tech.eu & Press42), Ivan Brezak Brkan (Editor, Netokracija), Olaf Lausen (Chief of CEO Staff & Business Development Director, Telekom Romania) sau Florin Talpes (CEO si Fondator, Bitdefender). Lista completa a mentorilor este disponibila online la, iar aceasta va fi actualizata periodic in functie de nevoile specifice ale echipelor participante.
In plus, echipele vor discuta cu reprezentanti au unora dintre cele mai cunoscute programe de accelerare la nivel international (Techstars, Startupbootcamp, Startup Wiseguys, Ignite 100 sau LAUNCHub), cu investitori de tip angel si fonduri de investitii early stage active in regiune (Early Bird, 3TS Capital Partners).
Programul de pre-accelerare MVP Academy se va incheia joi, 14 mai, cu Demo Day, eveniment in cadrul caruia startup-urile participante isi vor prezenta produsele si progresul inregistrat in fata audientei formate din investitori si lideri ai comunitatii profesionistilor in tehnologie la nivel regional, avand astfel ocazia sa demareze discutii pentru a incheia noi runde de finantare sau parteneriate strategice.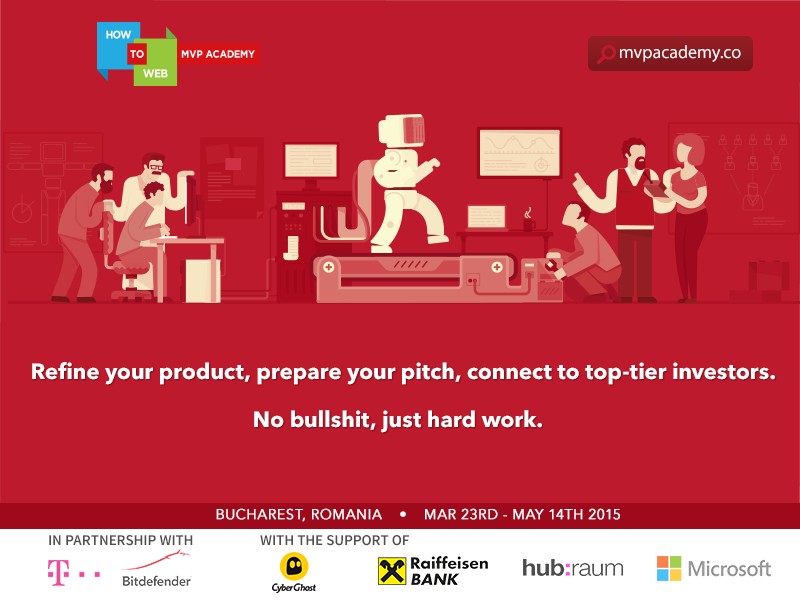 MVP Academy este un program realizat in parteneriat cu Telekom Romania & Bitdefender, cu sprijinul CyberGhost, Raiffeisen Bank, hub:raum si Microsoft. Mediatizarea programului este asigurata de F6S, Netocratic, CrunchBase, Entrepreneur Global, Digjitale, Entrepreneur.bg, Newtrend.bg, Startup Date, Traction Tribe, Times New Roman, Hotnews, Capital, Evenimentul Zilei, Romania Libera, Academia Catavencu, Yoda.ro, Incont.ro, Wall-Street.ro, Forbes Romania, Business24, Ziare.com, Business Review, Computer Games, Comunicatii Mobile, Computer World, PC World, Agora, Business Cover, Business Woman, Zelist.ro, Comunicatedepresa.ro, Trade Ads Interactive, Gadget Trends, Games Arena, Gadget Talk, Softlead, Today Software Magazine, startups.ro si IQAds.
MVP Academy se bucura de sustinerea comunitatilor partenere Romanian Startups, Romanian Game Developers Association (RGDA), Softbinator, ANIS, Cluj Hub, Cluj Co-Work, Professional Gamers League, Tabara de testare, comunitatea frontend din Romania, Akcees, Startup Weekend Romania, Startup Weekend Targu Mures, Startup Weekend Cluj, Girls in Tech Romania si Girls Who Code.