Joi, 24 septembrie, la Stejarii Country Club in Bucuresti, se va desfasura cea de-a 7a editie a conferintei Marketing in Direct - un eveniment devenit deja traditie in cercul specialistilor marcomm care aduce laolalta 13 nume de top din industrie. Impreuna cu specialistii si cei 250 de participanti se dezbate un subiect de mare interes, cautandu-se raspunsul la intrebarea "Marketing digital sau promotii offline?".
Printre invitati se numara Alexandru Israil, cel care in 2007 l-a intalnit pe Jay Conrad Levinson - parintele marketingului de gherila. Avandu-l ca mentor a colaborat la cartea "Guerilla Marketing Remix", alaturi de Jeannie Levinson.
"In Romania ultimilor 7 ani am intalnit antreprenori care au inteles importanta marketingului, au mizat pe el si au castigat. Nu e imposibil sa o faci, trebuie sa ai mentalitatea corecta si… putin curaj."
Conferinta MID de anul acesta il va readuce in fata participantilor si pe fondatorul agentiei de publicitate Creative Orchestra din Londra, Chris Arnold:
"We are all motivated by a good deal but the real key is understanding the audience and consumer psychology. Interestingly, the most effective marketing discipline online is promotional marketing."
Ne va fi alaturi si Laura Dragomir (Expert in comunicare si fondator Brainguys) care ne spune ca "una dintre asteptarile consumatorului este sa ii spui o poveste pe care sa o creada si sa-si doreasca sa fie parte din ea."
Andreea Munteanu (Managing Director Vivid Events) crede cu tarie ca "digitalizarea este cea mai mare transformare a timpului nostru, iar in prezent ponderea promotiilor offline este in scadere."
Subiectul acestei editii se va aborda si din perspectiva academica, asa ca Alin Angheluta (Lect. Univ. dr. al Dept. de Marketing ASE Bucuresti) il va indrepta in directia conceptelor teoretice:
"Promovare online vs. offline e o intrebare capcana. Pentru a avea succes pe termen lung este necesara construirea si dezvoltarea brandurilor, iar asta presupune, de obicei, o comunicare integrata de marketing."
Prezenti vor fi de asemenea si:
Marius Buiculescu

 (Managing Director Atip Design), care va sustine promotiile offline: "

In ultimii 22 de ani de antreprenoriat am adunat feedback-uri relevante pentru a fi expuse. Zilnic pun in practica ceva creativ pentru a rezulta un produs tangibil. Cand nimeresc si un asociator de brand confirmat, ma simt implinit.

"

Mugur Patrascu

 (Owner iLeo) care considera ca "

Digitalul este ca electricitatea. Este oriunde si tot ce trebuie sa faci este sa inventezi moduri noi de a o folosi

." 

Radu Cauc

(Parteners & Affliates National Manager Sodexo Romania).
Constantin Ferseta (General Manager Kuantero) va prezenta "10 invataminte faine din online" iar Stefan Iarca (Country Head POSSIBLE) va da prioritate continutului de calitate: "Continutul este in continuare Regele si trebuie sa il plasam in contextul potrivit. Tehnologia poate tine consumatorul in priza si cu zambetul pe buze atat online, cat si offline."
Din perspectiva creativilor va vorbi Vasile Alboiu (Chief Creative Officer Lowe Group) care este de parere ca "uneori e bine sa ne jucam cu seriozitatea lumii care ne inconjoara. Cine stie?! Poate intelegem mai mult.", in timp ce Raluca Dinu (Media&Advocacy Officer UNICEF) va sustine ca schimbarile sustenabile nu au neaparat nevoie de bugete impresionante:
"Poti sa faci bine si sa aduci valoare adaugata mobilizand angajatii, clientii si partenerii pentru ca toti isi doresc sa contribuie si sa beneficiaza de bunastarea comunitatii din care fac parte."
Mihai Nasaudean (General Manager Good Afternoon) va incheia editia de anul acesta analizand rezultatele din anii anteriori pentru a imbunatati viitorul plan de marketing:
"Ne pregatim pentru 2016. Analizam rapoarte si incercam sa dam sens cifrelor pe care multiplele platforme de publicitate digitala sau traditionala, mai mult sau mai putin programatica, ni le ofera."
Evenimentul va fi moderat de Mihaela Tatu (trainer acreditat ANC) alaturandu-se pentru al doilea an consecutiv conferintelor MID:
"Traind experienta Marketing in Direct de anul trecut, interesul meu fata de acest eveniment de networking si informare in acest domeniu, a crescut. Si asta pentru faptul ca este o arie a dezvoltarii societatii in continua miscare si evolutie. In contextul actual intrebari ca <Marketing Digital sau Promotii offline?> sunt firesti."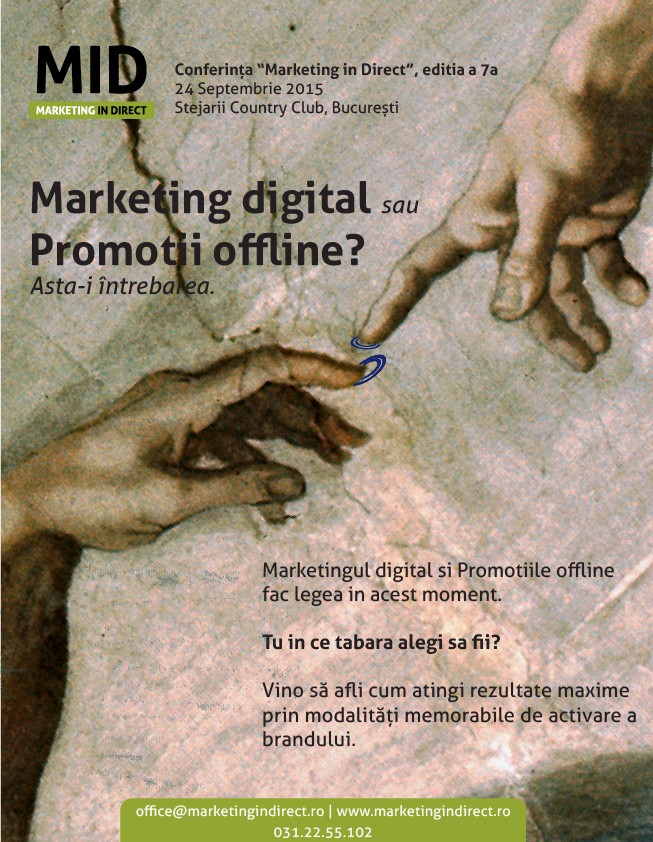 Sponsori: Continental Hotels, Rotta Natura, Sweet & Safe, Gerlinea, Sprinter Promotion, Digital Print, ProfiPrint, Giotto, Fleurartist, Zelist, Clausweb, Lista Firme, Touch Antibacterian, eSKY.ro, Budureasca, Ficosota, Topoloveni, Meli-Melo, Barilla, Sensiblu, Dormeo, Getts, Intersport, Rom autentic, Flormar, Land of tea, Remedia, Papioane.ro, Hollywood Multiplex, Good Afternoon.
Parteneri media: Institutul de Marketing, Marketing Focus, Marketing Romania, IQads, PR Wave, Radio Romania Actualitati, Forbes, markmedia.ro, brand4brands, Nine O'Clock, Business Review, Agerpres, Revista Cariere, Business Woman, Manager Express, Ziare.com, Business24, 9AM, Ordinea Zilei, Smart Financial, romanialibera.ro, Finzoom, Revista Biz, ROL, eva.ro, imedia, Calendar Evenimente, NewsUp, Casa mea, Learning Network, Salon TV, Blitz TV.