Progresiv – cea mai importanta revista dedicata comerciantilor din Romania - organizeaza anul acesta a 7-a editie Inspiro, sub tema umbrela "A play on buzzwords around the world".
Inspiro este un eveniment de o zi care se adreseaza oamenilor care vor sa isi lase amprenta asupra locului de munca, a colegilor si a societatii in care traiesc, celor carora le pasa, vor sa se dezvolte si sa se lase inspirati.
Asadar, marti 9 mai, sunt asteptati la Stejarii Country Club din Bucuresti toti cei care doresc sa-si schimbe lumea si care vor sa se inspire de la manageri si antreprenori curajosi care se iau la tranta cu prejudecatile.
Programul acestei editii este unul exceptional, aducand pe scena manageri plecati ca expati pe alte meleaguri, investitori care pariaza pe Romania de ani buni, tineri exponenti ai noii generatii de antreprenori, dar si speakeri motivationali de profesie de talie internationala.
Ei vor inspira audienta sa provoace schimbarile dorite prin puterea exemplului, sa comunice mai bine, sa redescopere vechile pasiuni, sa devina chiar ei o inspiratie pentru cei din jur.
Invitatul special este Tiffany Arnston – Founder of Rogue Matters,  o autoproclamata rebela care provoaca la o conversatie despre  #the new normal sau cum putem sa ne pregatim mai bine pentru viitor si cum putem gasi solutii pentru provocarile si oportunitatile vremurilor pe care le traim
Ceilalti speakeri care au confirmat prezenta la aceasta editie Inspiro, sunt: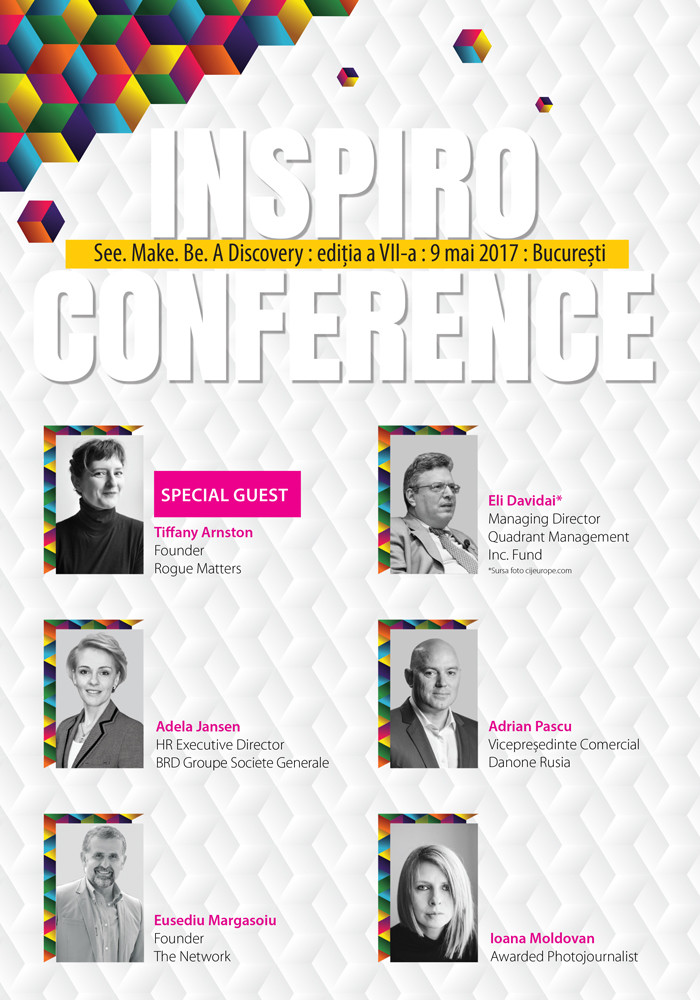 Isaac Sheps - Long Run CEO #leadership from theory to practice
Eli Davidai - Managing Director at Quadrant Management Inc. #destruction and innovation in business
Silviu Popovici – President PepsiCo Russia, Ukraine & CIS #work hard, play harder
Adrian Pascu – Commercial Vice-president at Danone Rusia #change in a virtuous circle
Dan Isai – CEO Salad Box #start-up everything
Eusediu Margasoiu – Founder of The Network #the romanian DNA
Adela Jansen - HR Executive Director at BRD Groupe Societe Generale Romania #the human element
Balvinder Singh Powar - Antreprenor & Profesor IE Business School ​#the power of words
Ioana Moldovan – Jurnalist si Fotograf Documentarist Freelance #beyond the bubble
Programul si mai multe detalii despre Inspiro pot fi gasite pe site-ul evenimentului.
Evenimentul este sustinut de Orkla Foods Romania, HL Display, Ursus Breweries, Unilever, Agricola, Ad Production, Haagen Dazs, Aqua Carpatica, Domeniile Samburesti si Almdudler in calitate de sponsori si de partenerii media Forbes, rappel des titres, Blitz TV, IQads si SMARK. Knowledge Partener este IE Business School, iar Adrenaline Provider este Academia Titi Aur.
Inspiro Conference a reunit, la primele 6 editii, peste 1500 de participanti cu functii de middle management. 96% dintre participanti considera evenimentul util si foarte util pentru dezvoltarea lor personala, iar 87% intentioneaza sa revina si la alte editii.