Înscrierile la Startup Spotlight 2018, principala competiție dedicată antreprenorilor și start-up-urilor tech din Europa Centrală și de Est, găzduită în cadrul Conferinței How to Web, debutează pe 20 septembrie. Printre premiile acordate se numără standuri de expozant și acopererirea costurilor de participare la TechCrunch Disrupt Berlin 2018, precum și carduri de membru VIP al celei mai mari comunități de start-up-uri din lume, F6S.
Competiția Startup Spotlight este deschisă start-up-urilor tech early stage, cu o vechime maximă de 5 ani și care nu au obținut mai mult de 1 milion de euro în finanțări. Pot participa antreprenori atât din România, cât și din restul țărilor din Europa Centrală și de Est. Cei interesați își pot înscrie ideile pe website-ul evenimentului până joi, 1 noiembrie, urmând ca juriul să aleagă 20 de start-up-uri care vor avea șansa să-și prezinte proiectele pe scena evenimentului How to Web, în perioada 19-20 noiembrie. Cei 20 de antreprenori talentați vor fi pregătiți pentru runda finală de o echipă de mentori recunoscuți în industrie. De-a lungul celor două zile de prezentări, juriul și un panel format din oameni de afaceri experimentați va analiza proiectele celor 20 de finaliști și va anunța câștigătorii competiției în încheierea Conferinței.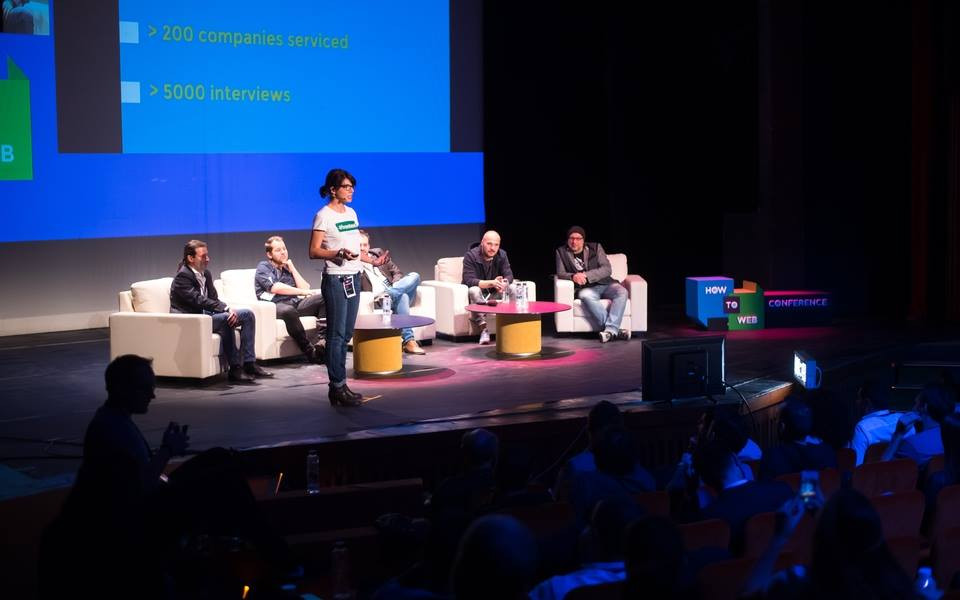 Câștigătorii categoriilor Best Startup, Best Pitch și Best Innovation vor fi răsplătiți prin prezența la TechCrunch Disrupt Berlin 2018, una dintre cele mai importate conferințe de tehnologie din Europa, în calitate de expozant. Fiecare dintre cei 20 de finaliști va primi un card de membru VIP F6S (F6S este cea mai mare platformă de start-up-uri la nivel global, cu peste 1 milion de antreprenori tech și 800.000 de start-up-uri înscrise)  – Alpha Card – care îi oferă deținătorului acces gratuit la beneficii în valoare de până la 1 milion de dolari pentru dezvoltarea propriului business. Organizatorii How to Web vor acorda alte două premii surpriză, care vor fi anunțate în perioada următoare.
Juriul Startup Spotlight 2018 este format din Rene Schob, Head of Technology Steering Committee KPMG și co-președinte al juriului, Bogdan Iordache, Fondator How to Web, co-președinte al juriului, Radu Georgescu, Founding Partner Gecad Ventures, Luciana Lixandru, partner în fondul de investiții Accel (Londra), Mihai Rotaru, antreprenor și investitor (ex-Clever Taxi), Marvin Liao, Partener 500 Startups.
Investitorii și mentorii implicați în program până în acest moment sunt Jon Bradford, Founding Partner Motive Partners și co-fondator F6S, David Bizer, fondator și CEO Talent Fountain, Rumen Iliev, Partener LAUNCHub, Carmen Sebe, Partener Gecad Ventures, Valentin Radu, fondator și CEO Omniconvert, Dimitris Kalavros-Gousiou co-fondator și General Partner Velocity.Partners, Dan Mihaescu, Founding Partner GapMinder Venture Partners, Ana Maria Andronic, Head of IP Practice & Technology DLA Piper Romania, Ondrej Bartos, Partner & Chairman of the Board Credo Ventures, Dan Lupu, partener Earlybird Venture Capital, Cristian Munteanu, Managing Partner Early Game Ventures.
Printre foștii câștigători și participanți ai competiției Startup Spotlight se numără TalentBrowse – platformă online de recrutare, TypingDNA – securitate digitală, Scooterson – mobility, Omniconvert (inițial denumit Marketizator) – platformă online de optimizare a ratelor de conversie, Incrediblue – platformă online de închiriere yachturi, Mavenhut – gaming, Green Horse Games – gaming, Retargeting – platformă online de marketing, Symme3D – bioprinting 3D.
Startup Spotlight este organizat în parteneriat cu KPMG Romania - Startup Growth Partner al How to Web  și cu sprijinul Bitdefeder, UiPath, Gecad Ventures, F6s și Amazon AWS.
How to Web a fost lansat în 2010 și a devenit rapid unul dintre cele mai importante evenimente de tehnologie din Europa Centrală și de Est. Începând din acest an, conferința intră sub umbrela ANIS – Asociația Patronală a Industriei de Software și Servicii. Cele șapte ediții How to Web derulate până în prezent au adus laolaltă peste 5000 antreprenori, investitori și profesioniști din industria de tehnologie și a sprijinit prin intermediul programului Startup Spotlight un număr de 200 de start-up-uri.
20 ani de activitate în România. Înființată în anul 1998, ANIS reprezintă interesele companiilor IT românești și sprijină dezvoltarea industriei locale de software și servicii, creșterea atât a companiilor implicate în proiecte de externalizare, cât și a celor care generează proprietate intelectuală, prin crearea de produse.
Peste 130 de membri. În cadrul ANIS sunt reunite atât companii cu capital românesc sau străin, mici sau multinaționale, cu sedii în toate marile centre IT din țară, ceea ce asigură asociației reprezentativitate la nivel național.
Peste 38.000 de angajați. Membrii ANIS generează un număr semnificativ de locuri de muncă înalt calificată în societate.
Peste 2,5 miliarde de euro cifra de afaceri. Veniturile anuale cumulate ale membrilor, plasează ANIS în zona actorilor cheie în ceea ce privește amprenta economică în plan local.