Evenimentul de business al anului revine la Cluj în 10 – 11 iulie 2019. Cluj Business Days 2019 aduce în capitala de business a Transilvaniei peste 100 de experți de renume național și mondial care vor susține 50 de manifestări organizate în jurul a câtorva domenii de maxima actualitate:  Antreprenoriat, Management, HR, Leadership, Vânzări, Marketing, Digital, Strategie.
Cei mai cunoscuți experți din mediul de business românesc și invitați din străinătate aduc la Cluj peste 18 ani de experiență în lucrul cu marile companii și antreprenori în diferite stadii de dezvoltare, precum și teme actuale, de maxim interes: economia circulară, transformarea digitală a companiilor, Inteligență Emoțională în business, trenduri în business, noi tehnologii care modelează afacerile sau cum arată liderii viitorului.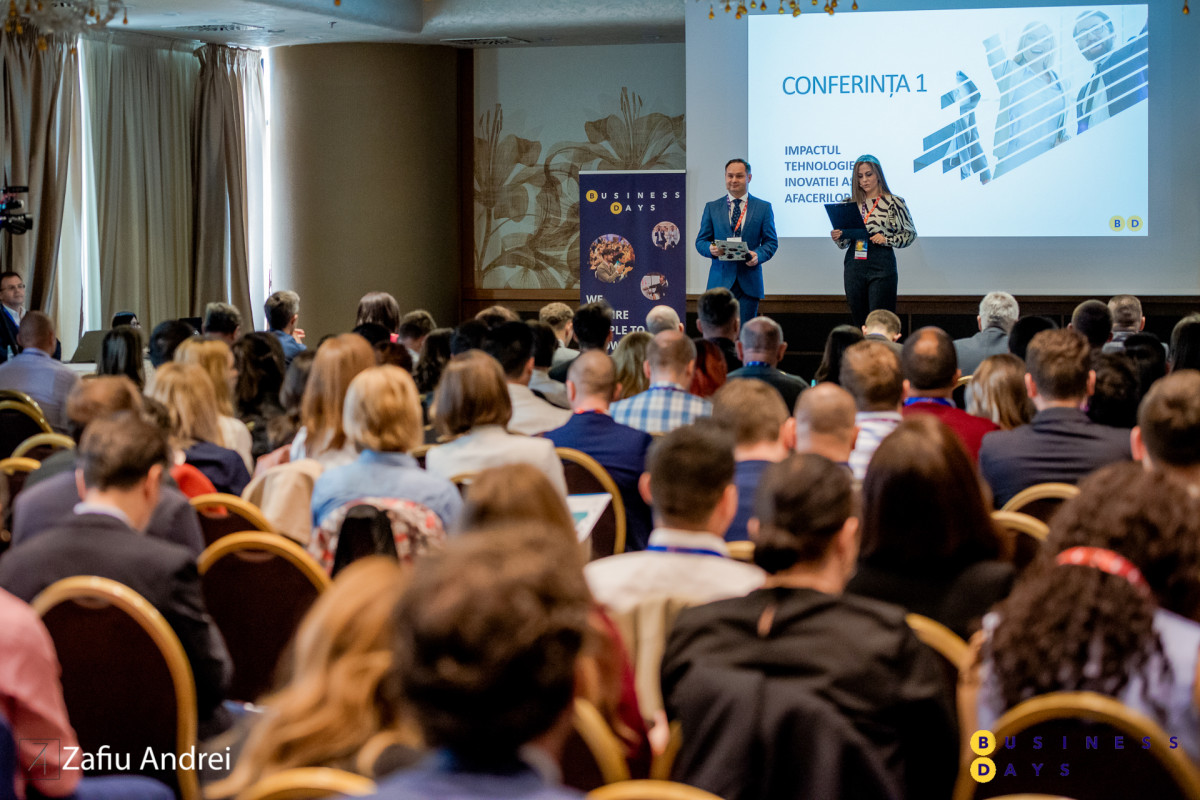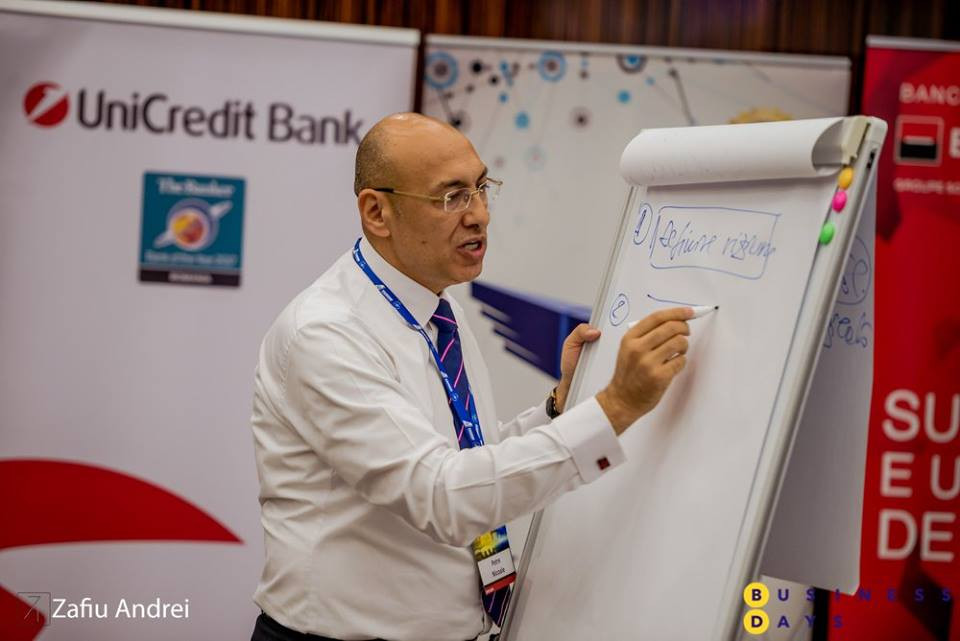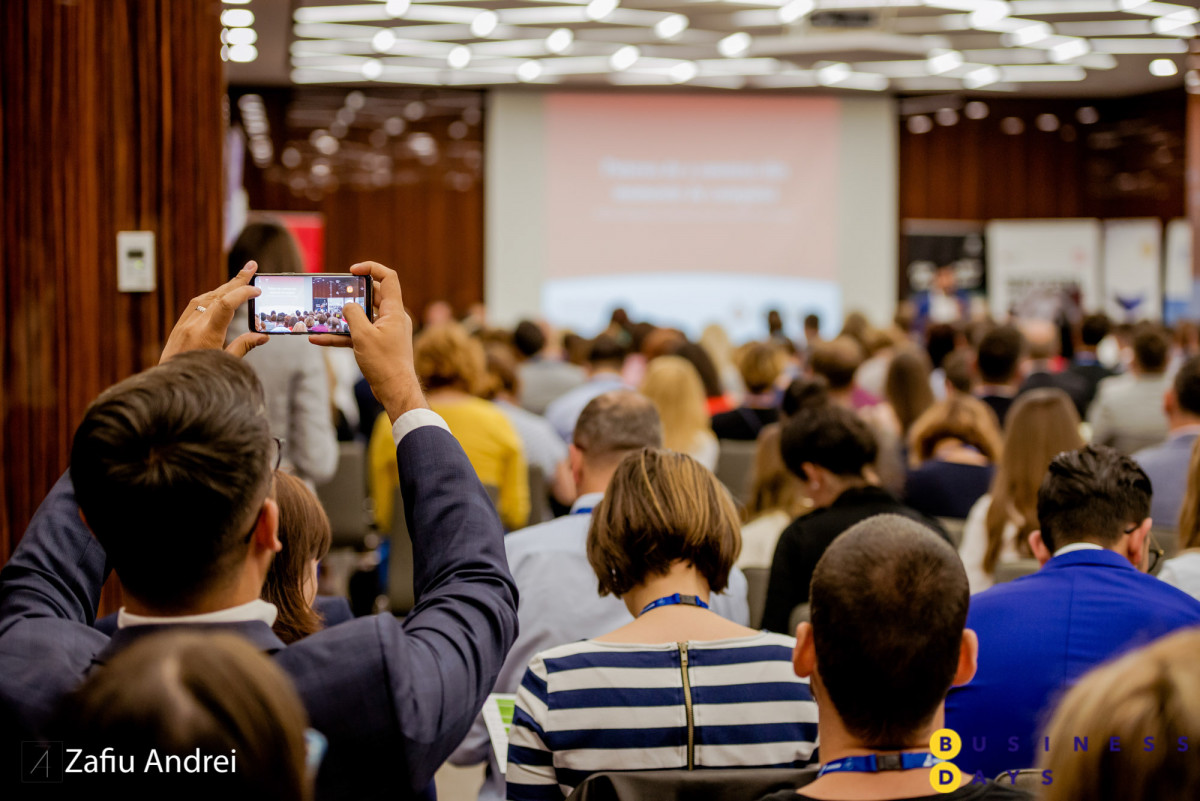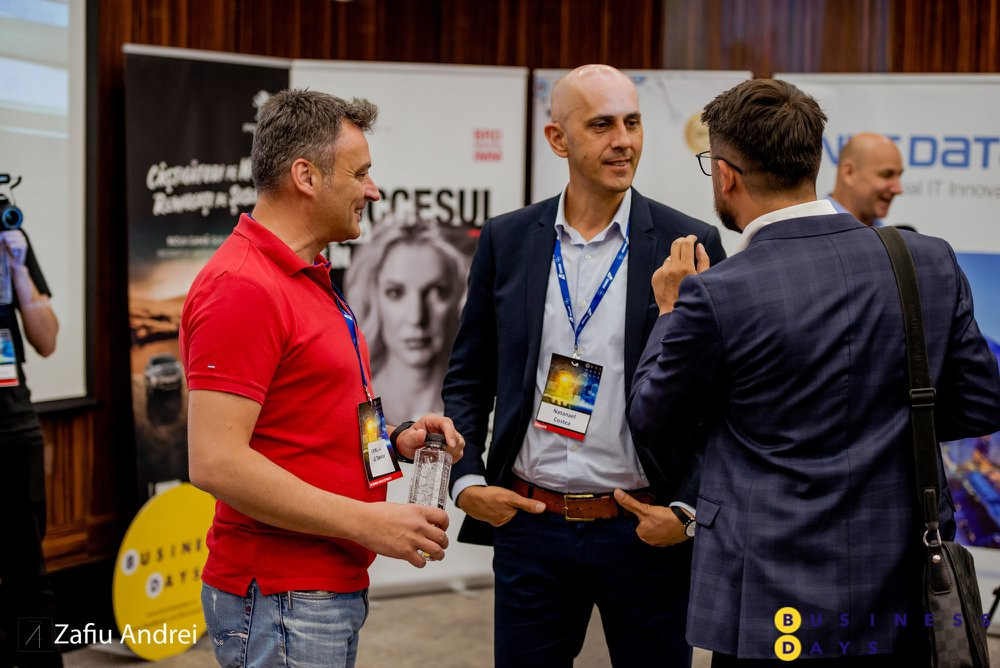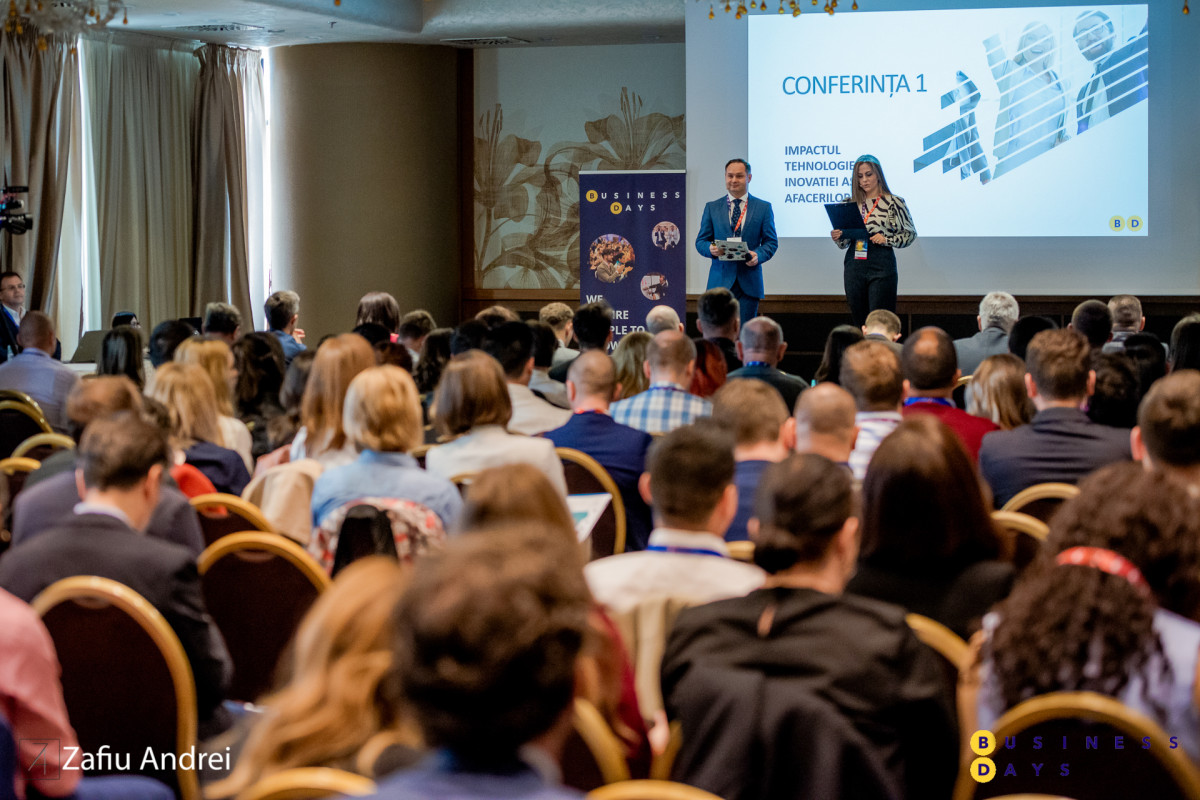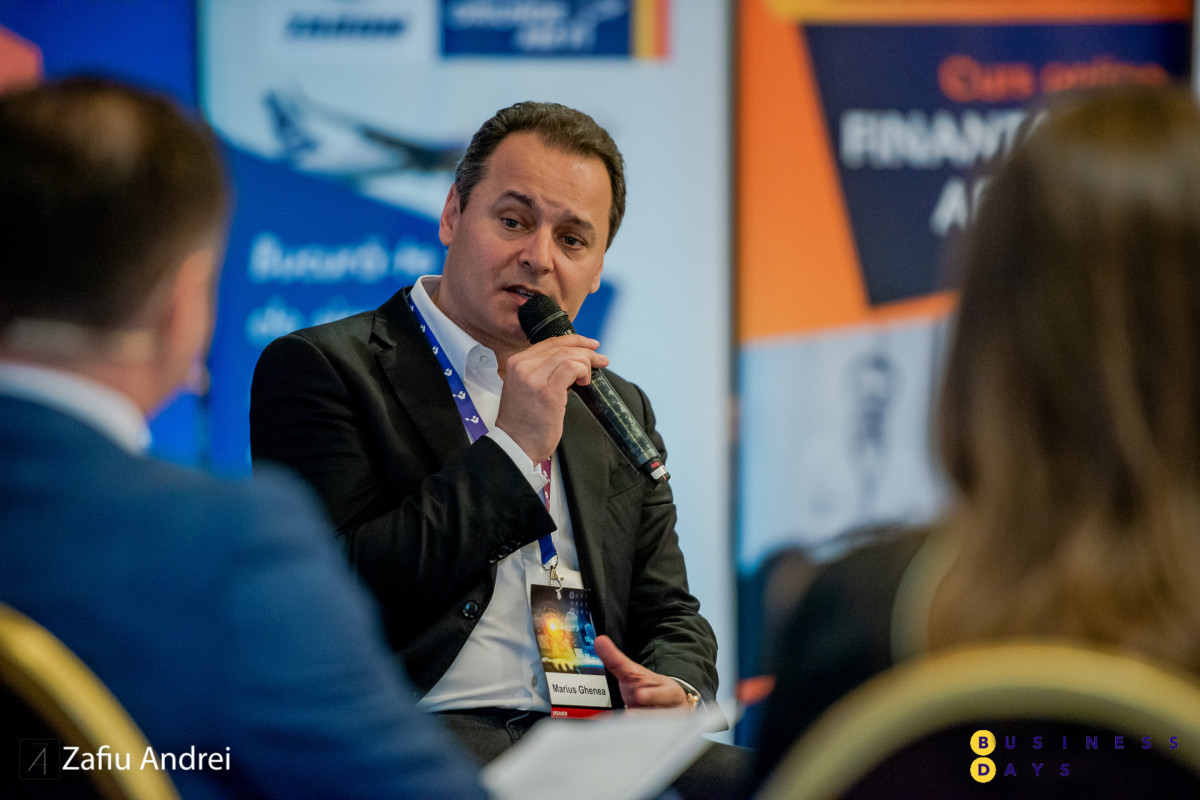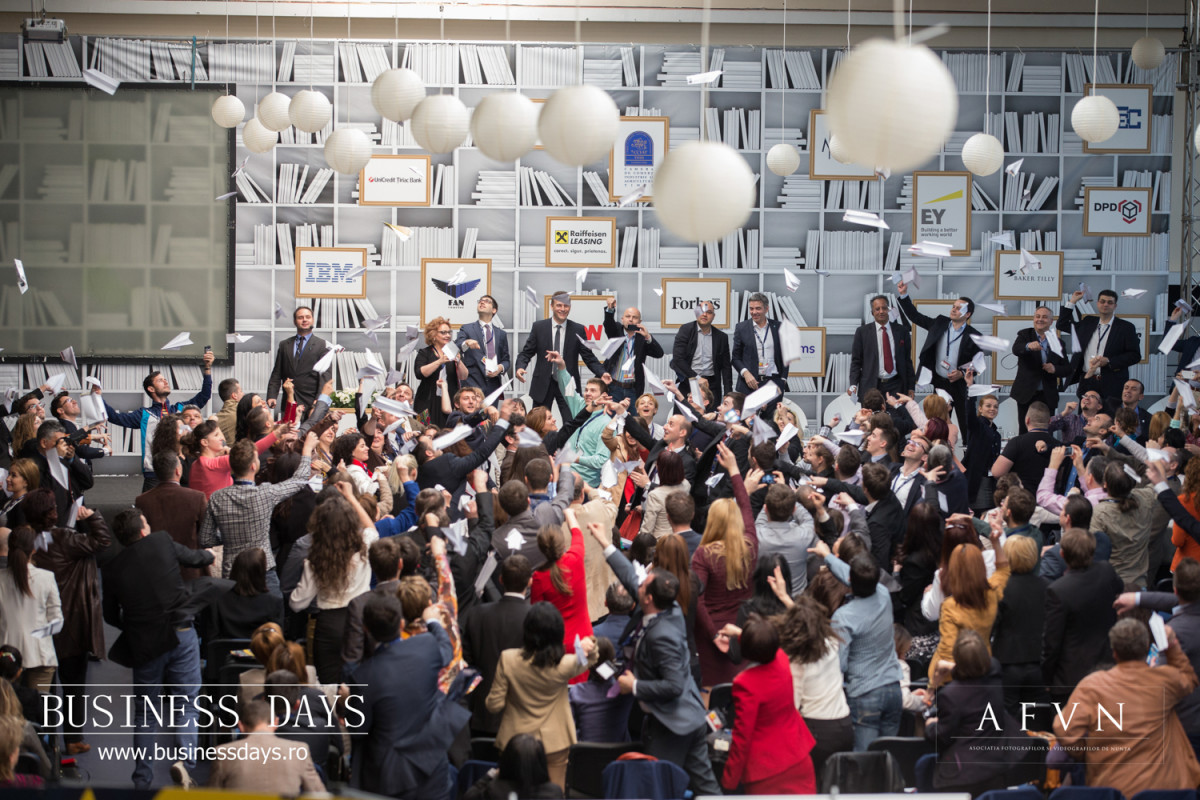 Experți de success din Elveția și Australia la Cluj Business Days 2019
Cluj Business Days aduce în cel mai dinamic oraș din România antreprenori, manageri și profesioniști cu peste 18 ani de expertiză acumulată în leadership, strategie, vânzări, resurse umane, online marketing, comunicare integrată și employer branding, finanțarea afacerii, internationalizare, marketing de produs, diferentierea prin inovatie  care vor livra  conținut relevant adaptat pentru  toate industriile de business din Ardeal.  Astfel,  cei 700 de participanții vor avea ocazia unică de a interacționa cu experți si specialist de talie mondială ca Stephen J. Wright (Elveția) sau Natanael Costea (Australia) , dar si cu experti si antreprenori de success ca Marius Ghenea, Dragoș Anastasiu,  Dan Mocanu, Petre Nicolae, Andreas Fulhman , Alexandru Cernatescu, Mihai Bonca, Silviu Hotaran, Sergiu Negut,  Sorin Faur, Mihaela Muresan,  Bogdan Putinica, Voicu Oprean, Cristian Logofătu, , Ovidiu Toader, Adrian Cioroianu,, Dan Berinde, Mihaela Stroe, Elena Badea si multi altii.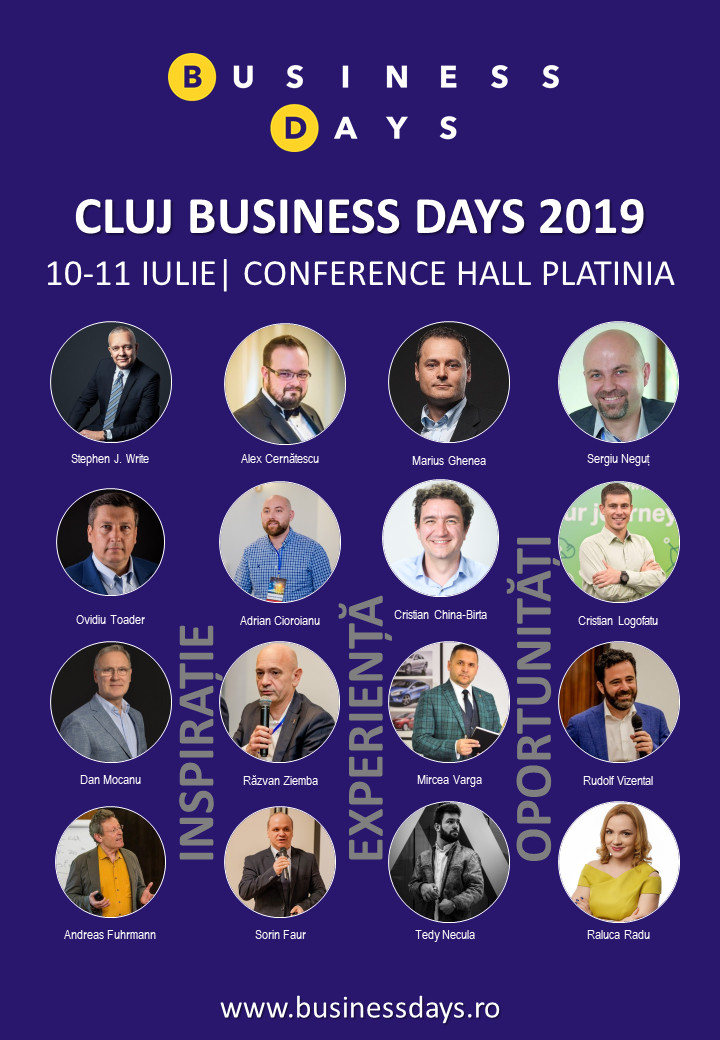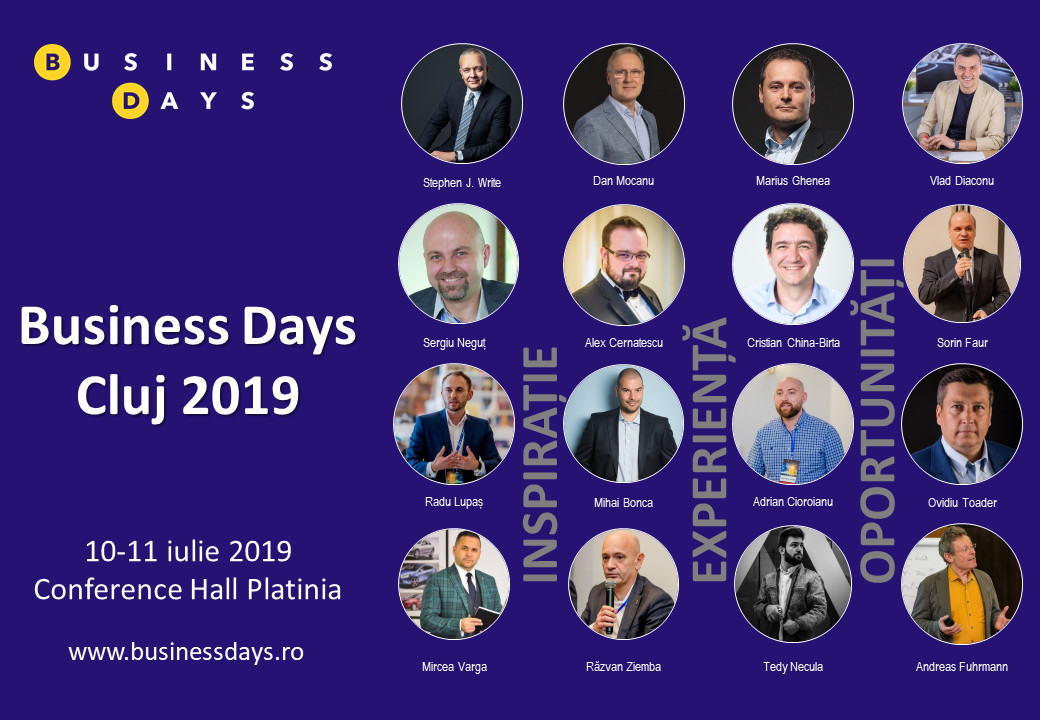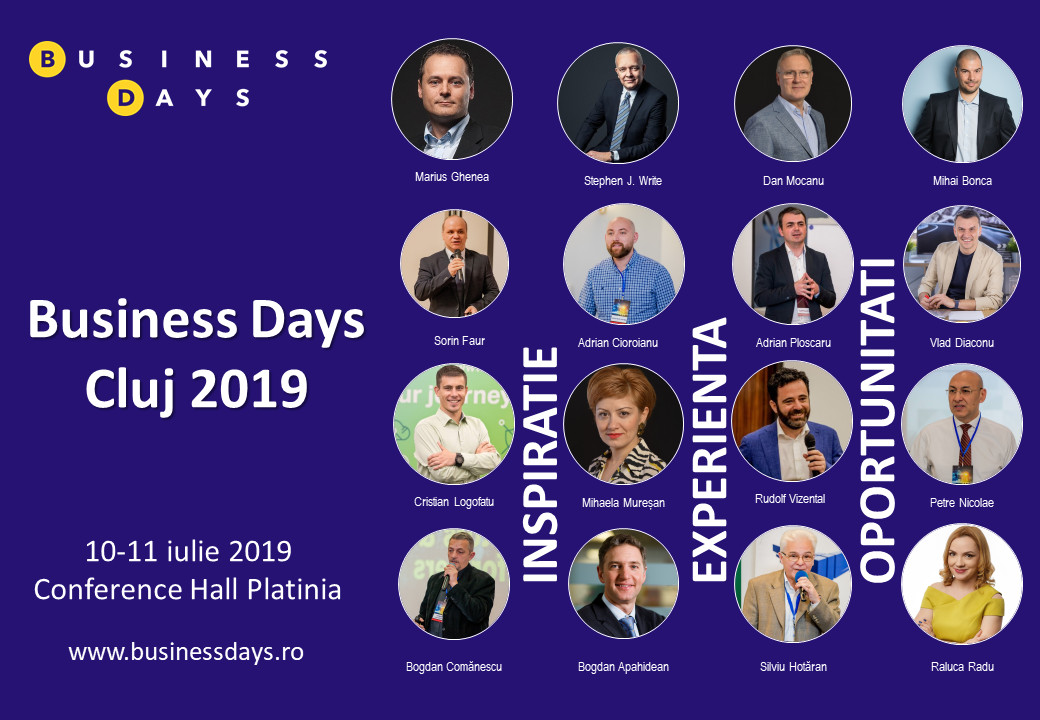 Stephen J. Wright, unul dintre cei pasionați de ideile care schimbă jocurile, a lucrat în ultimii 20 de ani cu mari companii din Elveția care au ajuns modele de succes și au fost achiziționate de giganți mondiali și a fondat World Innovation Forum. Stephen transformă companiile în modele de afaceri de succes, care se bazează pe valoare organizațională și de client durabilă, punând accentul pe strategiile digitale și circulare pentru creșterea afacerii, satisfacția clienților și excelența operațională. El aduce la Cluj Business Days două subiecte de maxim interes: Inteligența Artificială & tehnologii care schimbă afacerile și economia circulara (tipul de economie care se află acum pe buzele tuturor marilor specialiști în business din lume, o alternativă viabilă la economia tradițională).
Natanael Costea vine din nou la Cluj cu o temă de actualitate: Inteligența Emoțională în business. Dr. Natanael Costea și-a început cariera în 1997 și și-a extins dezvoltarea profesională în leadership training, coaching și business education. Experiența lui Nataniel Costea cuprinde șapte ani de lucru în cadrul Australian Federal Government, 15 ani de antreprenoriat și management și peste 12 ani de coaching și training de business și leadership coaching and training.
Cluj Business Days 2019, răspunsuri la nevoile si provocarile  oamenilor de business din Ardeal
Care sunt principalele nevoi  si provocări ale oamenilor de business din Ardeal? Unde își concentrează cel mai mult energia, timpul și resursele pe parcursul unei zile? Acestea sunt doar două dintre întrebările la care vor răspunde participanții în cadrul manifestărilor  la Cluj Business Days 2019. Iar experții din cele două zile de eveniment vor aduce răspunsuri  și soluții în cadrul  celor 18 workshop-uri și  4 masterclass-uri ce vor avea drept teme centrale pe subiecte precum motivarea angajaților prin accelerarea performanțelor, construirea de echipe performante, diferențierea prin inovație marketing de produs  si multe atele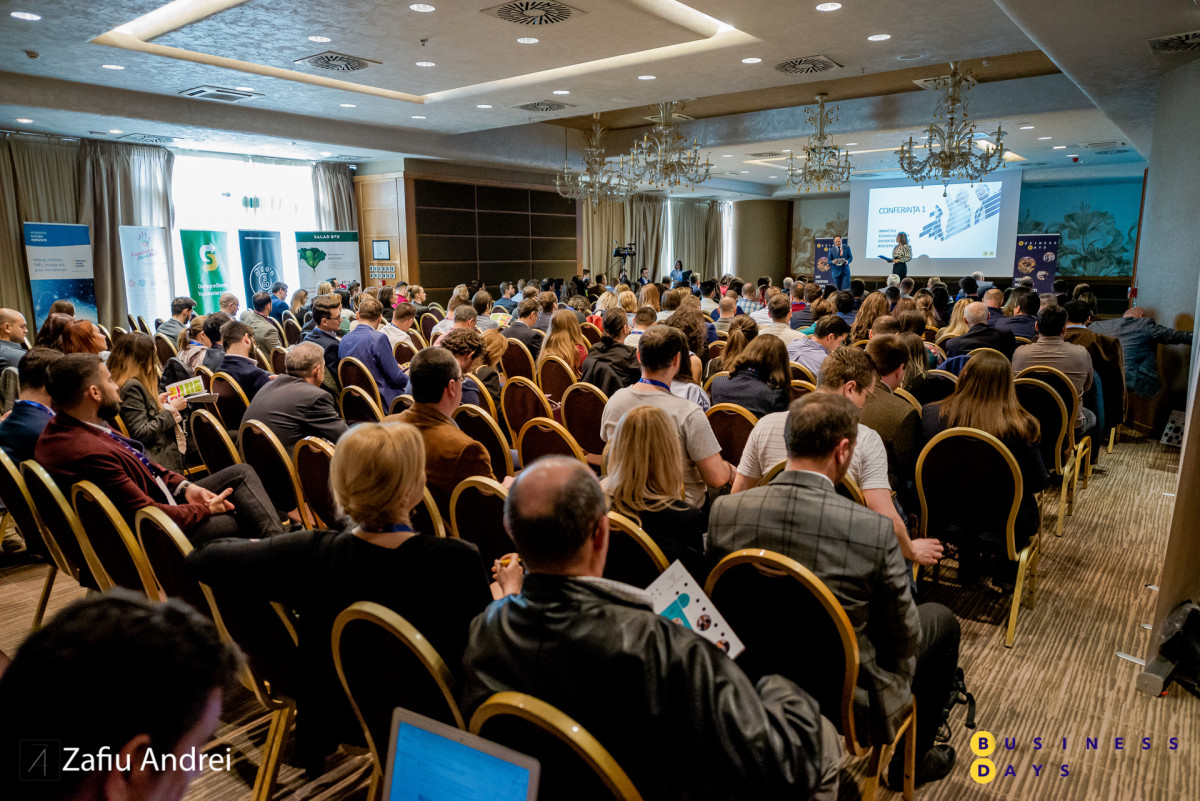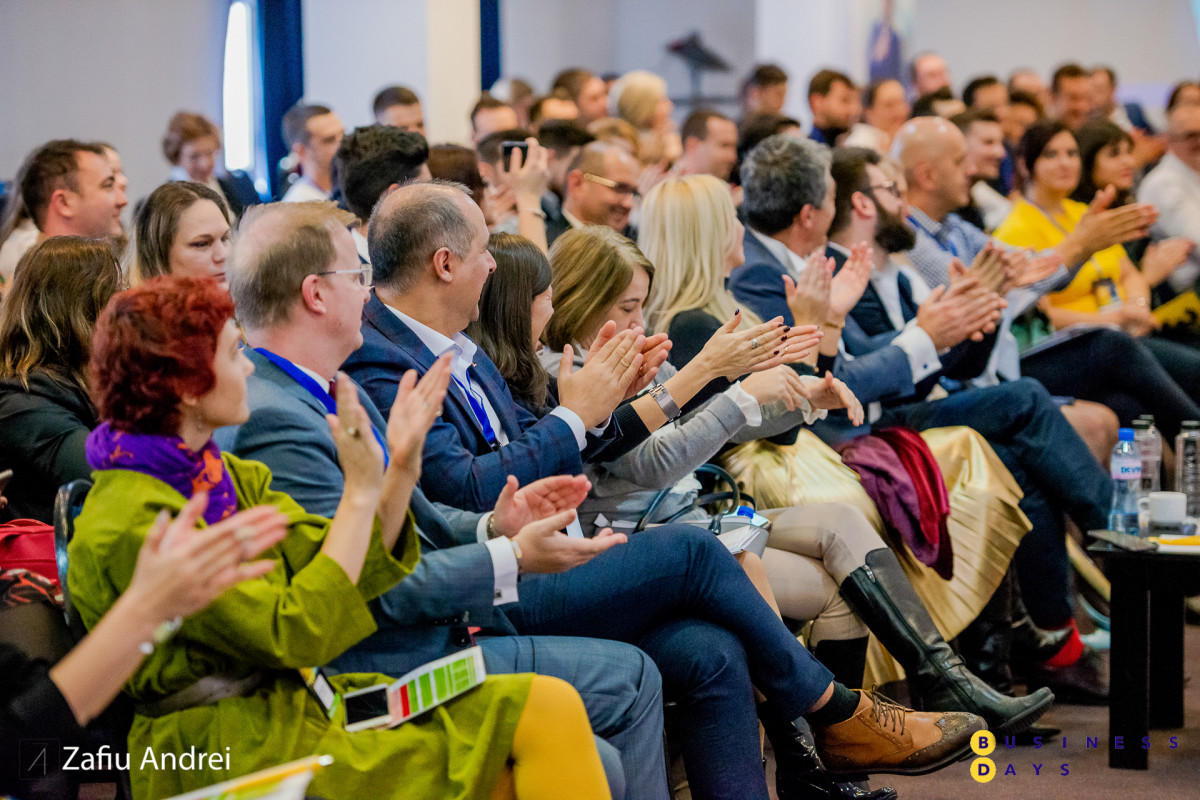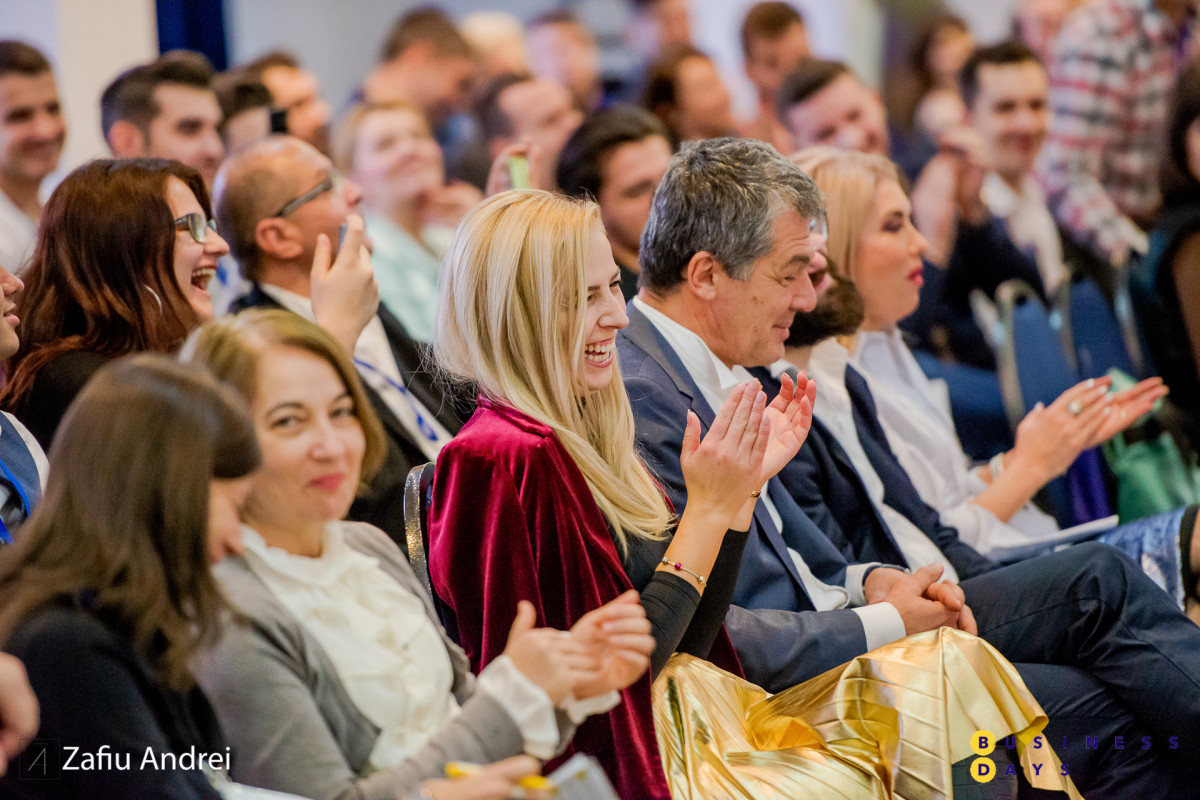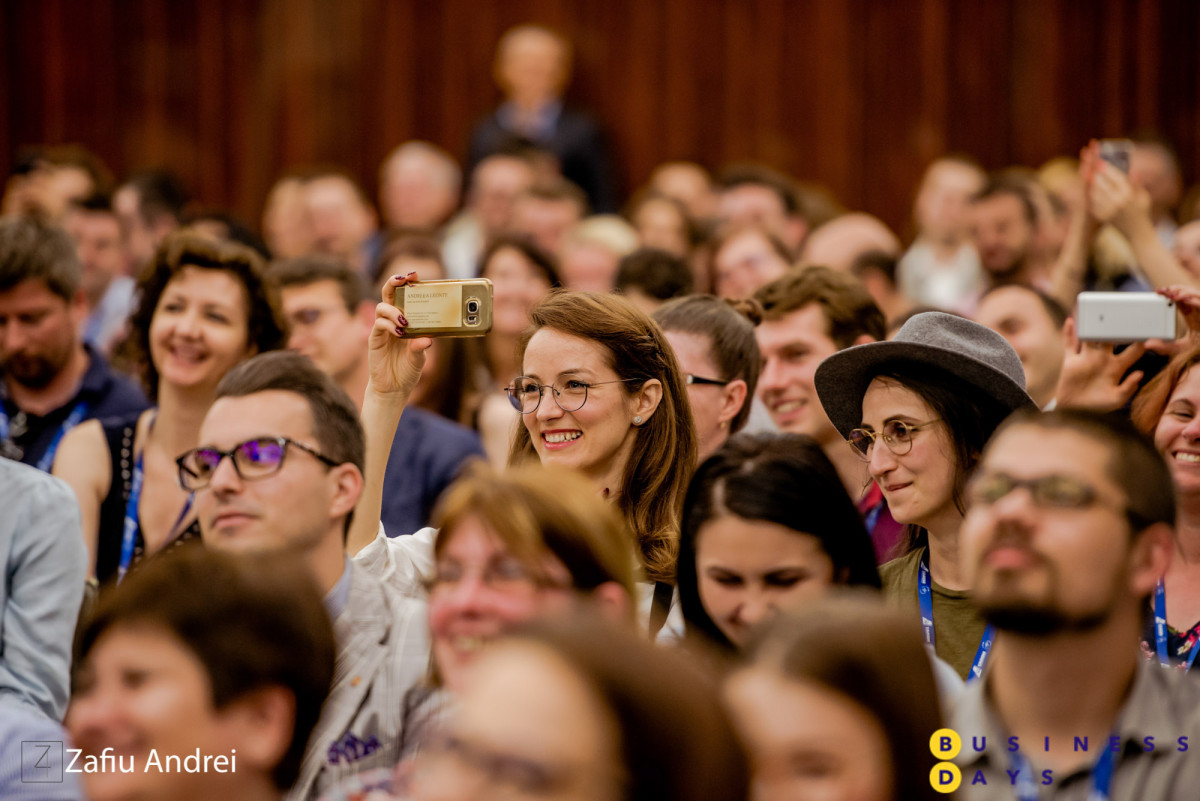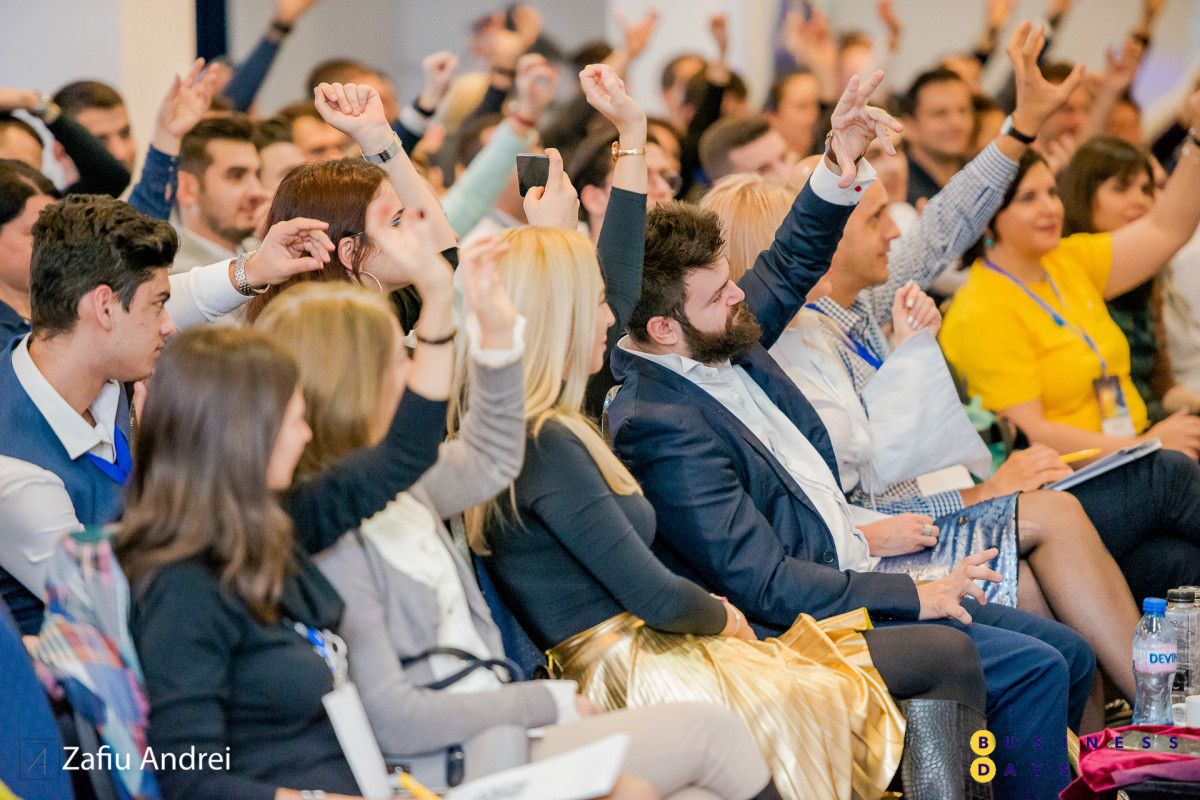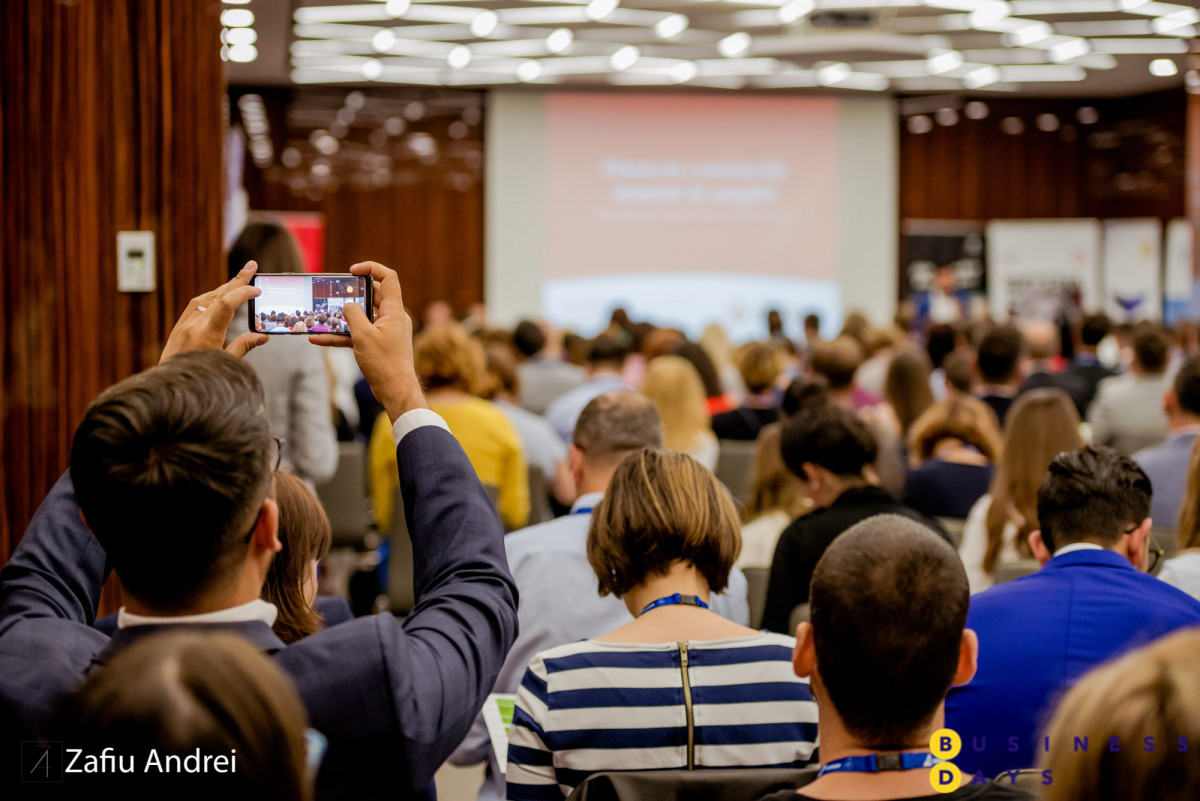 De ce Cluj Business Days 2019
Participarea la Cluj Business Days 2019 le va aduce oamenilor de business din Ardeal nu doar informații de maxima actualitate și răspunsuri la întrebări și probleme din activitatea de zi cu zi, ci și posibilitatea de a dezvolta relații de afaceri, de a genera parteneriate si oportunități de afaceri. Însă cel mai important beneficiu este legat de faptul că toți experții prezenți în cele două zile de eveniment le vor oferi participanților o serie de livrabile concrete, utile, moderne și aplicabile încă de a doua zi: ghiduri, metodologii complete, mecanisme, sisteme, instrumente de lucru, softuri de organizare și planificare a unui departament/afacere și o suită de recomandări și referințe unde cei care doresc pot aprofunda temele dezbătute în cadrul sesiunilor.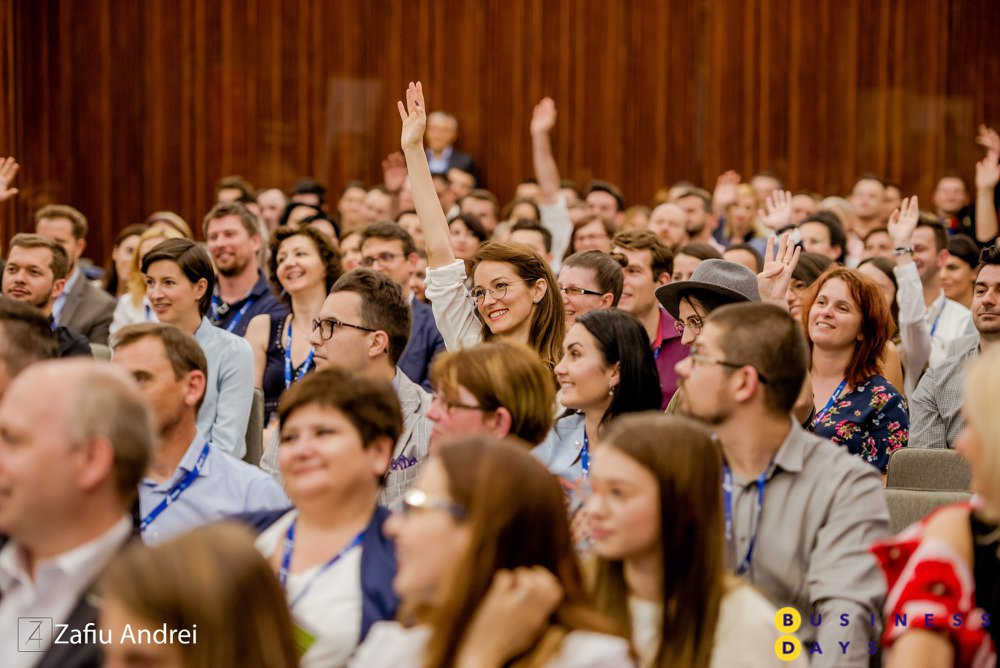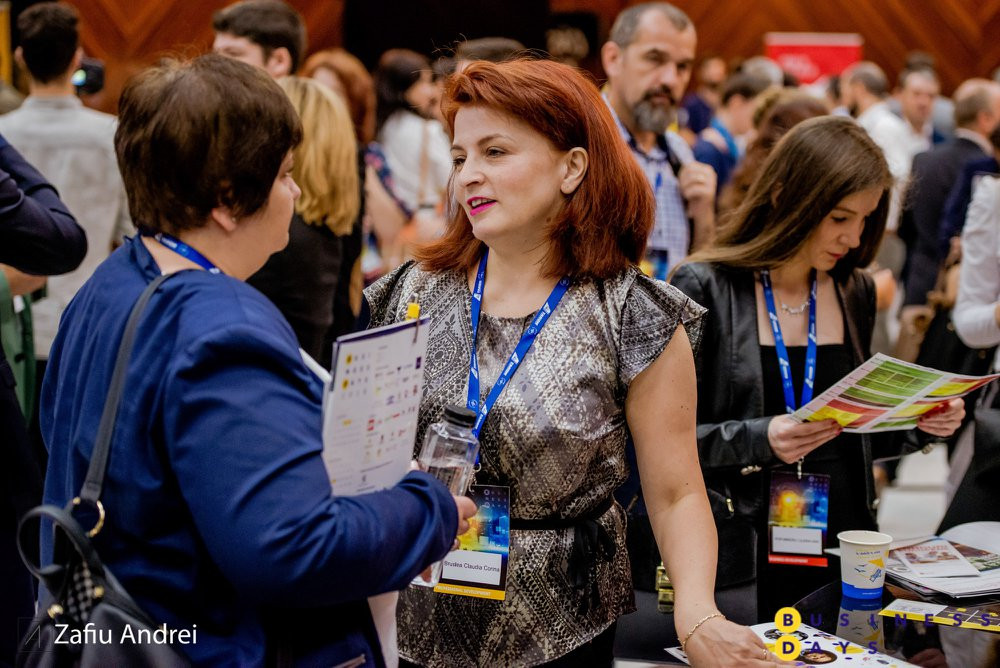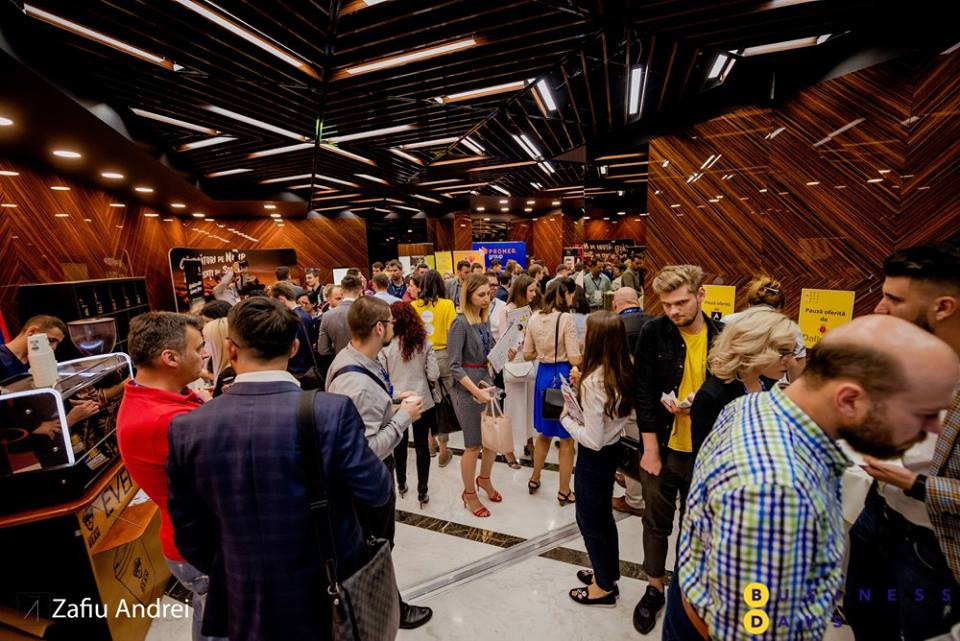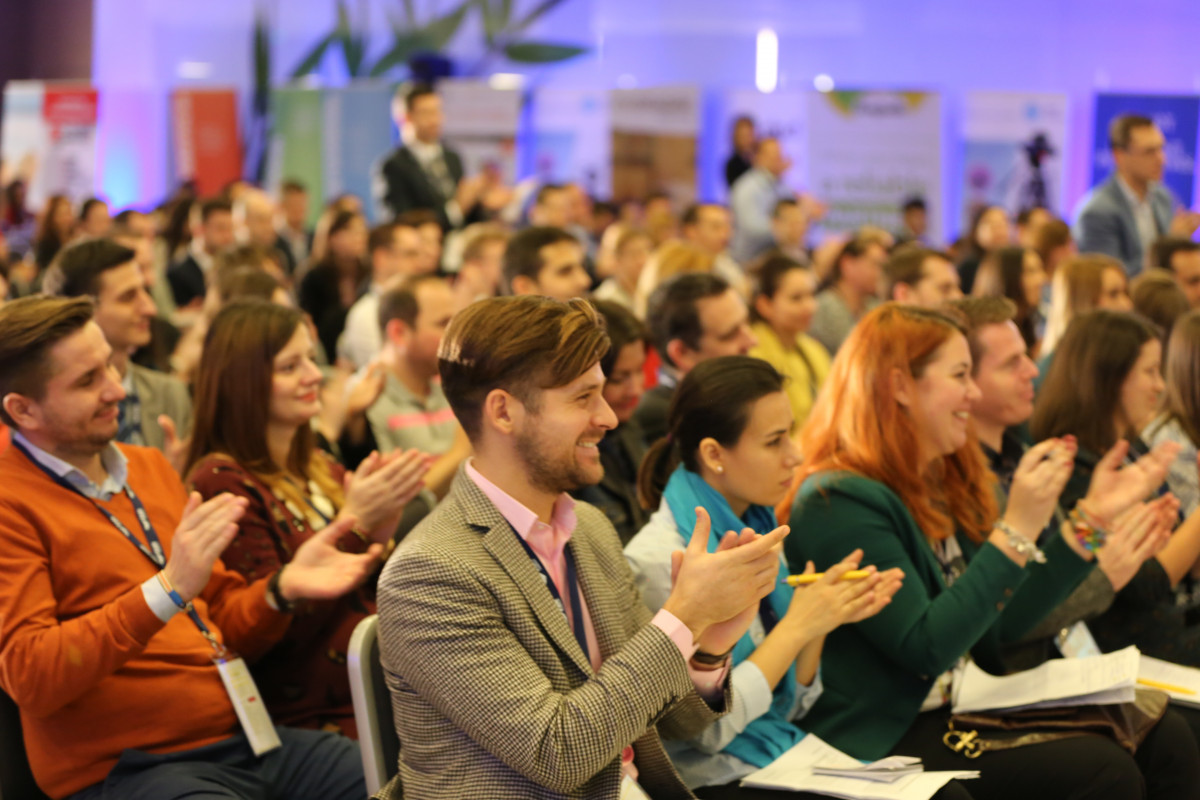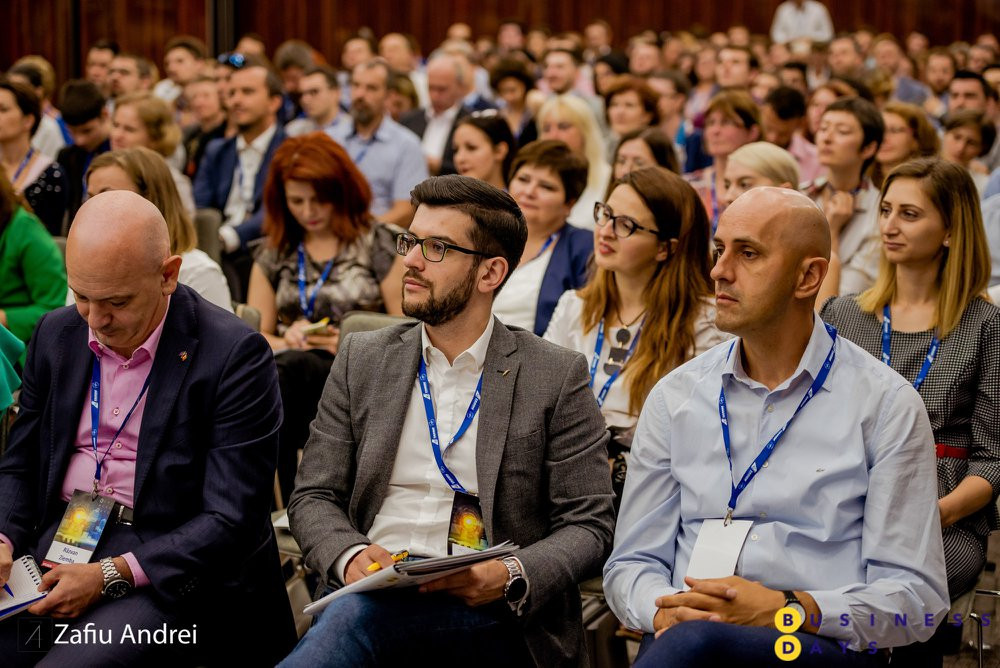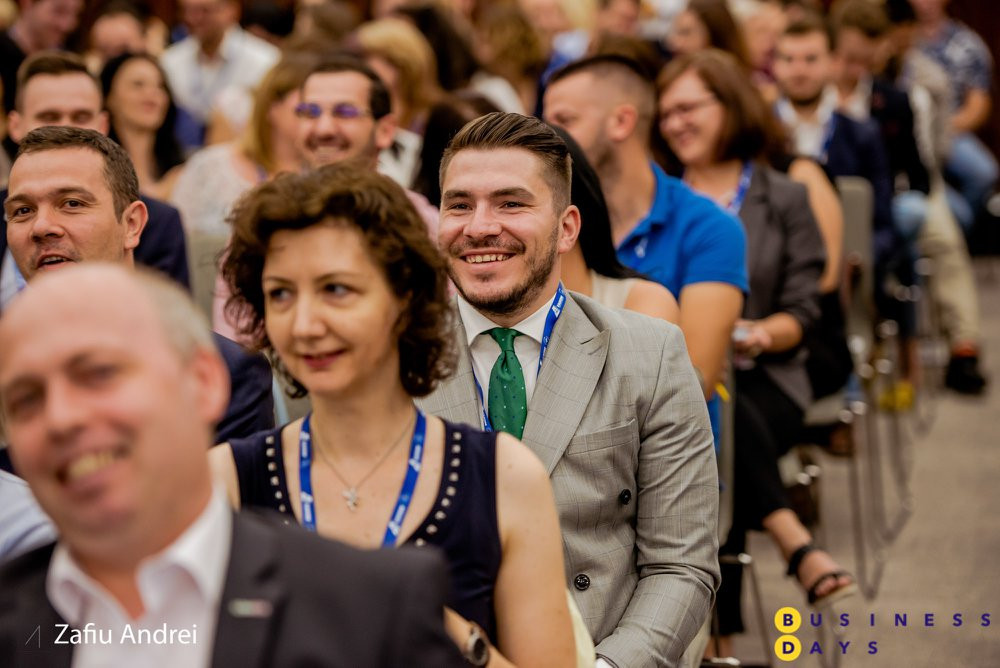 În plus, antreprenorii la început de drum pot beneficia de pachete speciale dedicate startup-urilor iar echipele care vor să vină împreună la eveniment beneficiază de reduceri substanțiale.
Pachetele și prețurile tichetelor de participare se află în perioada de very early bird cu 15%  reducere până în 10 iunie.
Parteneri care ne sprijină: Fan Courier, Lease Plan Romania, Siemens, Peugeot, Chivas, Promer Group, EOKEY, Termene.ro, Zitec, Alfa Test, Trandafir & Asociatii, Pagenius, Qsmile
Agentia de Print, Answear, The Markers, Sms Advert, Aqua Carpatica & Domeniile Sâmburești, Dallmayr, Salad Box, McDonalds, Subway, Captain Bean.
Parteneri media: IQads, Zelist Monitor, Bizis, Agerpres, Ziare.com, Business24, Turda News, SMARK, Softlead, Jurnalul de Afaceri, Provincialul Online, Transilvania Business, Arad 24.
Comunități suport: ARIES Transilvania, ANIS, Cluj IT Cluster, Agro Cluster, Clustero, Biz Club etc.