Doar 1 zi ne mai desparte de retailArena 2021! Strategie, marketing, eCommerce, sustenabilitate, logistică & livrări, digitalizare – acestea sunt doar o parte din temele principale ale evenimentului care aduce pe scenă peste 40 de speakeri din partea celor mai cunoscute branduri din retail & eCommerce pe 27 și 28 Octombrie.
Într-un format antrenant, bazat de interacțiune, vei găsi la retailArena  – A Game of the Future:
studii de piață prezentate de MKOR Consulting
Fire side chats cu 2 oameni care au ajutat la conturarea peisajului de retail și eCommerce – Felix Pătrășcanu, managing partner & fondator FAN Courier și Florin Filote director eMAG Marketplace.
Dezbateri aprinse despre evoluția și viitorul industriei, sustenabilitate și digitalizare alături de mari retaileri, producători și spații comerciale și logistice – Fashion Days, JYSK, Farmec, Carrefour, P3 Logistic Parks, Artesana, Fashion Days, Sportisimo, Iulius, elefant.ro și Colosseum, Mobexpert, Agroland, Musette, GLAMI, Magazine Diana, Altex, Lăptăria cu Caimac și Decathlon.
Contribuții valoroase din partea experților în marketing și a furnizorilor de servicii în retail & eCommerce – VTEX, FAN Courier, Upswing, DWF, Gun Media, MTH Digital, MerchantPro, eSolutions, SoftOne România, Mastercard, Optimized, BeeFast și Asociația Environ.
Patru workshop-uri interactive și colaborative susținute de Mihai Bonca (Brand Architects), Ioana Grigore, Cătălin Vlădescu, Vlad Stoiculescu (VTEX), Mihai Vînătoru (DWF) și Claudia Drăgulin (Gun Media). Experții îți vor oferi sfaturi pentru cele mai intense luni din retail, pe care să le aplici în strategiile și campaniile tale. Workshop-urile au loc online.
Înscriere gratuită online la retailArena: A Game of the Future
Înregistrează-te gratuit la conferința anuală retailArena și urmărește live, din platforma IC Events, cele mai noi informații din piață, adresează întrebările dorite, fă schimb de cărți de vizită, comunică online cu alți participanți la eveniment și vizionează standurile companiilor în Expo Area.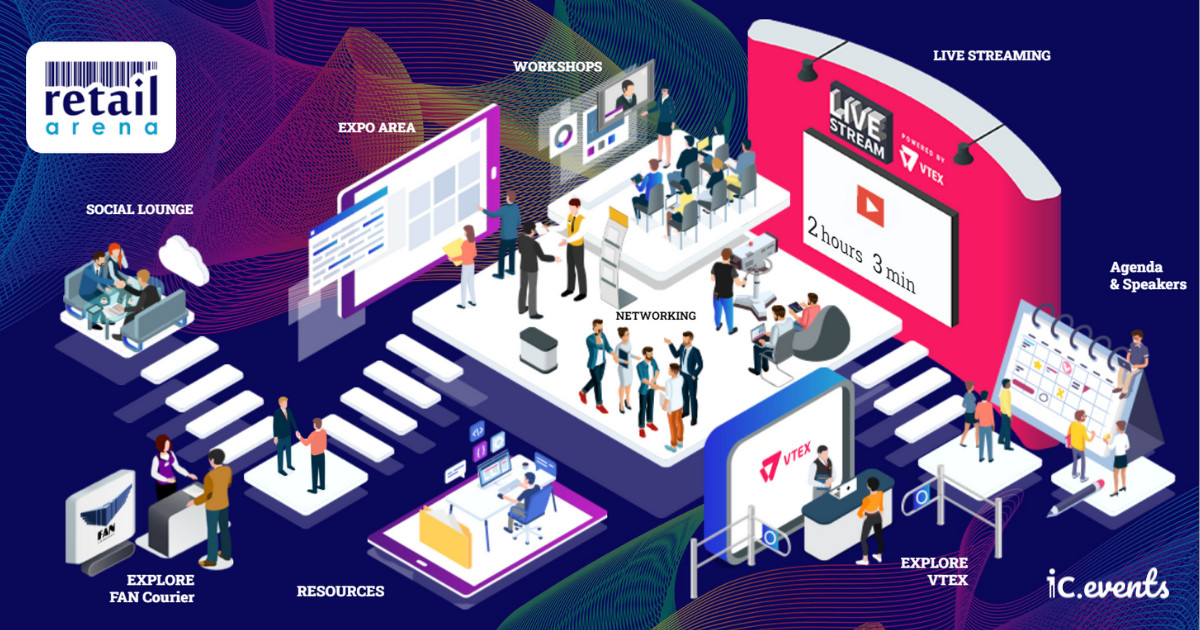 retailArena 2021: A Game of The Future, powered by Retail.ro și Wall-street.ro, îl are ca Main Partner pe VTEX, iar Online Commerce Day Partner este FAN Courier. P3 Logistic Parks, Carrefour și Upswing sunt Gold Partners, DWF, eSolutions, Gun Media, Jysk, GLAMI, Iulius, Altex, eMAG Marketplace, SoftOne și Agroland sunt Silver Partners, iar Environ, Karcher, Simplify by KLG, BeeFast, MTH Digital, MerchantPro, Optimized, Colloseum și Nespresso sunt sponsori ai evenimentului.