TeCOMM, evenimentul unde se intalnesc proprietarii magazinelor online din Romania, are loc in perioada 21-22 Octombrie 2015, Cluj-Napoca, avand ca tema principala Power to the Customers.
Kath Pay (UK), specialist international in e-mail marketing, inclusa in Top of 50 Email Marketing Influencers de catre Vocus, autoritate recunoscuta international in acest domeniu si-a confirmat prezenta in cadrul TeCOMM in 22 Octombrie.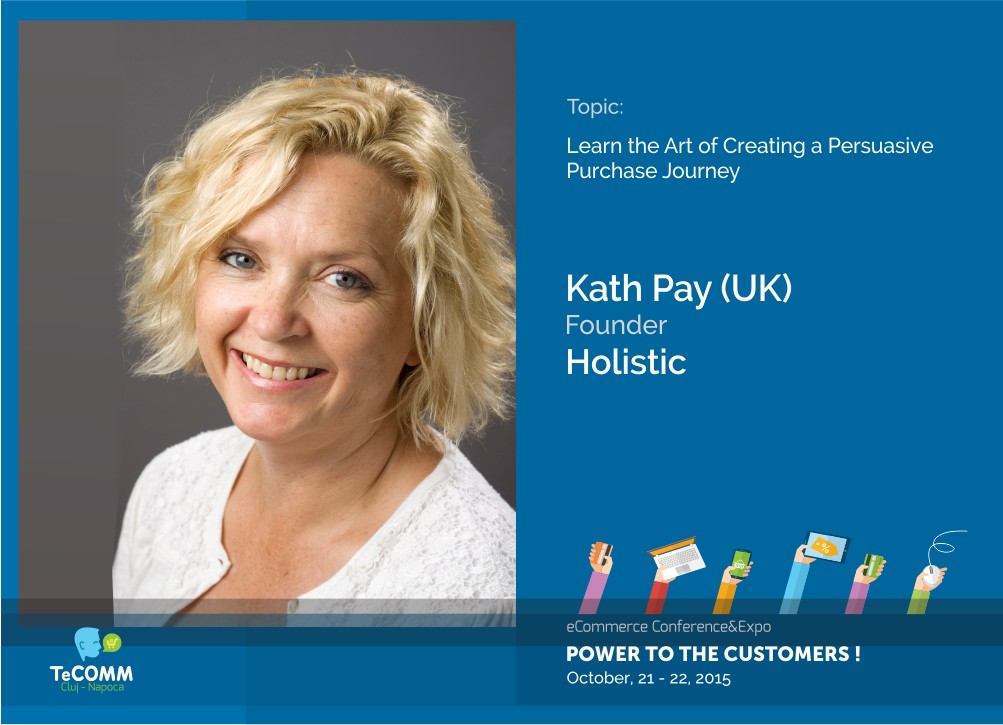 Kath Pay are experienta de peste 14 ani in e-mail marketing si este recunoscuta in UK drept leader si trainer Econsultancy on Personalisation si e-mail marketing. Ea isi dedica timpul procesului de cumparare in ecommerce, cu accentul pe cumparator, prin folosirea abordarii multi-channel.
Printre brandurile cu care Kath a colaborat se numara si Adobe, Facebook, Marks and Spencer, Argos, Next, Jaeger, Mont Blanc.
"Este una dintre pasiunile mele sa impartasesc insight-uri si sa ajut email marketerii sa devina mai buni in ceea ce au de facut. Astept cu nerabdare sa ajung in Romania si sa impartasesc cu participantii tips-uri si sfaturi despre cum putem furniza clientilor o mai buna experienta a cumparaturilor, care genereaza mai multe vanzari si bineinteles, venituri."
In cadrul workshopului pe care il va sustine la TeCOMM, eveniment ce sta sub semnatura Libero Events, pe tema "Learn the Art of Creating a Persuasive Purchase Journey", Kath Pay va vorbi despre optimizarea conversiei in procesul de cumparare online prin tehnici de persuasiune.
Kath considera ca "De prea mult timp deja, lumea digitala a stat in spatele lumii offline in furnizarea si oferirea unei calatorii placute in procesul achizitiei. Sunt in continuare multi pasi existenti in aceasta calatorie,care servesc mai degraba brandului si nu ajuta in experienta online a clientului. Sesiunea mea va cuprinde modalitatile de a face aceasta calatorie mai usoara si mai convingatoare, care va rezulta atat in obtinerea obiectivelor clientului, cat si a brand-ului in sine."
TeCOMM cuprinde 2 zile de conferinte si workshop-uri. Daca prima zi este dedicata debate-urilor, prezentarilor si conferintei conexe Digital Travel Forum, in cea de-a doua zi, publicul va avea parte de workshop-uri tematice legate de usability, email marketing, marketing afiliat, analytics, PPC, social media, online advertising, online video marketing si Google Adwords etc.
Care sunt noile dispozitive si rapoarte prin care este accesat comportamentul utilizatorilor? De ce video-ul online reprezinta viitorul comunicarii pentru eCommerce? Ce presupune sa fii "social" in 2016 si care este importanta implicarii audientei pe termen lung si dezavantajele unei abordari solitare?
Sunt intrebari la care ofera raspunsuri Gabriel Nistoran - PPC Manager BullGuard (partener certificat Microsoft Gold cu competente in solutii de securitate si solutii ISV software), Calin Biris - Digital Director Loopaa Marcom (agentie de marketing digital) si Andrei Cismariu - Social Media Manager Bitdefender (cea mai de succes companie romaneasca de IT prezenta prin filiale si parteneri in peste 100 de tari).
Gabriel Nistoran va vorbi despre noi instrumente si rapoarte care ajuta in optimizarea vanzarilor online, iar workshopul sustinut de el va include informatii despre analytics mobil, mixul de instrumente de analytics, implementari si integrari, vizualizari de date, cuprinzandu-le in cele trei cuvinte importante: " Customers, not devices".
Calin Biris ne va prezenta studii de caz si exemple practice in workshopul pe tema "Boost your sales with Online Video Marketing" despre cum tacticile de Online Video Marketing pot creste rata de conversie si pot imbunatati eficienta comunicarii online a magazinelor online.
In workshopul sau, Andrei Cismaru va vorbi despre The good, the bad and the ugly social media, de ce este important sa dezvolti o relatie de lunga durata cu fanii tai. Acest seminar va arata importanta implicarii audientei pe termen lung si dezavantajele unei abordari solitare.
TeCOMM – conferinta de eCommerce se afla la cea de-a cincea editie. Inscrierile la TeCOMM Cluj-Napoca se fac pe site, unde se va actualiza constant lista speakerilor si a agendei.
TeCOMM is Powered by Urgent Cargus.
Gold Sponsors: Mastercard si FAN Courier.
Recommended payment processor: mobilPay
Partners: ProfitShare, Conectoo, MxHost, Mediatic, WensTravel, United Business Center.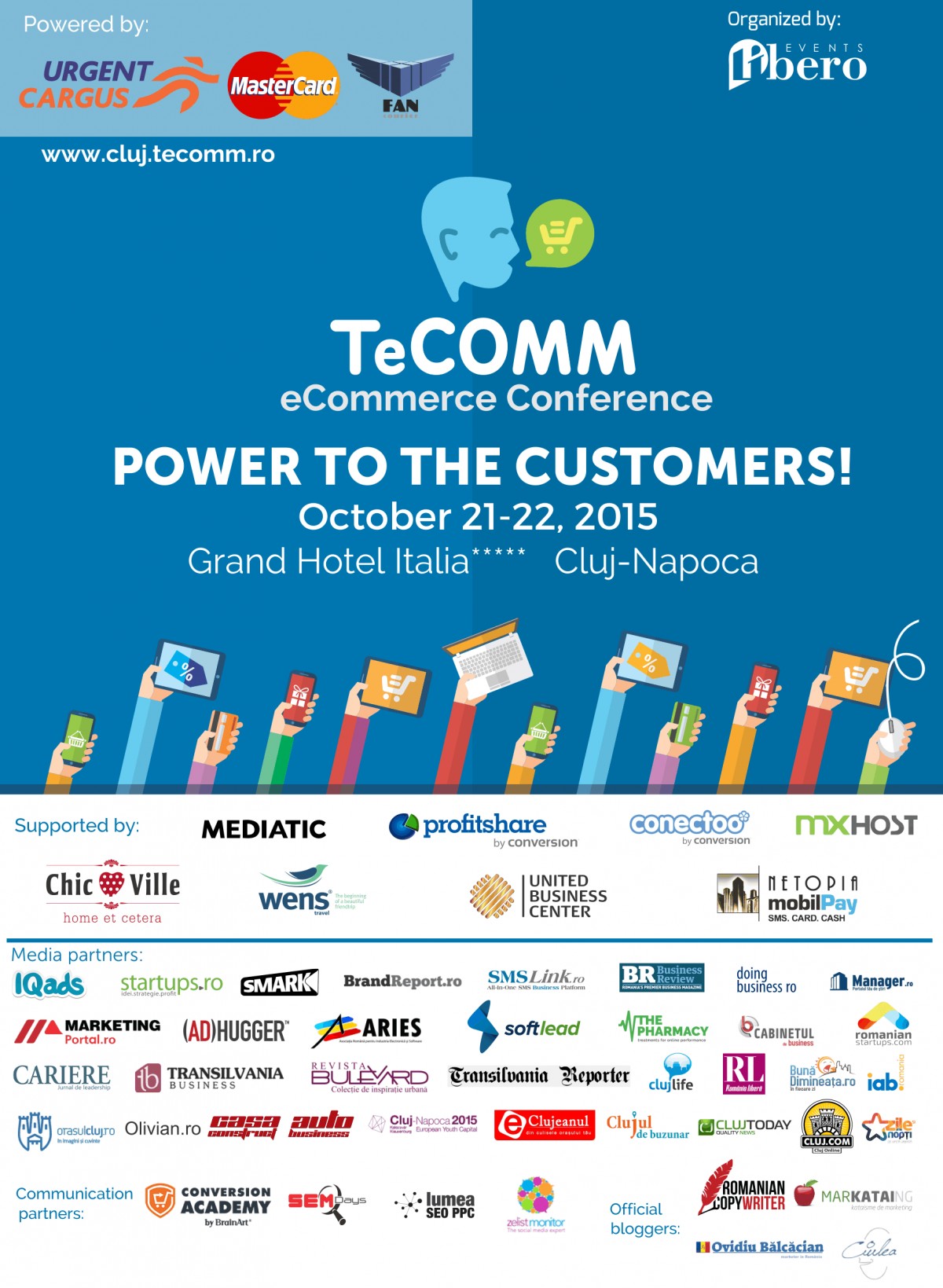 Libero Events este agentia de evenimente si PR, B2B si B2C, sub semnatura careia au loc conferinte si workshop-uri: The Woman, HR Summit, TeCOMM, MarkDay, Architecture, Software Architecture Day, Digital Travel Forum, Cluj Sales Conference, Signal Connect, dar si targul Touristica.