Miruna Enache (Tax Partner Ernst & Young Romania) este speakerul evenimentului Meet the WOMAN!, organizat de Femei in Afaceri in Bucuresti, marti, 3 noiembrie 2015, ora 19:00, la Ernst & Young Bucharest Tower Center. Tema evenimentului va fi "Afaceri de familie, familie de afaceri".
Meet the WOMAN! este un eveniment de business networking ce are loc lunar si se adreseaza atat antreprenoarelor, cat si femeilor care lucreaza in companii si sunt specialiste intr-un domeniu de activitate.
"Fie ca faceti parte dintr-o afacere de familie, pe care ati preluat-o si pe care continuati sa o dezvoltati, fie ca planuiti sa va transformati afacerea intr-un brand pe care sa il transmiteti, la momentul oportun, tinerilor din familia voastra, este important sa stiti care sunt particularitatile si oportunitatile unui asemenea tip de afacere. Impreuna cu Miruna Enache vom discuta despre traditie, despre modalitati de a prelua un business si a-l duce mai departe si despre dezvoltarea spiritului antreprenorial in interiorul familiei ca element-cheie in succesul dezvoltarii unei afaceri", a declarat Alice Botnarenco (fondatoare si presedinte Femei in Afaceri).
MIRUNA ENACHE
Miruna Enache este Partener in cadrul departamentului de Asistenta fiscala al EY Romania. Miruna este membru ACCA, consultant fiscal autorizat (CCF) si expert contabil (CECCAR). Experienta sa semnificativa in domeniul fiscal a fost acumulata in decursul celor 15 ani de experienta in calitate de consultant fiscal. In portofoliul sau de clienti se regasesc nume mari din industria auto, industria alimentara, FMGC, farma si industria energetica.
In ultimii 5 ani, a condus echipa de consultanti fiscali EY care s-au implicat in tranzactii pe piata din Romania, conduce echipa de consultanti fiscali care colaboreaza cu departamentul de audit, este lector si speaker la numeroase conferinte si seminarii pe teme fiscale si de antreprenoriat organizate de EY sau alti colaboratori.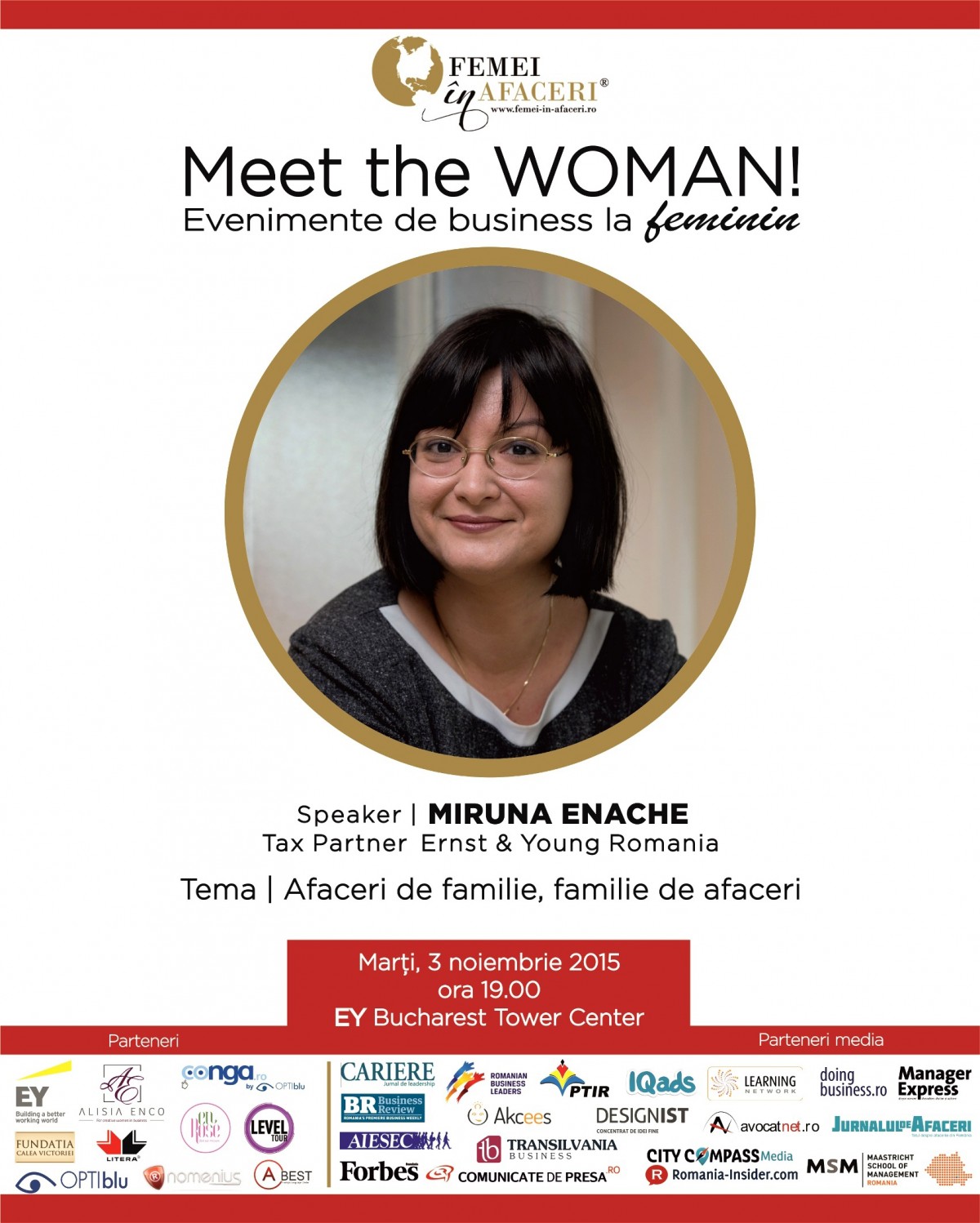 Accesul la eveniment
Taxa de participare este de 90 de lei (nu se percepe TVA / coffee break inclus).
Accesul la eveniment se face doar cu rezervare si confirmarea inscrierii. Membrele Femei in Afaceri beneficiaza de 25% discount din costul taxei de participare.
Taxa de participare pentru membre este de 67,5 de lei (nu se percepe TVA / coffee break inclus).
Locatia evenimentului
Evenimentul va avea loc la sediul Ernst & Young: Bucharest Tower Center, etajul 22, Bulevardul Ion Mihalache, nr. 15-17, Bucuresti (harta).
Inscrierile se fac la: membership@femei-in-afaceri.ro, iar detalii suplimentare se obtin la: 0762 677 111.
Desfasuratorul evenimentului
18:30 – Inregistrarea participantelor & coffee
19:00 – Inceputul evenimentului
19:15 – Prezentarea fiecarei participante si a businessului/jobului pe care il are
20:20 – Sustinerea temei de catre speakerul evenimentului
20:35 – Q&A
20:55 – Tombola cu premii oferite de parteneri
21:00 – Business Networking
PARTENERI
Ernst & Young Romania • ALISIA ENCO • OPTIblu • Nomenius • Level Tour • A_BEST • EnRose • Fundatia Calea Victoriei • Editura Litera
PARTENERI MEDIA
Forbes • CARIERE • Comunicate de Presa • Romania Insider • City Compass • Business Review • Transilvania Business • Manager Express • IQads • PTIR • AvocatNet • Doingbusiness.ro • Jurnalul de Afaceri • Learning Network • Designist.ro • Akcees • AIESEC • Romanian Business Leaders • Maastricht School of Management Romania