In aceasta toamna, lideri locali si internationali din mediul de business isi dau intalnire in cadrul celei de-a doua editii a Conferintei Internationale Femei in Afaceri, pe 20 octombrie 2016, la Hotel Sheraton, pentru a dezbate tendintele globale din business, inovatie, branding si digital.
Viteza cu care tehnologia si, implicit, mediul de afaceri, publicul si instrumentele de lucru evolueaza isi pune amprenta asupra tuturor domeniilor de activitate si ii provoaca pe antreprenori si pe manageri sa fie inovatori si sa se adapteze permanent.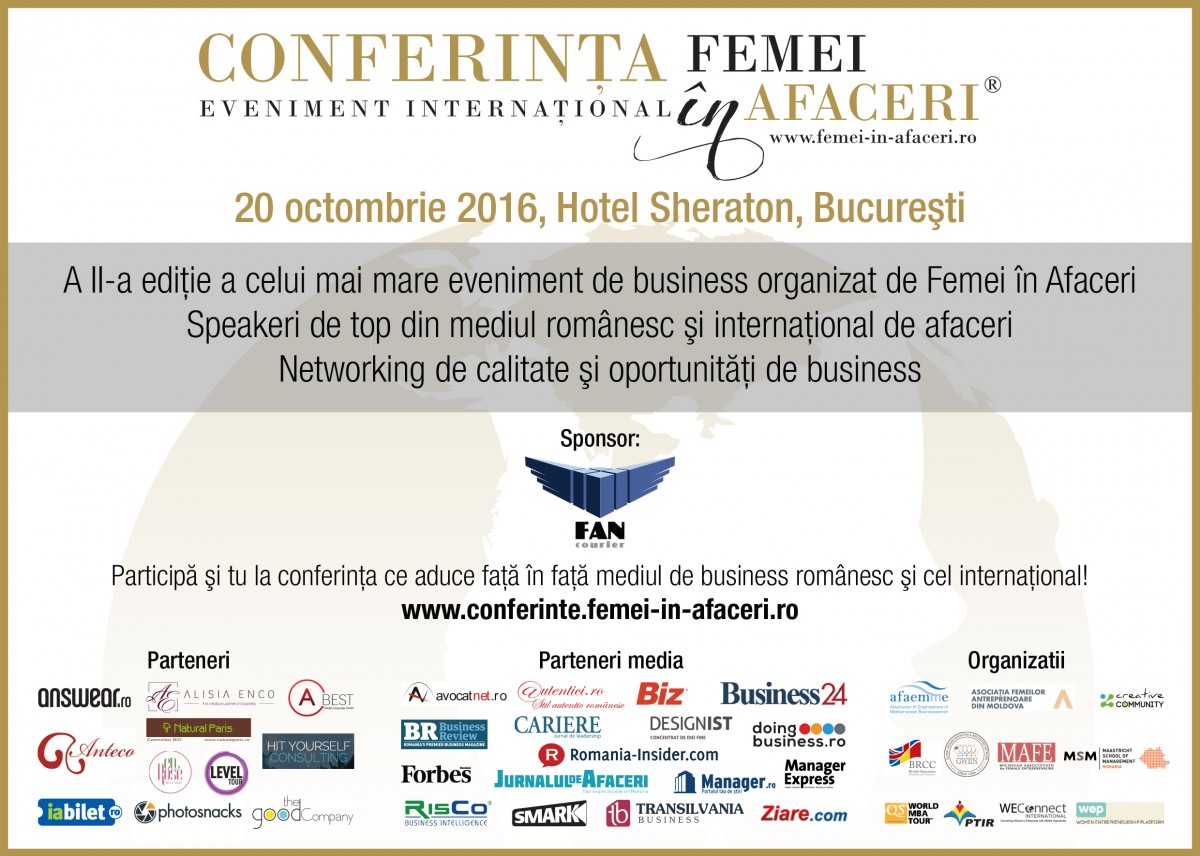 Conferinta Internationala Femei in Afaceri isi propune sa reuneasca antreprenori, specialisti si freelanceri cu scopul de a facilita accesul la un flux de informatii specializate si de actualitate si pentru a cauta impreuna solutii pentru afaceri sustenabile.
"Dupa 7 ani de activitate ai organizatiei Femei in Afaceri si sute de evenimente organizate, dupa un proiect european desfasurat cu succes si un numar important de parteneriate strategice cu organizatii pentru femei din intreaga lume, am decis sa scoatem in evidenta subiecte comune pentru piata locala si internationala de afaceri, pe care sa le dezbatem: nevoia de a fi inovator pe o piata aparent saturata, nevoia educatiei financiare, dezvoltarea startup-urilor, dificultatea de a te diferentia printr-un brand puternic si digitalizarea accelerata.

Ne-am propus sa aducem ca speakeri specialisti din domenii diverse, pentru a ne impartasi din experienta lor si a gasi impreuna solutii pentru un mediu de business competitiv si echilibrat", a declarat Alice Botnarenco, antreprenoare, fondatoarea organizatiei Femei in Afaceri.
Printre speakerii confirmati se numara:
Mirella Visser – Managing Director, Centre for Inclusive Leadership, Olanda
Mihaela Radulescu – Consultant de brand, fondator Innerout, Romania
Irina Alexandru – Co-founder & Program Director, Vector Watch, Romania
Violeta Luca – Marketing & Operations Director, Microsoft Romania
Florin Grozea – artist, prezentator TV, antreprenor online, fondator Hit Yourself Consulting, Romania
Sonia Bate – fondator si director general al companiei EDIT Development, Marea Britanie
Alice Botnarenco – owner ALISIA ENCO, presedinte Femei in Afaceri, Romania
Mihai Chiratcu – Trainer si Business Consultant, Romania
Claudia Chiru – Fondator SAGA Kid & Asociatia SAGA, profesor invatamant primar, Romania
Yvonne Thompson – autor al cartii "7 Traits of Highly Successful Women on Boards" si director WBLN & ACBN, Marea Britanie
Liviu Taloi – Senior Consultant in e-commerce & online marketing, co-fondator ECOMpedia, Romania
Mark Walton – Owner & CEO, Brici Entertainment, Rhapsody Films, Marea Britanie
Aliz Kosza – business strategist si mentor
Rodica Lupu – fondator Loop Operations, Romania
Angela Gladei – CEO Total Leasing and Finance si membra AFAM, Moldova
Roxana Magopet – Marketing and PR Manager FAN Courier, Romania
Raluca Radu – Country Manager Answear Romania, Owner MTH Digital si Co-Organizator GPeC, Romania
Subiectele abordate se vor concretiza in patru paneluri in cadrul carora participantii vor putea gasi raspunsuri la cele mai importante provocari profesionale:
Ce inseamna sa fii inovator si cum influenteaza inovatia mediul de business actual?
Care sunt cele mai intalnite obstacole cu care se confrunta startup-urile in prezent si cum le pot depasi?
Cum a evoluat conceptul de branding si cum se poate aplica cu succes in 2016?
Tranformarea mediului de business in era digitala: care este rolul mediului online intr-o afacere?
Temele de discutie sunt construite in jurul unui cuvant-cheie: YOU. Modalitatea de prezentare este atractiva, punandu-se accent pe exemplele si experientele personale ale fiecarui speaker, in final fiind alocata o sesiune de intrebari si raspunsuri, pentru ca participantii sa intre in legatura cu speakerii si sa afle direct raspunsurile care ii intereseaza. 
Accesul la Conferinta Internationala Femei in Afaceri se face doar cu rezervare si confirmarea inscrierii. Membrele Femei in Afaceri au prioritate si beneficiaza de 15% discount din costul taxei de participare.
Evenimentul este organizat de Femei in Afaceri si sustinut de FAN Courier.
Parteneri: Answear •  A_BEST • ALISIA ENCO • Anteco • EnRose • Hit Yourself Consulting • IaBilet.ro • Level Tour • Natural Paris • Photosnacks • The Good Company
Parteneri media: Autentici • Avocatnet • Business24 • Business Review • CARIERE • Designist • DoingBusiness • Forbes • Jurnalul de Afaceri • Manager.ro • Manager Express • Revista Biz • RisCo • Romania Insider • SMARK • Transilvania Business • Ziare.com
Organizatii partenere: AFAEMME • Asociatia Femeilor Antreprenoare din Moldova • Camera de Comert Romano-Britanica • Creative Community • Global Women Inventors & Innovators Network • Maastricht School of Management • Michigan Association for Female Entrepreneurs • QS World MBA Tour • PTIR • WEConnect International • Women Entrepreneurship Platform