Furnizor ales de 50% dintre chefii europeni cu Stele Michelin, Electrolux continua seria The Secret Ingredient, impartasind in fiecare luna sfaturi simple care sa te ajute sa realizezi la tine acasa feluri de mancare la standardele unui restaurant. Pentru luna august, Electrolux a ales varza Kale.
"Varza Kale este o adevarata resursa de nutrienti si se prepara foarte usor. Poate fi preparata la abur, iar in 5 minute este gata, folosind un cuptor cu abur sau plita cu inductie. Aburul pastreaza savoarea preparatului si ii mentine toti nutrientii.", a explicat Carmen Georgescu (Marketing and Communication Manager, Electrolux Romania).
Cu aproape 100 de ani de experienta culinara, realizand aparatura profesionala pentru Chefii de top ai Europei, Electrolux continua Ingredientul Secret - o platforma creata cu scopul de a extinde posibilitatile culinare in bucatariile casnice. Aceasta platforma furnizeaza indicii lunare, sfaturi si tehnici stranse in colaborare cu chefi de top, dar si cu bloggeri culinari.
"Varza Kale este un ingredient foarte versatil, care poate fi folosit ca un inlocuitor sanatos pentru orice masa. Poti utiliza varza Kale in salate, ca un inlocuitor la salata verde sau poate fi adaugata in supe, pentru un plus de savoare. Mai mult decat atat, cu ajutorul echipamentelor noastre de gatit de ultima generatie, oricine poate sa exploreze cele mai bune posibilitati de preparare a acestui ingredient", a explicat Carmen Georgescu (Marketing and Communication Manager, Electrolux Romania).
Gustul verzei Kale
Varza Kale are o aroma dulce si usor intepatoare, cu o savoare astringenta datorita continutului mare de fier. Diferitele tipuri de varza Kale au si gusturi diverse: Kale rosie este indicata pentru salate, pentru un gust fin, Kale creata are un gust intepator, pe cand Kale palmier are un gust dulceag.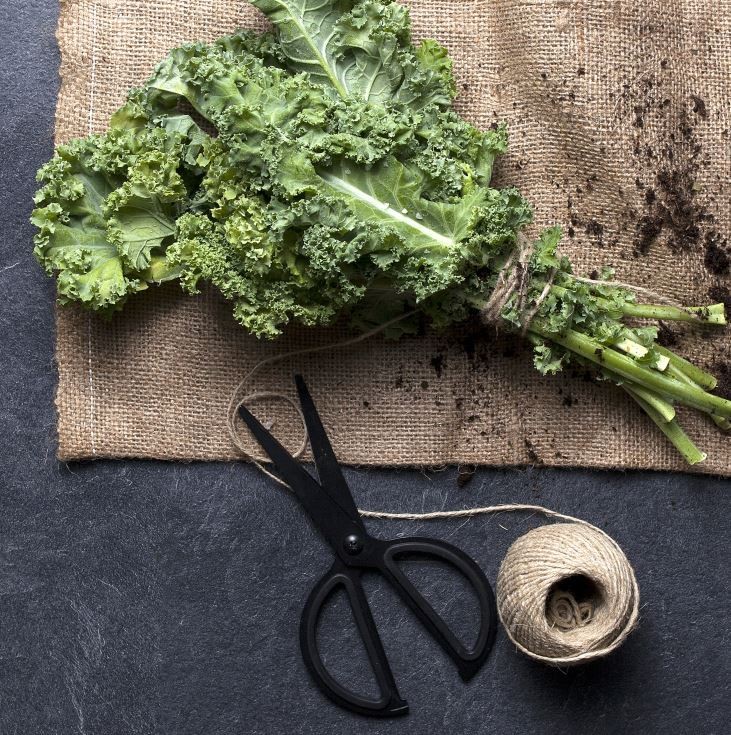 Despre varza Kale
Varza Kale, cunoscuta si sub denumirea de borecole sau varza taranului, a fost cultivata de mai bine de 2000 de ani. De-a lungul timpului, a fost consumata la scara larga, in special in Europa, datorita rezistentei sale la inghet si datorita faptului ca aceste culturi pot fi recoltate tarziu, la final de an.
Numele sau provine din cuvantul "kāle" de origine daneza, suedeza si norvegiana, din cuvantul de origine germana "Khal" si din cuvantul de origine scotiana-galeza "cal" sau "kall". Culorile frunzelor verzei Kale alterneaza intre verde luminos si intunecat, pana la verde violet sau verde maro. Precum broccoli, conopida sau salata verde, varza Kale este descendenta verzei salbatice.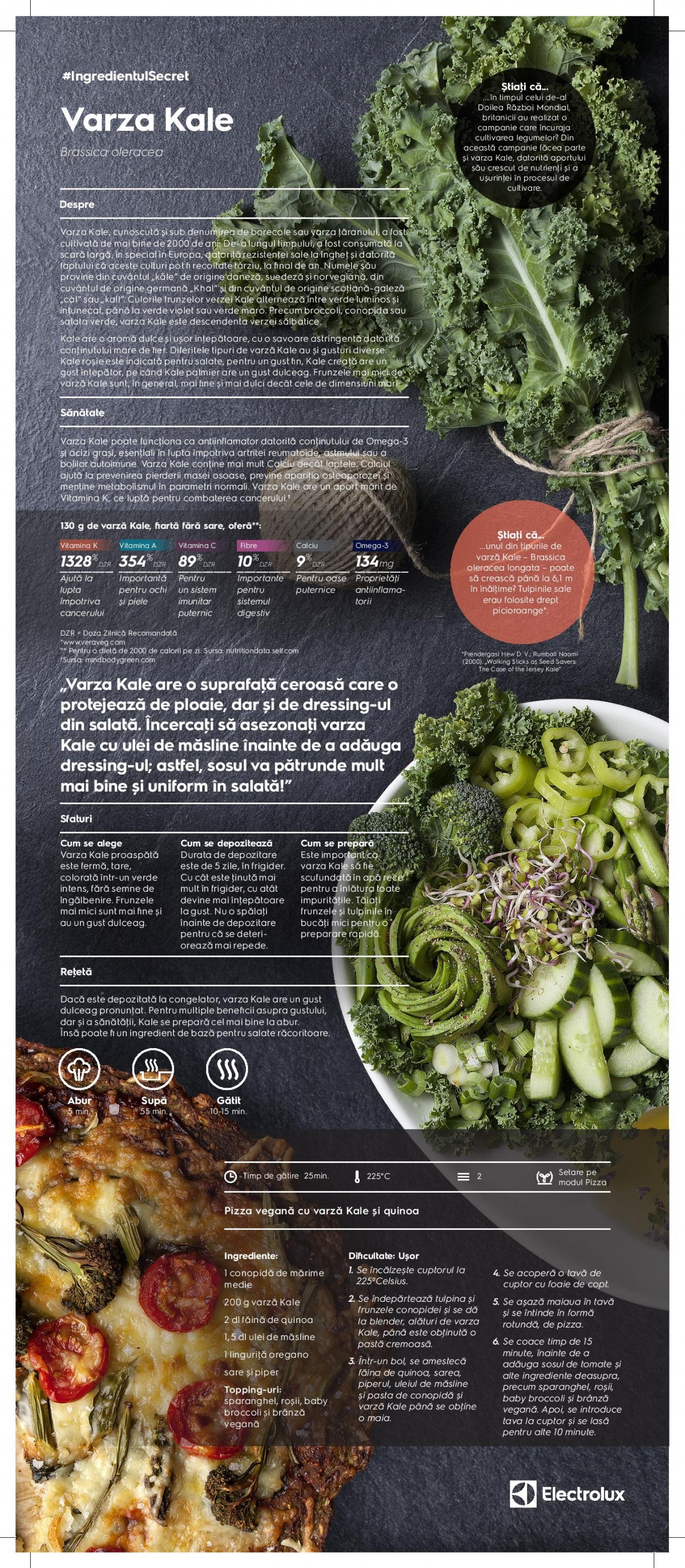 Sfaturi
Cum se alege
Varza Kale proaspata este ferma, tare, colorata intr-un verde intens, fara semne de ingalbenire. Frunzele mai mici sunt mai fine si au un gust dulceag.
Cum se depoziteaza
Durata de depozitare este de 5 zile, in frigider. Cu cat este tinuta mai mult in frigider, cu atat devine mai intepatoare la gust. Nu se spala inainte de depozitare pentru ca se deterioreaza mai repede.
Cum se prepara
Este important ca varza Kale sa fie scufundata in apa rece pentru a inlatura toate impuritatile. Se taie frunzele si tulpinile in bucati mici pentru o preparare rapida.