Grand Cinema & More anunta a 11-a editie Grand Family Festival - o noua invitatie la film si timp petrecut in familie. In perioada 31 octombrie – 4 noiembrie, in cinematograf vor rula unele dintre cele mai indragite filme pentru copii, care ii vor captiva si pe adulti. 
Scurta vacanta pe care cei mici o au in aceasta toamna poate fi prilejelul perfect de a petrece timp alaturi de parinti. Impreuna pot viziona, in format 2D sau 3D, unele dintre cele mai apreciate filme pentru copii, in sali de cinema confortabile si performante.
Si, pentru a sustine cheful de distractie al celor mici si mari deopotriva, biletele pentru oricare dintre filmele din cadrul Grand Family Festival au preturi speciale – 16 lei pentru adulti, iar, pentru copiii cu varsta sub 12 ani, accesul este gratuit.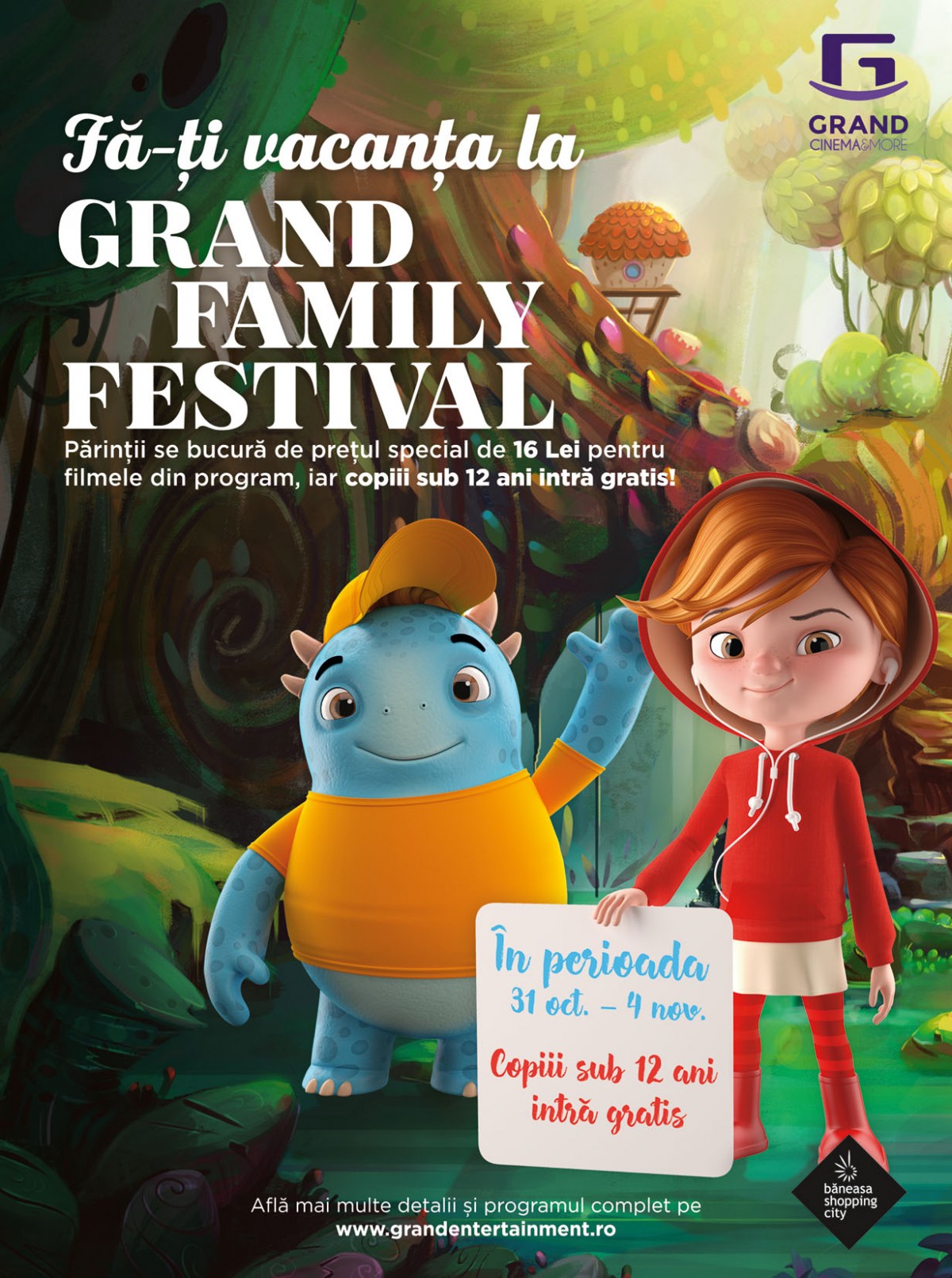 Pe parcursul celor 5 zile de festival, din programul filmelor fac parte Barbie in aventura spatiala (Barbie: Star Light Adventure), Fura steagul, salveaza Luna (Capture The Flag), Gruffalo si prietenii lui (Gruffalo and his friends), Hotel Transylvania 2, Epoca de gheata: Ploaie de meteoriti (Ice Age: Collision Course), Kung Fu Panda 3, Minionii (Minions), Ups! Am pierdut arca (Ooops! Noah is gone...), Nazdravanii din padure. Speriosul speriosilor (Open Season: Scared Silly), Ratchet si Clank (Ratchet & Clank), Oachi, printul din jungla (Ribbit), Berzele (Stroks), Angry Birds – Filmul (The Angry Birds Movie), Marele Urias Prietenos (The BFG), Micul Print (The Little Prince), Singuri acasa (The Secret Life Of Pets) si Al saptelea pitic (The Seventh Dwarf).
"Noi credem ca, inainte de toate, un film este o modalitate de a-ti petrece frumos timpul liber. Cu fiecare editie a Grand Family Festival urmarim sa favorizam aceste momente petrecute impreuna si, de fiecare data, liant al intregii familii se dovedesc a fi filmele pentru copii. Pentru cei mici, sunt un univers intreg adus mai aproape, iar pentru noi, cei mari, o scuza sa fim din nou copii", a declarat Atena Simovic (Alternative Content & Events Director in cadrul Baneasa Developments).