ParkLake Shopping Center găzduiește în 7 octombrie cea mai mare ediție YouStars de până acum. Andra Gogan, Sebastian Coțofană, Rottby, ZappyTV și mulți alți vloggeri se întâlnesc cu fanii pentru o porție de distracție. Noaptea Târziu, trupa cu cele mai vizualizate parodii pe Youtube, va susține un concert în cadrul evenimentului, iar începând cu ora 13:00 participanții se pot bucura de o zona de gaming dedicată.
Seria de evenimente YouStars îi reunește pe cei mai iubiți vloggeri din România cu fanii lor din toată țara. Evenimentul de la ParkLake marchează cea de-a cincea ediție, după ce primele patru au adunat mii de tineri la întâlnirile din Pitești și din Constanța.
În 7 octombrie se vor urca pe aceeași scenă peste 20 de vloggeri printre care se numără și Andra Gogan, Sebastian Coțofană, Highman, Mimi, Gabriel Fereșteanu de la PeRomânește, The Link, Gereveu și mulți alții, toți dornici să facă show și să răspundă la întrebările fanilor lor. Concertul Noaptea Târziu va continua distracția cu versurile pline de umor cu care și-au obișnuit publicul.
Pe lângă sesiunea de vlogging, YouStars pregătește o secțiune de gaming unde tinerii se pot înscrie la campionatele de Counter Strike:GO, League of Legends și Fifa 18, iar la final participanții pot câștiga numeroase premii.
Cea de-a cincea ediție YouStars este organizată cu sprijinul ParkLake, Music Channel, BCR, TopGel, ProFm și Tp-link.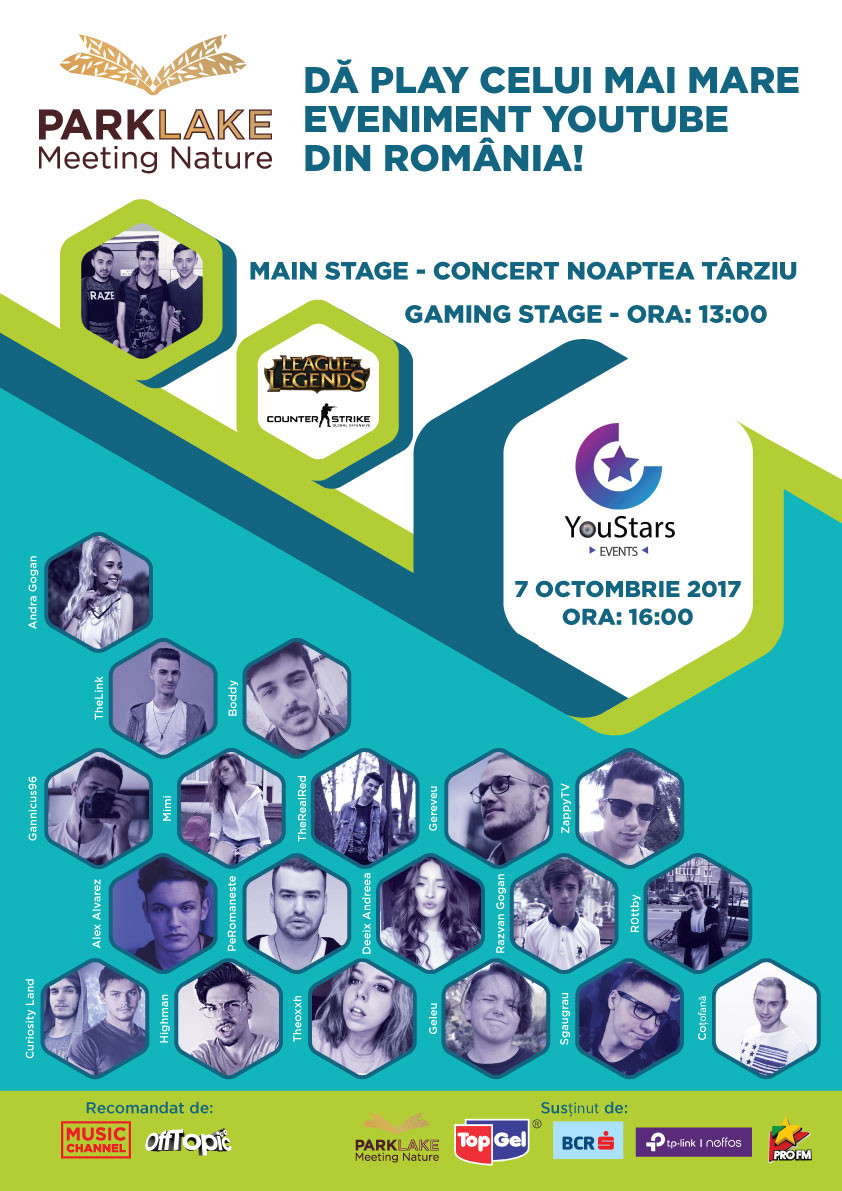 Ediția YouStars – ParkLake Shopping Center – scop caritabil
YouStars Events este o organizație non-profit. Scopul final al ediției de la ParkLake este construirea unui centru educațional în localitatea Smeura – Județul Argeș.
Desfășurător:
Panelul 1: TheLink, Deeix, PeRomânește, Highman, Gerevu, Mimi
Panelul 2: Andra Gogan, Răzvan Gogan, Geleu, Curiosity Land, Sgraugrau
Panelul 3:  ZappyTV, Rottby, Gannicus96, Boddy, TheRealRed, Theoxxh
Concert Noaptea Târziu