Elevii, studenții şi pasionații de modă sunt așteptați pe 25 noiembrie la primul târg educațional din domeniu – Fashion Me – un eveniment ce reunește 11 dintre cele mai mari universități care au specializări în fashion, design, fotografie, dar și numeroși designeri, stiliști şi fotografi.
Târgul Fashion Me va avea loc la Palatul Universul din București (strada Actor Brezoianu 23-25, corpul B – Apollo 111), între orele 10.00-18.00, oferta fiind extrem de bogată: facultăți de fashion, styling, design de interior, fotografie, marketing, advertising, comunicare audio-video, business de produs, digital media, branding, mastere în domeniu sau cursuri scurte de 3 săptămâni.
La eveniment vor fi prezenți reprezentanți ai Istituto Marangoni din Milano (cunoscut pentru studenți celebri ca Franco Moschino sau Domenico Dolce), ESMOD din Paris (alumni celebri ca Olivier Rousteing, creative director BALMAIN sau Suzy MENKES, International VOGUE Editor), BHMS - Switzerland, Istituto Europeo di Design din Milano, BAU din Roma, Cats College din Boston, Cambridge School of Visual and Performing Arts din Londra, Falmouth University din Falmouth, Willem de Kooning Academy din Rotterdam, Universitatea Națională de Arte din București și Universitatea de Artă și Design din Cluj-Napoca.
"Am ajuns la concluzia că este necesar un astfel de târg, nişat pe fashion, pentru că, la întâlnirile noastre şi în timpul consilierilor, am întâlnit atât liceeni pasionaţi de modă, de fotografie, luxury, design, cât şi oameni care lucrează în business fashion, care vor să se specializeze în domeniul  lor şi nu ştiu de unde să îşi ia informaţiile cu privire la studiile pe care le pot urma, nu ştiu în ce constă portofoliul lor şi, cel mai important, ce domeniu din industria fashion li se potriveşte," a declarat Mihaela Haiduc, Director of Education and Learning, Premium Edu, organizatorul târgului.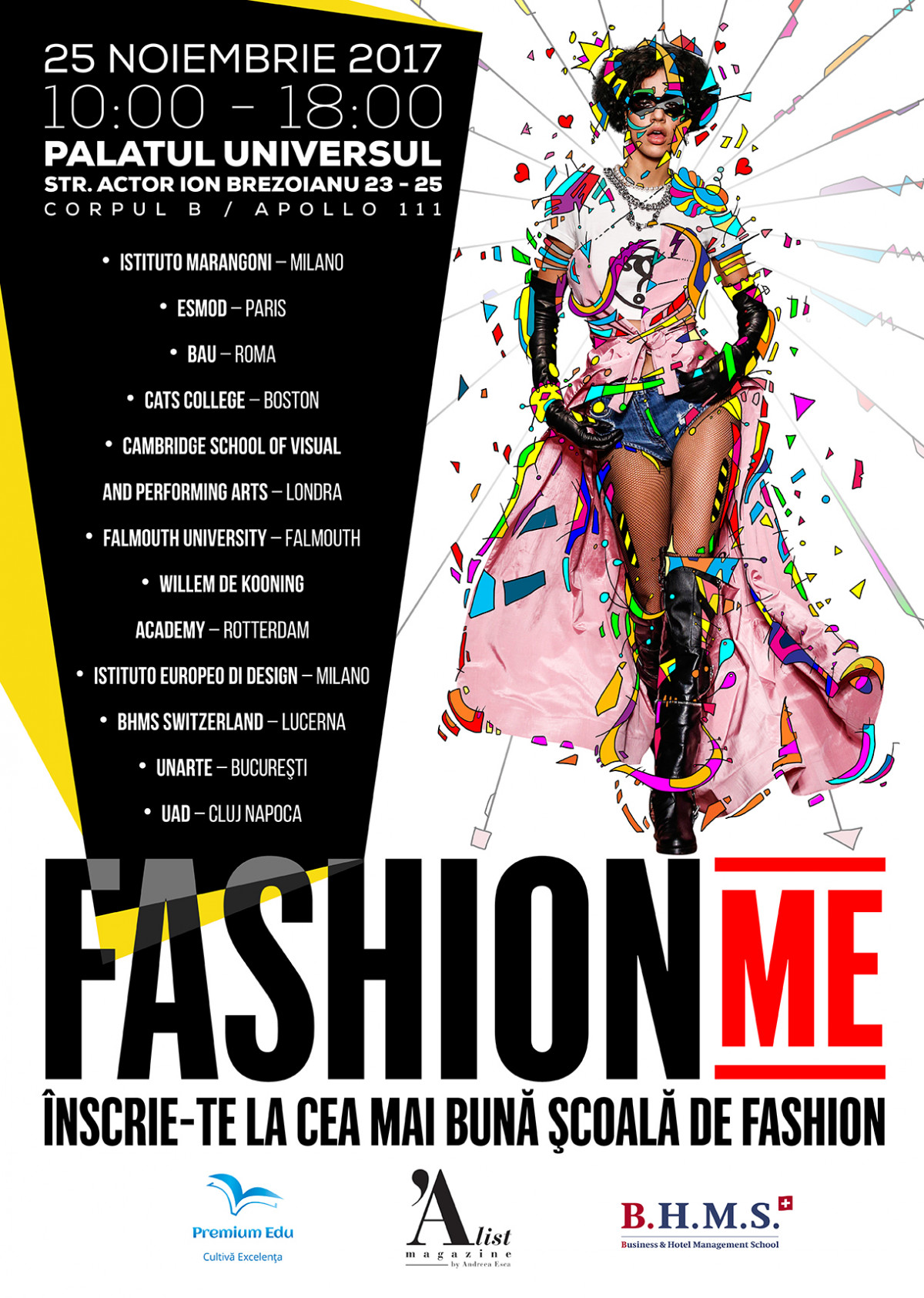 Organizatorii oferă și o bursă de studiu în valoare de 1.000 de euro tuturor celor care se vor înscrie la cursurile Istituto Marangoni sau BHMS - Switzerland şi vor trimite scrisorile de intenţie pe adresa office@premiumedu.ro până la data de 14 decembrie 2017. Lista câştigătorilor se va face publică pe 30 ianuarie 2018.
Parteneri media: A List Magazine, Virgin Radio