Un nou studiu Netflix arată că Narcos, House of Cards și Breaking Bad sunt serialele pe care cei mai mulți membri din România le-au ales pentru primul binging.
Cei mai mulți oameni așteaptă până la a treia întâlnire, dar pentru cei mai mulți membri Netflix durează doar două săptămâni (12 zile, mai exact) pentru a merge până la capăt și a avea prima sesiune de binging. Dar asta este o medie globală. În România, oamenii se îndrăgostesc de Netflix mai repede ca oriunde în lume: pentru români durează doar 3 zile de la crearea abonamentului până la primul binging.
De Valentine's Day, Netflix vrea să îți amintești de prima ta dată. Întreabă pe oricine care a făcut asta și cel mai probabil îți vor putea spune și cu cine au făcut asta (cel mai probabil Pablo Escobar), unde erau (într-un autobuz dacă ești ca Jonathan Groff din Mindhunter) și cât a durat (3 zile în cele mai multe dintre cazuri).
Dacă ar fi să vorbim despre serialele de care oamenii se îndrăgostesc cel mai repede, băieții răi sunt pe primele locuri. Narcos este cel mai popular serial pe care oamenii au făcut primul binging în România, cu House of Cards, Breaking Bad și Vikings nu foarte departe.
Ajungem să iubim repede și serialele care ne lasă în suspans, ca Stranger Things, Orange is the New Black și Suits. În timp ce serialele pline de acțiune ca Marco Polo, Marvel's Daredevil și Shooter completează top 10.
Tu îți aduci aminte prima oară când ai făcut binging pe Netflix?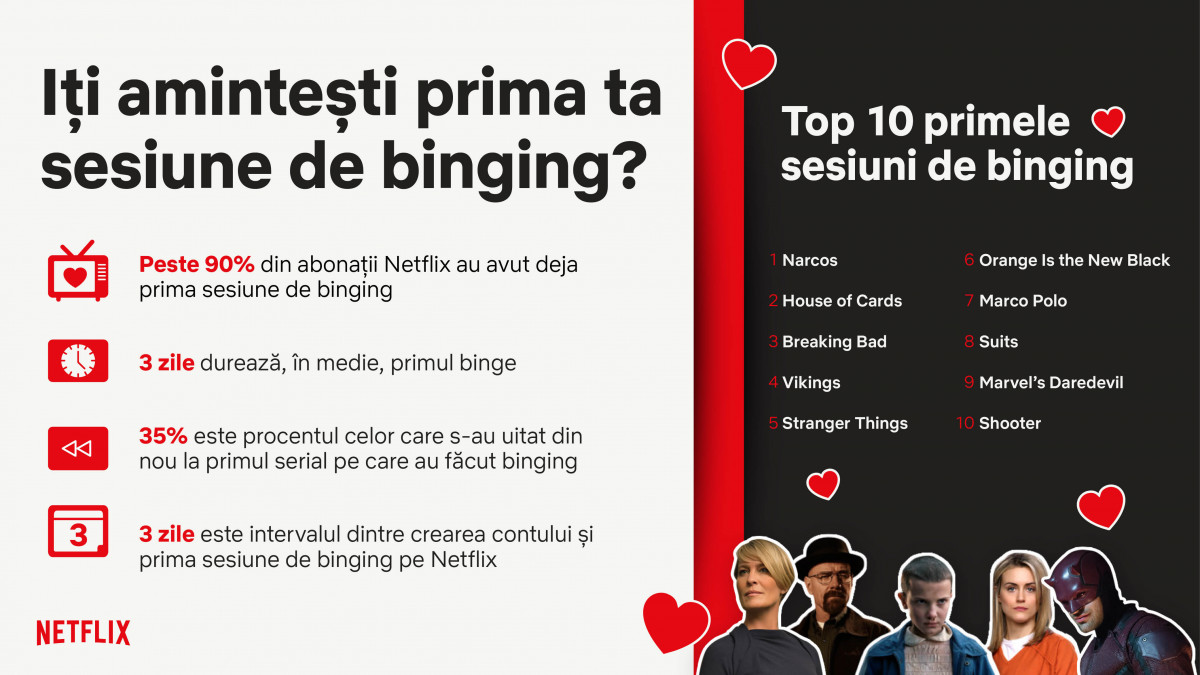 Top 20 "Primele sesiuni de binging" pe Netflix în România:
Narcos
House of Cards
Breaking Bad
Vikings
Stranger Things
Orange Is the New Black
Marco Polo
Suits
Marvel's Daredevil
Shooter
13 Reasons Why
Rick and Morty
The Crown
The Blacklist
Gossip Girl
Marvel's Iron Fist
Better Call Saul
Peaky Blinders
Arrow
The OA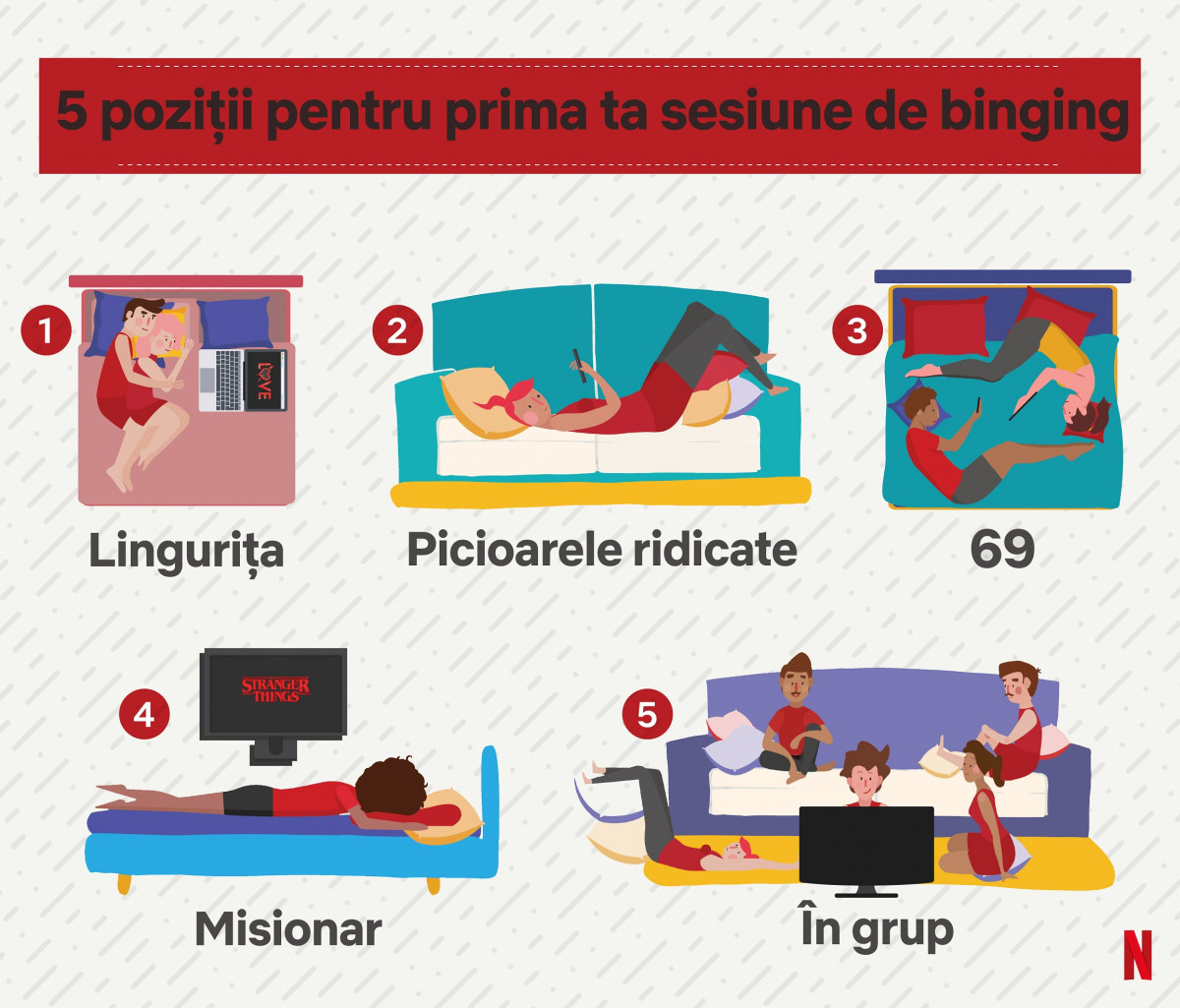 Metodologie: Bingingul este definit ca vizionarea completă a cel puțin unui sezon dintr-un serial în mai puțin de 7 zile de la primul episod. Analiza se axează pe membrii Netflix care și-au creat contul în ultimii doi ani. Toate serialele TV au fost incluse în studiu, cu excepția conținutului pentru copii/familie și sezoanele cu mai puțin de 5 episoade. Mai mult de 90% dintre abonații Netflix care sunt membri de cel puțin un an au avut prima sesiune de binging.