Pe 28 februarie, de la ora 19.30, invitata Intersecțiilor de Miercuri este Corina Șuteu, fost director al Institutului Cultural Român din New York și Ministru al Culturii în 2016, expert internaţional în management şi politici culturale și fondator al festivalului de film românesc de la Lincoln Center, Making Waves.
În cadrul conferinței cu titlul "Ce este Europa? Un cuvânt", găzduită de Rezidența BRD Scena9 – Hotspot cultural BRD, invitata Svetlanei Cârstean va vorbi despre Europa și despre rolul culturii în gândirea politică europeană.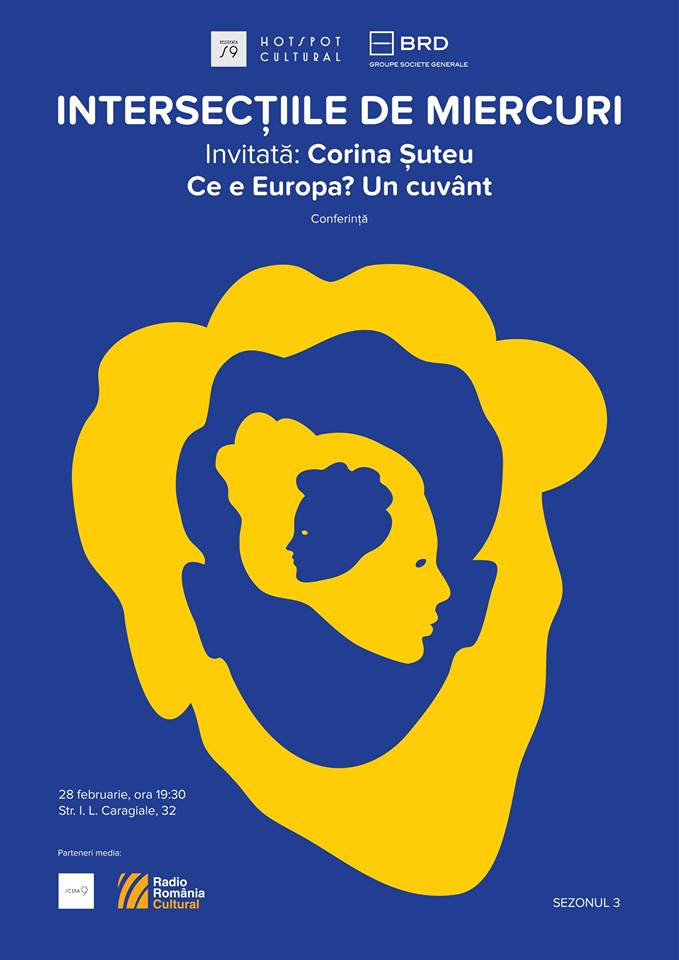 "Autoarea unor studii critice precum 'Another Brick in the Wall, a Critical Overview of Cultural Management in Europe', Corina Șuteu, ne va ajuta să ne creăm o privire de ansamblu asupra situației culturii în Europa de astăzi. Este un element extrem de important pentru noi, mai ales în contextul Centenarului, când trebuie să evaluăm dinamica și importanța celor 100 de ani de la Marea Unire", a declarat Georgiana Nica (Junior Brand Communication Manager BRD – Groupe Société Générale).
"Realitatea care trebuie acceptată este aceea că instrumentele administrative ale politicilor culturale în Europa sunt vechi și depășite. Regândirea lor strategică, ținând cont de realitatea globală, cea care impune flexibilitate, redesenarea eficientă a traiectoriilor de legitimare a calității intelectuale și creative a sistemului cultural și regândirea raportului între susținerea publică și cea privată a artelor este iminentă", scrie Corina Șuteu în Dilema Veche.
Intersecțiile de Miercuri sunt un proiect inițiat și coordonat de scriitoarea Svetlana Cârstean, susținut de BRD – Groupe Société Générale, care se desfășoară în fiecare săptămână la Rezidența BRD Scena9, din strada I. L. Caragiale nr. 32.
Primul sezon a avut loc în perioada aprilie – septembrie 2015, în cadrul proiectului București Capitală Europeană a Culturii 2021. Intersecțiile de miercuri. Sezonul 3 a demarat în noiembrie 2017, iar printre invitați s-au numărat până acum scriitorul Mircea Cărtărescu, artistul Ion Barbu, filosoful Mihai Șora, Edmond Niculușcă - fondatorul A.R.C.E.N., artistul Roman Tolici, antropologul Vintilă Mihăilescu, artistul Ștefan Câlția.