Pe 10 decembrie 2020, BusinessMark are plăcerea să vă invite la prima ediție a evenimentului "Magnetico. How to attract and retain talents improving employer branding and creating meaningful HR practices", ce va avea loc online.
Alături de specialiștii din companii de top vom încerca să găsim un răspuns la întrebări-cheie, precum: Cum atragem talente în compania noastră, astfel încât să se "îndrăgostească" de brandul nostru și să ne ofere loialitate și implicare? Cum creezi, păstrezi și promovezi o imagine autentică, corectă, dar și "atrăgătoare" companiei tale? Cum creezi un mediu prietenos exprimării sincere în cadrul organizației? Cât de importantă este cooperarea și la nivel de management și top management în employer branding? Ce indicatori de performanță aplicăm în evaluarea brandului de angajator? Ce este important pentru angajații noștri? Cunoaștem în mod real ceea ce îi motivează? Cum calibrăm obiectivele companiei, acțiunile de HR și așteptările angajaților? Ce "trăsături de caracter" trebuie să aibă o organizație pentru a inspira și motiva angajații?
De asemenea, în cadrul evenimentului vom lansa, prezenta și analiza rezultatele studiului "Tendințe și Provocări în HR", ce sondează percepțiile directorilor executivi din top managementul companiilor și ale directorilor de HR cu privire la provocările strategice care stau în fața funcției de HR în anul 2020. Chestionarul, la care s-au primit 247 de răspunsuri, a fost aplicat în perioada 6.10.2020 – 13.11.2020. Raportul prezintă analiza cumulativă a rezultatelor ediției 2020, dar și datele comparative ale răspunsurilor directorilor generali și a celor de HR.
Studiul este realizat de Valoria, în colaborare cu BusinessMark și Undelucram.ro.
Alături de noi vor fi, în calitate de speakeri, vor fi:
CHRIS DEAVER, Senior Director of HR VMware, anterior la Apple, The Walt Disney Company și Dell (SUA);
DAIGA ERGLE, Chief People Officer, 4Finance Group; HRM Professor, Riga Business School (Letonia);
ANDRZEJ BORCZYK, HR Director, Board Member, Grupa Żywiec (Polonia);
RICHARD DE GRAAF, Head of Human Resources, ING Bank Romania;
ANDREI CREȚU, Co-fondator, Pluria;
ROXANA CÎLȚEA, South Cluster HRBP, Sanofi Pasteur; Country HR, Sanofi Romania and Moldova;
ROXANA DOBRESCU, EMEA People Director, GLOVO;
MIHAI GĂVAN, HCM Global Sales Director TotalSoft;
SIMONA SCUTARU, Country HR Director, DRiV a Tenneco Division;
ANDREEA MINUȚĂ, Director Corporate, Rețeaua de sănătate Regina Maria;
IRINA TACHE, SAP SuccessFactors Sales Specialist, Romania & Bulgaria;
COSTIN TUDOR, CEO și fondator, Undelucram.ro;
ELENA BADEA, Managing Director, Valoria;
OCTAV STOICA, BI-CPM Developer, Senior Software.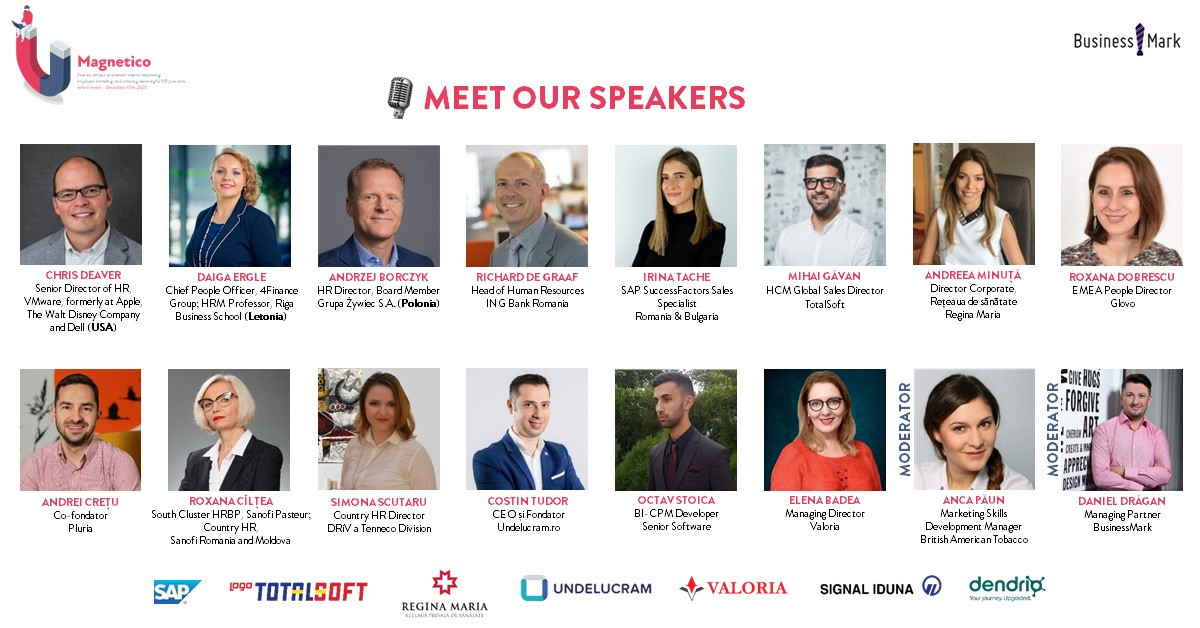 Moderatori:
ANCA PĂUN, Marketing Skills Development Manager, British American Tobacco;
DANIEL DRĂGAN, Managing Partner, BusinessMark.
Conferința vizează: HR Managers & HR Directors, Talent & Acquisition Managers, Employer Branding Managers, Recruitment Managers, HR Business Partners, Hiring Manager, HR & PR Specialists, Internal & External Communication Managers, Consultanți HR, PR & employer branding, Directori generali, Team Leaders.
Participarea la eveniment este gratuită, însă este necesară înscrierea prealabilă.
Mark your B2B opportunity, alături de BusinessMark!
Eveniment organizat de BusinessMark, susținut de: SAP, TotalSoft, Regina Maria, Undelucram.ro, Valoria, Signal Iduna, Pluria și Senior Software
Partener de tehnologie: Dendrio
Radio-ul oficial al evenimentului: Europa FM
Parteneri media: Ziarul Bursa, DeBizz, Transilvania Business, Revista Piața, Portal HR, Energynomics, administratie.ro, Global Manager, Clujul de Buzunar, Financial Market, Finzoom, Jurnalul de Afaceri, IQads, SMARK, Market Watch, Manager Express, Top Business.