Pe 12 mai 2021, de la ora 09:30, BusinessMark are plăcerea să vă invite o nouă ediție a evenimentului "Magnetico. How to attract and retain talents improving employer branding and creating meaningful HR practices", ce va avea loc online.
În cadrul conferinței, care vizează HR Managers & HR Directors, Talent & Acquisition Managers, Employer Branding Managers, Recruitment Managers, HR Business Partners, Hiring Managers, HR & PR Specialists, Internal & External Communication Managers, Consultanți HR, PR & employer branding, Directori generali, Team Leaders, vom încerca să găsim răspunsul la o întrebare cheie: cum transformăm companiile în adevărați "magneți" pentru actualii și potențialii angajați?
Speakeri confirmați la "Magnetico 2021":
NICK HENLEY, International keynote speaker, Author, Talent Development Consultant;
BARBARA ZYCH, CEO, Employer Branding Institute;
GRIGORIADA STROE, Chief HR Officer, Funcom;
ANDREI CREȚU, Co-fondator, Pluria;
ILEANA ALEXANDRU, HR Vice President, Mega Image;
AURELIAN CHITEZ, Sales Director, Romanian Software;
STELIAN BOGZA, Co-founder BenefitOnline.ro;
JUDITH KIS, Director Resurse Umane și Logistică, Groupama Asigurări România;
DELIA ILIASA, Managing Partner, SanoPass;
RALUCA GĂDIUȚĂ, Country HR Leader, HP Inc. Romania.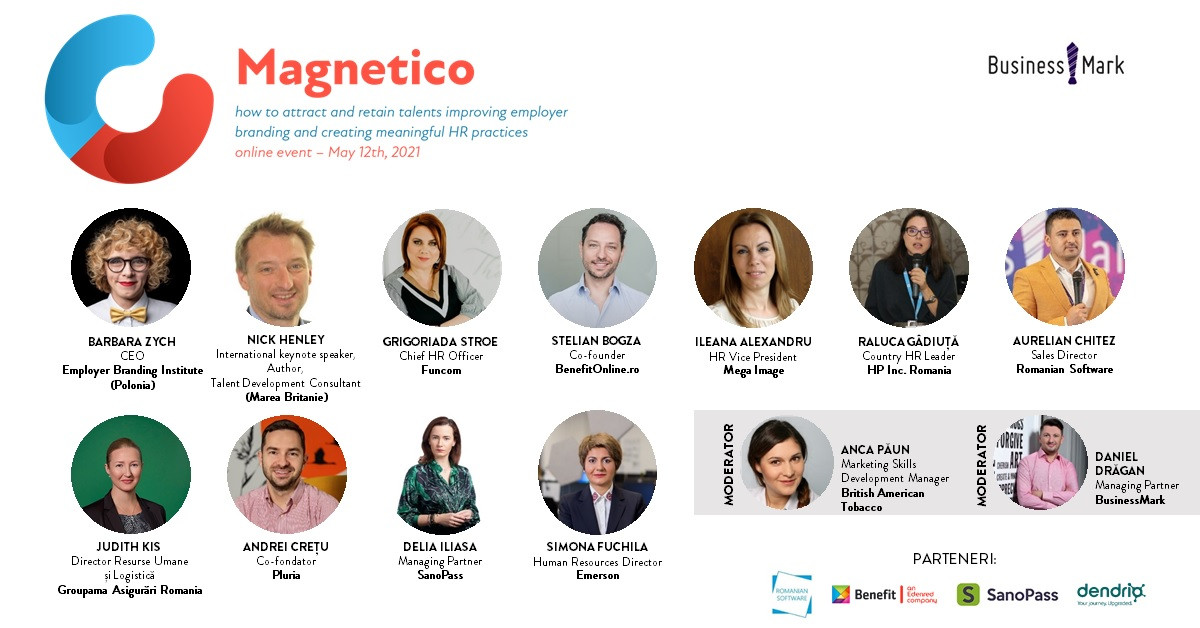 Alte subiecte importante abordate de specialiștii din companii de top ce vor fi alături de noi: Care sunt trăsăturile care aduc magnetism unui brand? Cum creezi un mediu prietenos exprimării sincere în cadrul organizației?  Cum pot specialiștii în HR investi în angajați responsabilizându-i și ajutându-i să descopere în ei înșiși ingredientele pentru performanță? Cum putem împrieteni generațiile și promova toleranța, deschiderea și înțelegerea la nivel organizațional?  Ce face un leader "bun"? Ce factori demotivanți ar trebui evitați? 
Evenimentul va fi moderat de ANCA PĂUN, Marketing Skills Development Manager, British American Tobacco și DANIEL DRĂGAN, Managing Partner, BusinessMark și cuprinde două sesiuni (09:30 – 12:00, 12:30 – 14:30).
Participarea la eveniment este gratuită, însă este necesară înscrierea prealabilă. 
Mark your B2B opportunity, alături de BusinessMark!
Eveniment organizat de BusinessMark, susținut de: Romanian Software, Benefitonline.ro, SanoPass, Pluria.
Partener de tehnologie: Dendrio
Parteneri media: Ziarul Bursa, DeBizz, Transilvania Business, Revista Piața, TheBizz, Clujul de Buzunar, Energynomics.ro, Administrație.ro, Global Manager, Financial Market, FinZoom.ro, Jurnalul de Afaceri, Portal HR, IQads, SMARK, Market Watch, Manager Express, TopBusiness.