TeCOMM - eCommerce Conference&Expo Cluj-Napoca va avea tema principala "Power to the customers", ceea ce inseamna ca succesul magazinelor online sta in mainile consumatorului.
In eCommerce, tendintele actuale subliniaza cat de important este ca fiecare business online sa puna accent pe profilul consumatorului, comportamentul si nevoile acestuia.
In prezent, succesul in online este al business-urilor care reusesc sa readuca si sa fidelizeze clientii pe site-ul lor. Evenimentul va avea loc in 21-22 octombrie si este dedicat proprietarilor de magazine online si furnizorilor din domeniile conexe.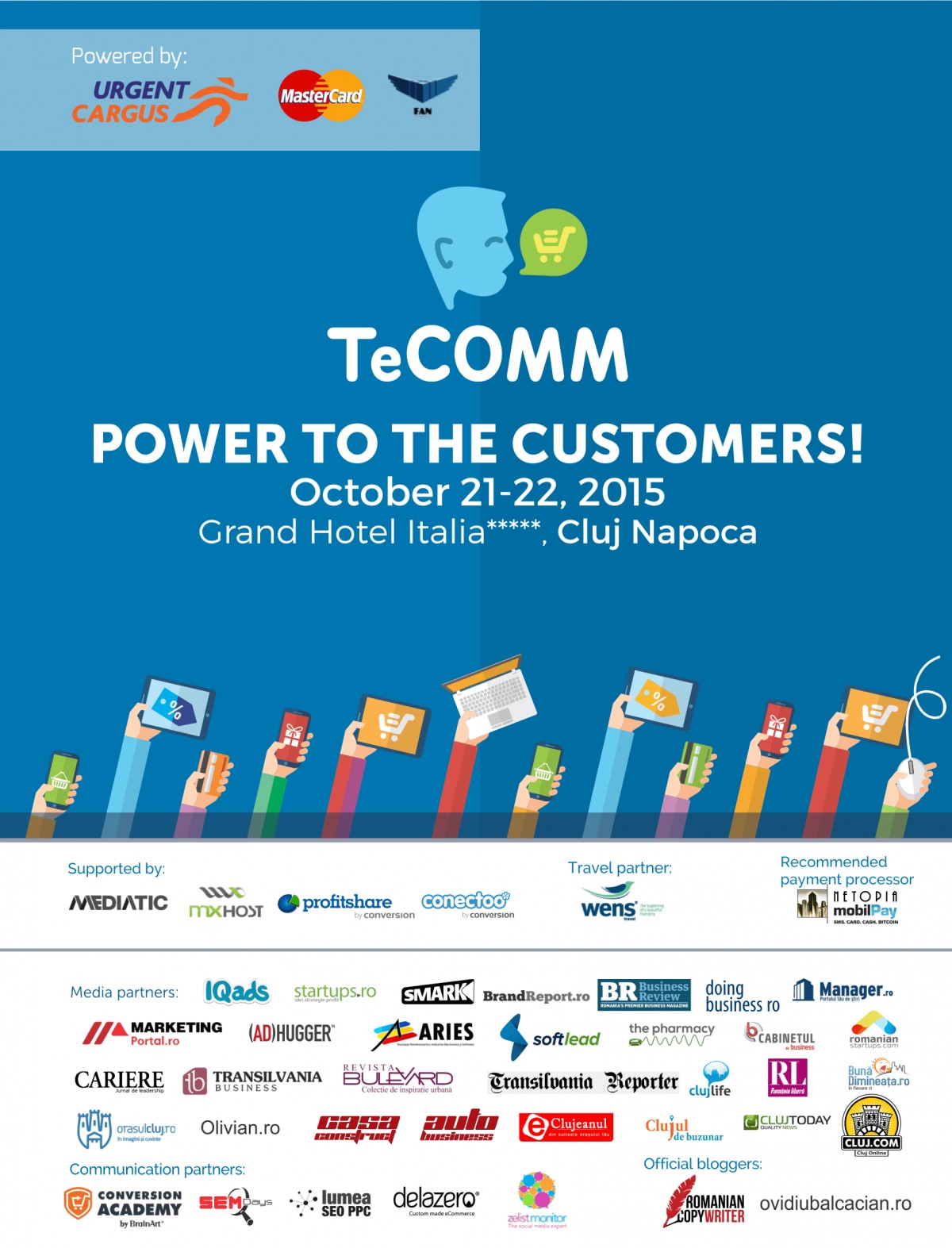 Empowering Customer Using Big-Data – este tema sustinuta in cadrul TeCOMM, eveniment marca Libero Events, de catre Dr Karandeep Singh – Head of Analytics and Insights at Digital Annexe - agentie de marketing digital cu sediul in Londra, specializata in analytics, mobile app development, web development si web design.
Karandeep este profesionistul din UK cu +10 ani experienta in Digital Marketing si doctorat in Statistica, cel care a ajutat la generarea de castiguri de mai multe milioane de euro pentru branduri la nivel mondial, cum ar fi Mercedes-Benz din UK si Telegraph Media Group.
Este specialist in strategii de digital analytics si data driven conversion optimisation (acquisition), cu o vasta experienta in prezentarea de strategii de analiza a datelor digitale in cadrul unor workshopuri, intalniri si summituri la nivel global.
In prezentarea sa din cadrul TeCOMM, Karandeep Singh vine cu noi teorii privind optimizarea conversiilor folosind Google Analytics. Acesta va puncta in cadrul evenimentului subiecte precum:
"Conversia celor care nu convertesc - decat sa se concentreze pe cei 3% care convertesc in prezent, vor afla cum sa ii converteasca pe restul de 97% care nu convertesc. 
Informatii, nu Cifre - analiza informatiilor ascunse din spatele cifrelor (nu cifrele in sine) pot conduce la luarea de decizii realiste.
Optimizarea Inovatoare - pentru a garanta succesul, trebuie sa faca mai mult decat o simpla optimizare", afirma Karandeep Singh.
In cele 2 zile de conferinta peste 40 de speakeri din cele mai mari agentii de eCommerce si magazine online din Europa si Romania, vor prezenta cele mai noi solutii pentru eCommerce.
Alaturi de Karandeep, si-au anuntat prezenta la eveniment si alti specialisti internationali si nationali, dintre care: Kath Pay (UK) - Managing Director Clould.IQ, Chloe Thomas (UK) - Founder eCommerce MasterPlan, Dragos Smeu - Performance Manager Kubis, Mihaela Muresan - Marketing Manager IKEA, Gian Sharp - CEO UrgentCargus, Dan Ostahie - CEO Altex, Claudiu Farcas - Manager ProfitShare, Remus Visan - CEO Paravion.
Cele mai noi informatii despre eCommerce vor fi concentrate in 2 zile pline de panel-uri de discutii, keynote-uri si workshop-uri adresate proprietarilor de magazine online si furnizorilor din domeniu, agentiilor de web development, companiilor de IT si specialistilor de marketing interesati de cresterea vizibilitatii in online rezultate masurabille.
Inscrierile la TeCOMM Cluj-Napoca (Grand Hotel Italia*****), editia a 5-a, se fac pe site unde se va updata constant lista speakerilor si a agendei. Organizatorii au pregatit preturi speciale care ofera participantilor reduceri considerabile din pretul integral al biletelor, in functie de perioada inscrierii.