Grand Cinema & More transmite, pe 23 septembrie, înregistrarea concertului istoric "Havana Moon", poate cel mai important pentru Cuba și pentru industria muzicii Rock'n'Roll.
Pe 23 martie 2016, concertul legendarei trupe rock The Rolling Stones a fost nu doar prima reprezentație a formației britanice în Cuba, dar și primul concert de asemenea anvergură, cu acces gratuit pentru un milion de oameni.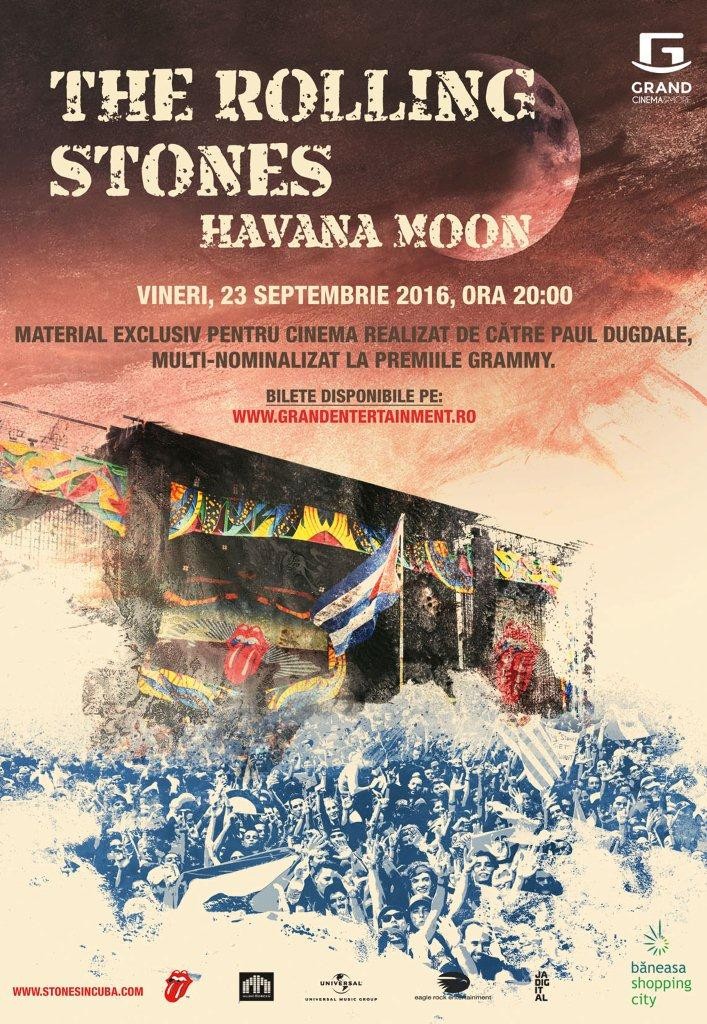 "Să văd Cuba bucurându-se, în sfârșit, de muzica rock a fost un moment special", a rezumat Keith Richards, chitarist și membru fondator al trupei, concertul.
Pentru cei 500,000 de fani adunați atunci în fața arenei Ciudad Deportiva, The Rolling Stones au interpretat toate hiturile care i-au consacrat drept una dintre cele mai mari trupe rock ale tuturor timpurilor. Astfel, fanii prezenți în cinematograf vor avea ocazia să asculte, în format de sunet surround și filmare high definition, "Jumpin' Jack Flash", "It's Only Rock 'n Roll (But I Like It)" și "(I Can't Get No) Satisfaction".
Pentru un spectacol cinematografic cât mai aproape de experiența autentică a unui concert live, "Havana Moon" a fost filmat de multiplul câștigător al premiilor Grammy, regizorul Paul Dugdale.
"Credem că tocmai evenimentele precum acesta maximizează potențialul unui cinematograf, spectacolele la care ne-ar fi aproape imposibil să ajungem, dar care, cu ajutorul tehnologiei, vin acolo unde suntem noi.

Ne bucurăm că prin intermediul înregistrării <<Havana Moon>> reușim să aducem în sălile noastre nu doar muzică, spectacol și producții video impecabile, ci și o fărâmă de istorie", a declarat Atena Simovic, Alternative Content & Events Director în cadrul Băneasa Developments.
Posibilitatea de rezervare a biletelor online, dar și informații suplimentare privind programul cinematografului sunt disponibile pe site.