Încep înscrierile la HR Strategist – evenimentul care plasează viziunea strategică în centrul departamentului de HR;
Conferința se adresează atât directorilor generali, managerilor, consultanților și specialiștilor în resurse umane, cât și antreprenorilor.
BusinessMark anunță organizarea conferinței HR Strategist, ce va avea loc pe 20-21 februarie 2018, la Hotel Radisson Blu, București. Specialiștii români și străini se reunesc pentru a discuta despre importanța implicării departamentului de HR în implementarea unei filosofii strategice și suportul pe care acesta îl oferă tuturor celorlalte divizii ale unei companii.
Ediția din 2018 se desfășoară pe parcursul a două zile și cuprinde, în prima zi, un CEO Roundtable urmat de discuții, analize și dezbateri în cadrul zilei următoare.
Tematica evenimentului include subiecte precum: Rolul resurselor umane la nivel de sustenabilitate, dezvoltare și profitabilitate a business-urilor; cerere vs. ofertă și măsurile strategice ce pot fi luate pentru sustenabilitatea afacerilor; recrutarea tinerilor și gestionarea corectă a așteptărilor acestora, retenție, comp & ben, salarizare, condiții flexibile de muncă; armonizarea ingredientelor: concurență, viteză, schimbare; provocările care apar la nivel de people management; importanța culturii organizaționale pentru echipe și procese eficiente pe termen lung; dezvoltarea culturilor organizaționale pro-diversitate; avantajele strategiilor de tip employer branding: a strategy with benefits; practici de management & leadership; secretele gestionării echipelor multigeneraționale; identificarea talentelor și instruirea viitorilor manageri.
"Fiecare început de an aduce cu sine atât oportunități, cât și provocări la nivelul departamentelor de resurse umane. Suntem nerăbdători să aflăm, de la unii dintre cei mai buni profesioniști din țară și străinătate, care sunt elementele ce definesc strategiile marilor companii în 2018. De aceea, vă invităm să luați parte la evenimentul care ne va arăta care este următorul nivel în HR.", a declarat Andreea Drăgan, Managing Partner, BusinessMark.
Invitații prezenți la CEO Roundtable sunt:
CORNEL CĂRĂMIZARU - Director General, FRIESLANDCAMPINA
MARIAN POPA – Head of Deutsche Bank Global Technology Center Romania, DEUTSCHE BANK
VIRGIL BOTAN – Director General, KERN LIEBERS
CIPRIAN OPREA – Director General, MCA Grup
*MARIUS GRIGORE – Manager General România & Moldova, REDBULL
* Sub rezerva confirmării finale
De asemenea, speakerii din cadrul conferinței sunt:
ALEKSANDRA TRIANTAFYLLIDOU – HRManager, IKEA SEE
CRISTINA ULEȘAN – Chief People Officer, PIZZA HUT, PIZZA HUT DELIVERY, KFC, TACO BELL – part of SPHERA FRANCHISE GROUP
MIHAI CEPOI – HR Solutions Consultant, SAP România
ALEXANDRU ALDOESCU – Head of HR, SAMSUNG
ELENA BADEA – Managing Director, VALORIA
MIHAELA SCURTU – HR Operations Manager, DRAEXLMAIER
OANA CIOBANU - HR & CSR Manager, UP ROMÂNIA
ADRIANA RADU - HR Manager, MCA Grup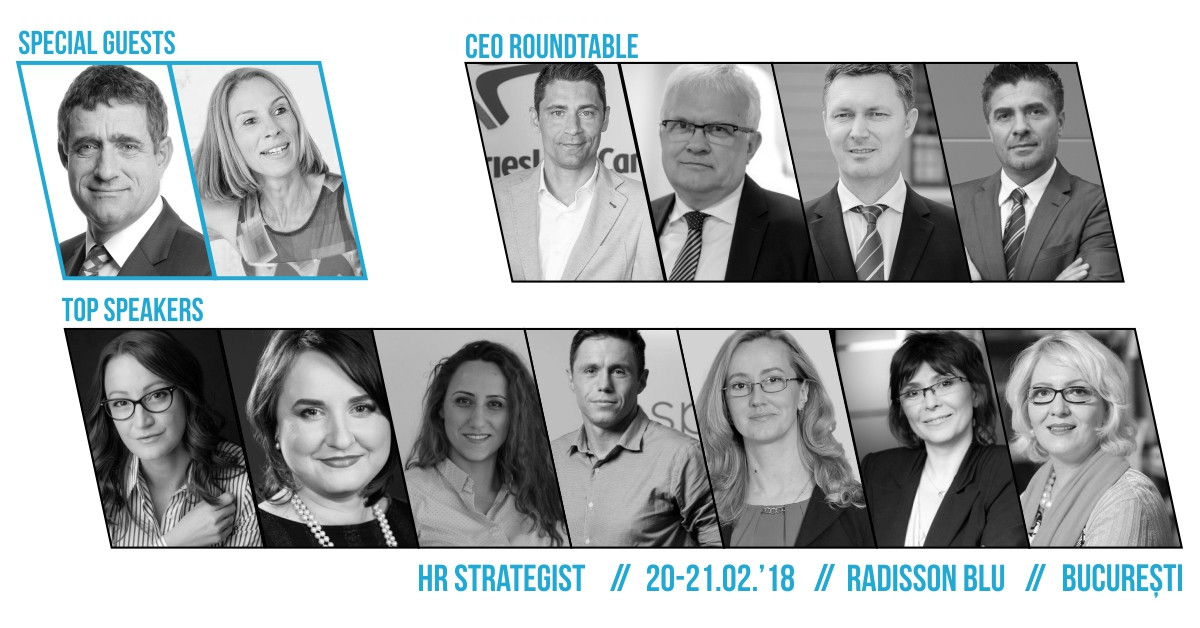 Agenda acestei ediții este completată de doi invitați speciali: ANDRE DE WIT - Dean, LEADERSHIP ACADEMY AMSTERDAM /  Vice President Learning, CARLSBERG GROUP DENMARK și KATHRIN KÖSTER - Professor of Leadership and International Management, HEILBRONN UNIVERSITY; Founder, KÖSTER + PARTNER.
Evenimentul HR Strategist este organizat de BusinessMark alături de: ROMANIAN SOFTWARE, Signal Iduna, UP Romania, Camera Franceză de Comerț și Industrie în România (CCIFER), CIO Council, Plantăm fapte bune în România, Asociația The Social Incubator și Asociația Națională a Recrutorilor. Partenerii media ai conferinței sunt: Europa FM, Signal Connect, AGERPRES, NewMoney, Curierul Național, IQads, SMARK, MoneyBuzz, Portal HR, Jurnalul de Afaceri, Business24, Ziare.com, Financiarul.ro, SpatiulConstruit.ro, Manager Express, AngajatorulMeu.ro, Gazetadeștiri, Financial Market, Debizz, FEMEI ÎN AFACERI, Global Manager, EFdeN, Portal Management, Energynomics.ro, Roportal, Vox Capital, Transilvania Business, Revista Valoarea, Bucuresteni.ro, Administratie.ro, MediaRabbit, PRBox, Rbeconnect, Chalbert, Săptămâna Financiară, Calendar Evenimente.