BusinessMark anunță organizarea conferinței HR Steps Timișoara, ce va avea loc pe 9 martie 2018, la Hotel Timișoara, Timișoara. Specialiștii români și străini își concentrează atenția asupra obiectivelor strategice ale departamentului de HR în dezvoltarea regională, dar și pe atribuțiile interne ale acestuia care ajută la îndeplinirea scopurilor strategice ale companiei.
Principalele subiecte abordate în cadrul evenimentului sunt: Rolul Resurselor Umane la nivel de sustenabilitate, dezvoltare și profitabilitate a business-urilor, rolul strategic al resurselor umane, cerere vs. ofertă la nivel de forță de muncă și măsurile strategice ce pot fi luate pentru sustenabilitatea business-urilor, recrutarea tinerilor și gestionarea corectă a așteptărilor acestora, retenție, comp & ben, salarizare, condiții flexibile de muncă; armonizarea ingredientelor: concurență, viteză, schimbare; importanța culturii organizaționale pentru echipe și procese eficiente pe termen lung; practici de management și leadership adaptate noilor modele de business; avantajele strategiilor de tip employer branding: a strategy with benefits; practici de management & leadership; secretele gestionării echipelor multigeneraționale; identificarea talentelor și instruirea viitorilor manageri.
Participanții au ocazia să interacționeze cu următorii invitați:
CRISTINA ULEȘAN – Chief People Officer, PIZZA HUT, PIZZA HUT DELIVERY, KFC, TACO BELL – part of SPHERA FRANCHISE GROUP
DIANA NĂSTASE - HR Manager, PLEXUS
VALENTINA MORODAN – HR MANAGER, ZF TRW
RISTENA VEGHEȘ - HR Manager, LITENS AUTOMOTIVE EASTERN EUROPE
STELIAN BOGZA – Co-Founder, BENEFITONLINE
MONICA VÂRTIC - HR Director, AGROCONCEPT
AURELIAN CHITEZ - Sales Manager, ROMANIAN SOFTWARE
Invitatul special al evenimentului este ROBERT MOSLEY - Global Remuneration Expert și HR Consultant, Certificat ca CIPD Trainer și FCIPD, CEO al Lemon Pip Consulting Limited (UK, Middle East and Asia). Este cunoscut la nivel global ca fiind, probabil, cel mai bun expert de talie mondială atât în ceea ce privește <Compensația>, cât și <Performanța>.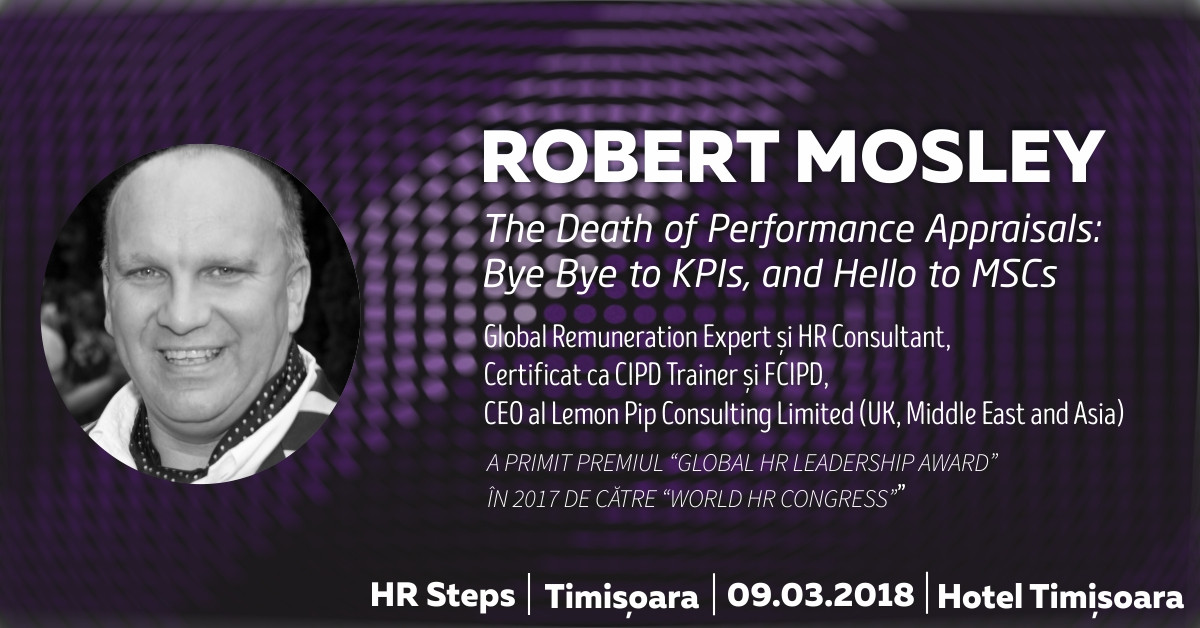 Evenimentul se adresează următorului public țintă: Directori Generali, manageri de HR, HR Business Partners, specialiști și consultanți de HR, antreprenori.
Înscrierea la eveniment se va face prin completarea formularului de înregistrare, disponibil pe site-ul BusinessMark și trimiterea acestuia la office@business-mark.ro.
Evenimentul HR Steps Timișoara este organizat de BusinessMark alături de: ROMANIAN SOFTWARE, Signal Iduna, Rent For Comfort, Camera de Comerț, Industrie și Agricultură a Județului Arad, Camera de Comerț, Industrie și Agricultură Timiș, AVIS, Asociația Națională a Recrutorilor, Plantăm fapte bune în România, Asociația The Social Incubator.
Partenerii media ai conferinței sunt: Signal Connect, AGERPRES, NewMoney, Curierul Național, IQads, SMARK, MoneyBuzz, Timișoara Express, Ziua de Vest, Caransebes.ro, Resita.ro, Lugoj Info, Resitaonline.ro, Inoras.ro, Portal HR, We Are HR, Jurnalul de Afaceri, Centruldepresa.ro, Marketing Focus, Business24, Ziare.com, Financiarul.ro, SpatiulConstruit.ro, Manager Express, AngajatorulMeu.ro, Gazetadeștiri, Debizz, FEMEI ÎN AFACERI, Global Manager, Portal Management, Energynomics.ro, Roportal, Vox Capital, Transilvania Business, Revista Valoarea, Bucuresteni.ro, Administratie.ro, MediaRabbit, PRBox, Rbeconnect, Chalbert, Săptămâna Financiară, Calendar Evenimente.