Pe 26 noiembrie 2020, BusinessMark are plăcerea să vă invite la evenimentul "POSITIVE BUSINESS. A talk about sustainability and positive impact in business", ce va avea loc online.
Business pozitiv, impact și responsabilitate, sustenabilitate și implicare – sunt doar câteva dintre conceptele cheie ale conferinței care vizează: Directori Generali & Executivi, CSR Managers, Sustainability Managers, Marketing Managers, PR Managers, Corporate Affairs Managers, HR Managers, Supply Chain Managers, Business Development Managers, antreprenori.
Alături de speakerii invitați, vom răspunde unor întrebări precum: Cum poți crea o "amprentă" pozitivă, păstrând obiectivele de business, dar creând o strategie de sustenabilitate pe termen lung? Cum pot companiile contribui semnificativ în crisis management? Cum alegem cauzele și acțiunile în care să ne implicăm astfel încât acestea să se alinieze obiectivelor de business, principiilor și valorilor companiei? Cum conectăm principiile de branding pe care dorim să le transmitem consumatorilor cu acțiunile de responsabilitate socială și abordarea sustenabilă? Cum arată viitorul pentru brandurile ce nu reușesc să se alinieze noilor cerințe? Cum putem spune că s-au schimbat strategiile clasice de marketing, branding și vânzări? Cum reușim să implementăm practici responsabile în companiile de dimensiuni mici și mijlocii, pentru a construi branduri puternice?
Speakerii confirmați la "POSITIVE BUSINESS. A talk about sustainability and positive impact in business" sunt:
DANA DOBRESCU, Corporate & Government Affairs Manager, MONDELEZ ROMÂNIA;
CRISTINA HANGANU, Director de comunicare & CSR, Lidl Romania, Vicepreședinte Global Women in PR Romania;
MIHAELA POPOVICI, Manager PR, Comunicare Internă & CSR, CEZ România;
GAVIN BONNER, Vicepreședinte, Genesis Property;
ANDREI DINESCU, Commercial Manager, GreenPoint Management;
LUIZA DOMNIȘORU, Director, Departamentul de Comunicare și CSR, GRUPUL DIGI;
CRISTIANA MATEOIU, Director Executiv, Fundația Inovații Sociale Regina Maria;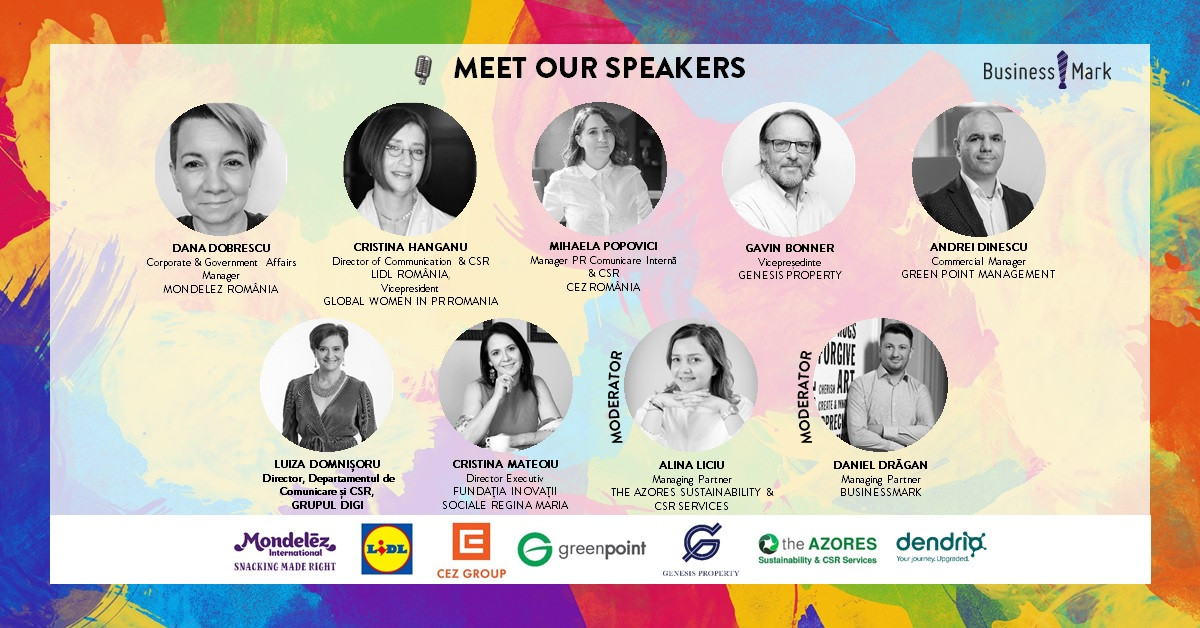 Evenimentul va fi moderat de ALINA LICIU, Managing Partner, The Azores Sustainability & CSR Services și DANIEL DRĂGAN, Managing Partner, BusinessMark.
Participarea la eveniment este gratuită, însă este necesară înscrierea prealabilă AICI. Pentru informații suplimentare, vă rugăm să ne contactați la office@business-mark.ro.
Mark your B2B opportunity, alături de BusinessMark!
Eveniment organizat de BusinessMark, susținut de: Mondelez Internațional, LIDL Romania, CEZ Romania, GreenPoint Mangement, Genesis Property, The Azores Sustainability & CSR Services
Partener de tehnologie: Dendrio
Radio-ul oficial al evenimentului: Europa FM
Parteneri media: Ziarul Bursa, DeBizz, Transilvania Business, Revista Piața, IQads, SMARK, Clujul de Buzunar, Energynomics.ro, Administrație.ro, Global Manager, Financial Market, Finzoom, Jurnalul de Afaceri, TopBusiness.