Monica Jitariuc (Managing Partner MSLGROUP The Practice) este speakerul evenimentului Meet the WOMAN!, organizat de Femei in Afaceri in Bucuresti, marti, 21 aprilie 2015, ora 19:00, la Capital Plaza Hotel. Tema evenimentului va fi "3, 2, 1, START la PR! Comunicare pentru startup-uri".
Meet the WOMAN! este un eveniment de business networking ce are loc lunar si se adreseaza atat antreprenoarelor, cat si femeilor care lucreaza in companii si sunt specialiste intr-un domeniu de activitate.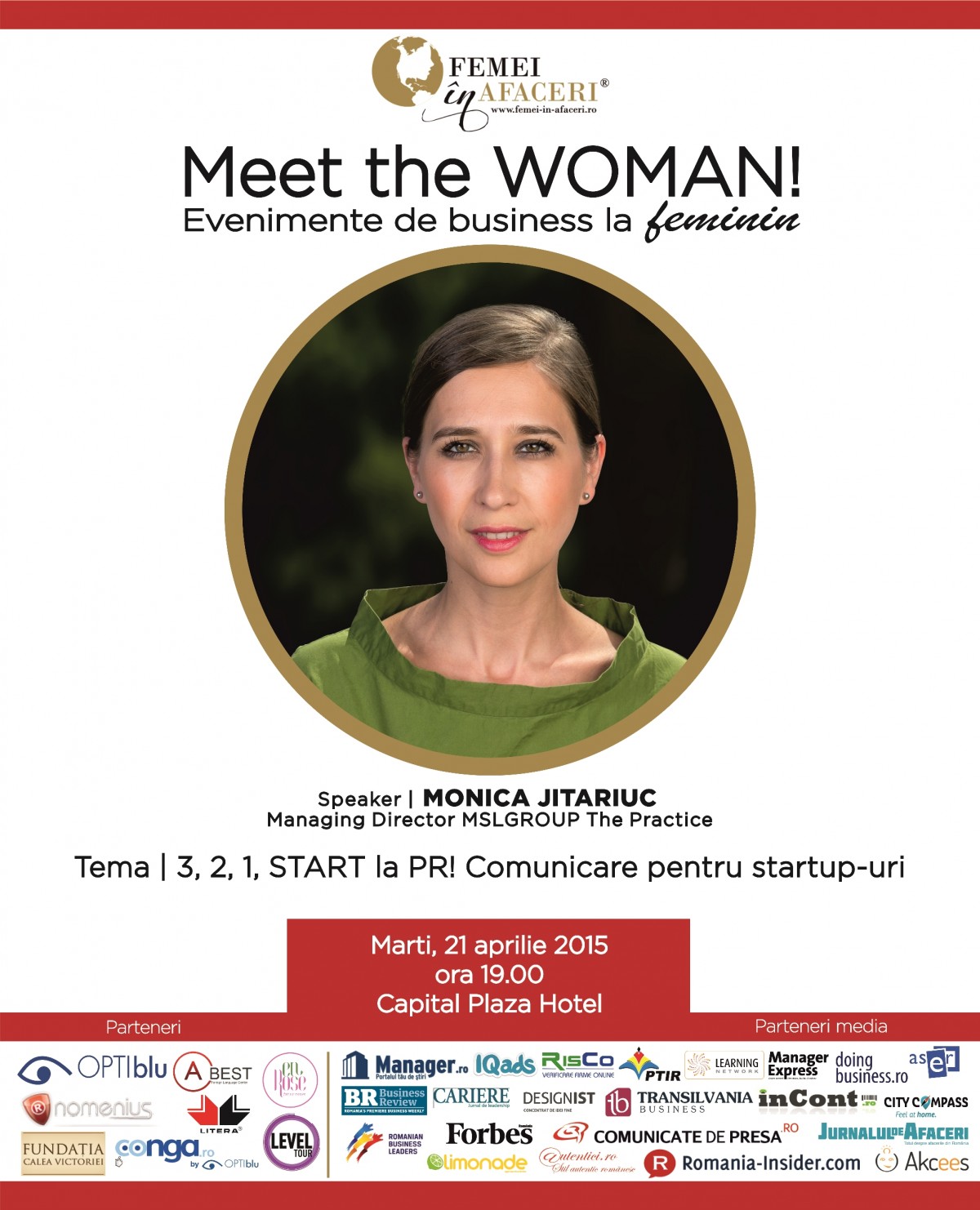 "Fie ca suntem la inceput de drum sau avem experienta antreprenoriala, modul in care alegem sa ne promovam poate reprezenta o provocare. Impreuna cu Monica Jitariuc, vom incerca sa gasim cele mai bune modalitati prin care PR-ul ne poate ajuta sa ne facem cunoscuti, prin solutii inovatoare si fara sa fim nevoiti sa investim un buget impresionant", a declarat Alice Botnarenco (fondatoare si presedinte Femei in Afaceri).
Monica Jitariuc
Monica Jitariuc este un profesionist cu experienta variata in comunicare, lucrand de-a lungul carierei ei de 15 ani atat de partea clientului, cat si de cea a agentiei. A inceput facand PR institutional in cadrul Ministerului Apararii Nationale. Apoi, a lucrat in advertising, marketing si PR. A infiintat in 2010 departamentul de social media al agentiei MSLGROUP The Practice pe care l-a condus ca Head of Social Media. Din 2013 este Managing Director al agentiei alaturi de Oana Bulexa.
In echipa agentiei Monica a contribuit la campanii de social media de succes in industrii diverse. Unele dintre acestea au fost premiate la competitiile locale si internationale. De altfel, MSLGROUP The Practice este recunoscuta ca fiind cea mai premiata agentie romaneasca de PR.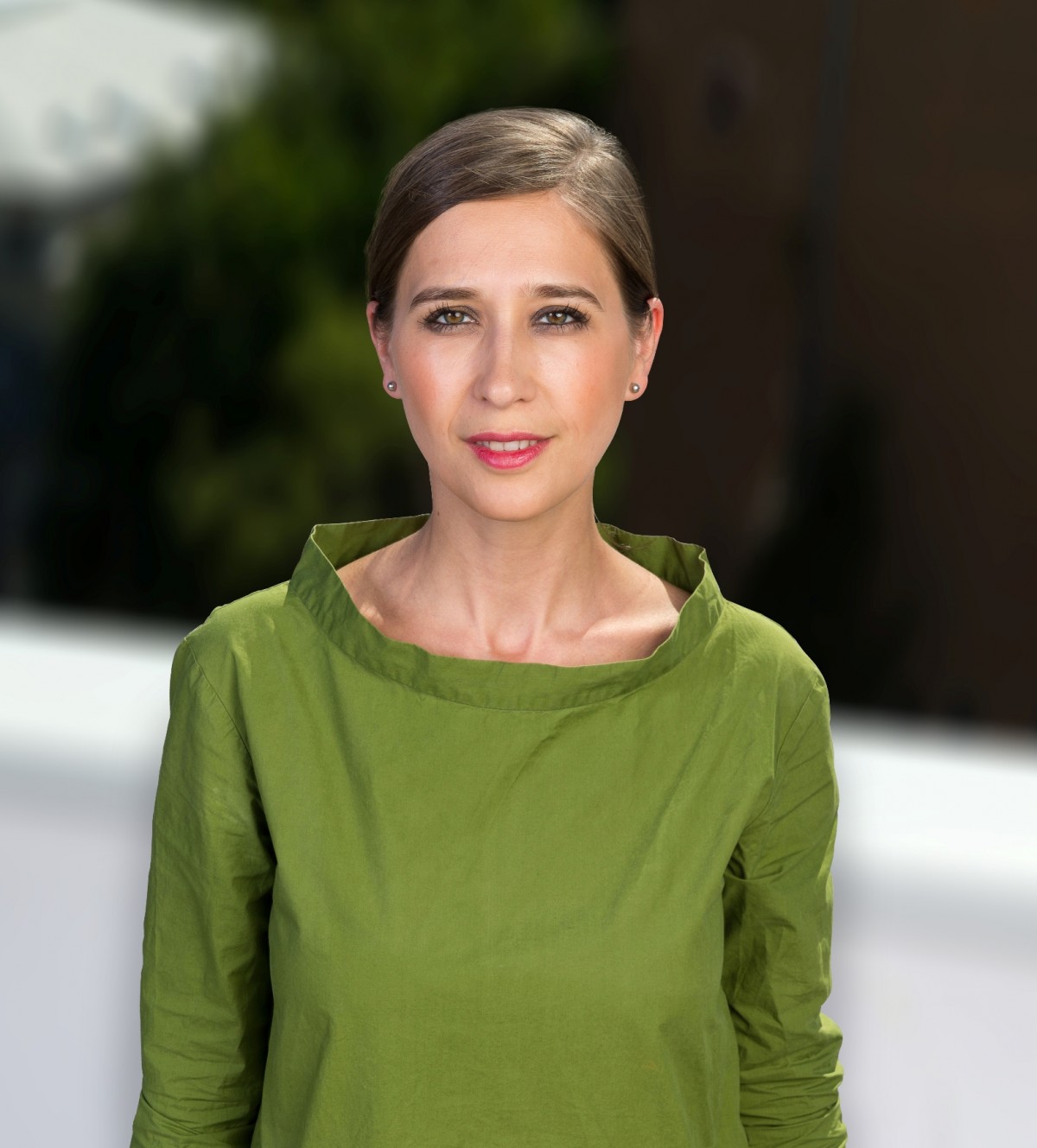 ACCESUL LA EVENIMENT
Taxa de participare este de 90 de lei (nu se percepe TVA / coffee break inclus).
Accesul la eveniment se face doar cu rezervare si confirmarea inscrierii. Membrele Femei in Afaceri au prioritate si beneficiaza de 25% discount din costul taxei de participare.
Taxa de participare pentru membre este de 67,5 de lei (nu se percepe TVA / coffee break inclus).
Puteti afla ce beneficii are o membra Femei in Afaceri si sa ascultati testimonialele celorlalte membre!
Inscrierile se fac la: alina.popa@femei-in-afaceri.ro, iar detalii suplimentare se obtin la: 0762 677 111.
DESFASURATORUL EVENIMENTULUI
18:30 – Inregistrarea participantelor & coffee
19:00 – Inceputul evenimentului
19:15 – Prezentarea fiecarei participante si a businessului/jobului pe care il are
20:00 – Prezentarea unei afaceri
20:10 – Sustinerea temei de catre speakerul evenimentului
20:20 – Q&A
20:40 – Tombola cu premii oferite de parteneri
20:45 – Business Networking
PARTENERI
Capital Plaza Hotel • OPTIblu • Nomenius • Level Tour • A_BEST • EnRose • Fundatia Calea Victoriei • Editura Litera • Conga by OPTIblu
PARTENERI MEDIA
manager.ro • incont.ro • Forbes • CARIERE • comunicatedepresa.ro • romania-insider.com • City Compass • business-review.eu • Transilvania Business • Manager Express • IQads • RisCo • ptir.ro • doingbusiness.ro • Jurnalul de Afaceri • Learning Network • Autentici.ro • Limonade • Intelligent Life • Designist.ro • Akcees • ASER • Romanian Business Leaders