A treia editie a evenimentului Forbes Heroes va avea loc la ArCub, sambata, 11 iunie 2016.
Intr-un moment in care societatea romaneasca resimte o nevoie de modele de success, de oameni de "urmat", Forbes Romania aduce pentru a treia oara in fata publicului, adevaratii eroi si promoveaza modele veritabile, pe cei care contribuie la progresul societatii, la instituirea si consolidarea valorilor in sistemele existente.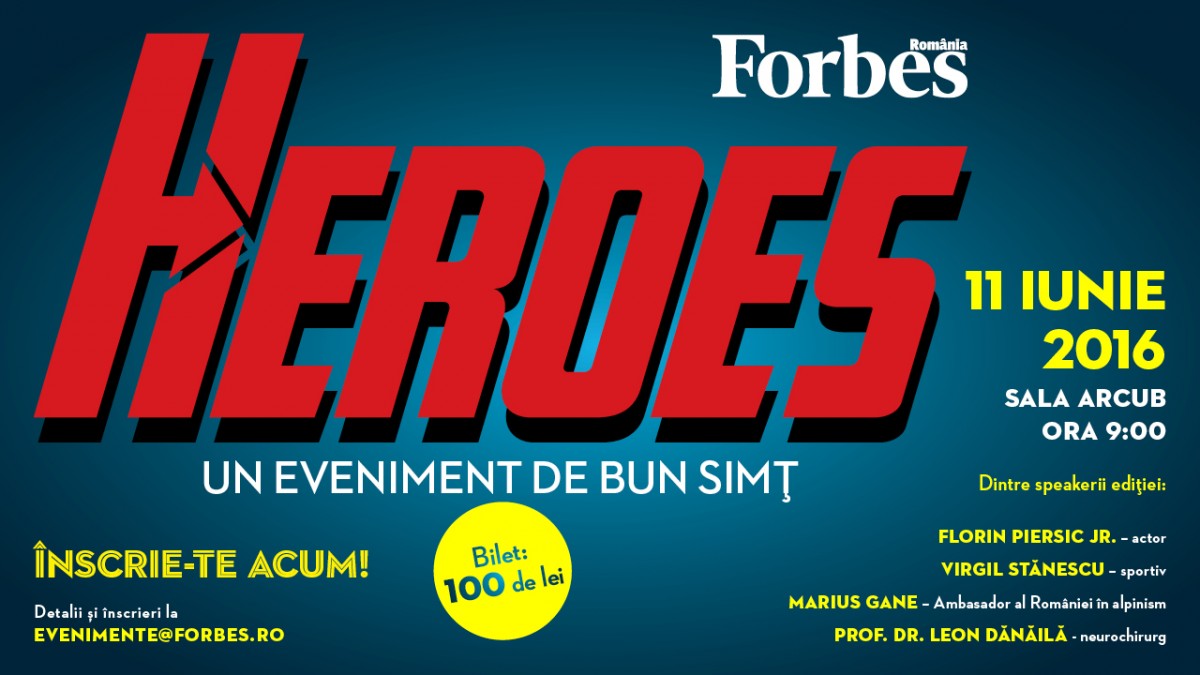 Speakerii editiei 2016 ai Forbes Heroes sunt:
Florin Piersic Jr., Actor
Dr. Leon Danaila, Neurochirurg
Andreea Raducan, Campioana olimpica la gimnastica
Marius Gane, Ambasador al Romaniei in alpinism si vicepresedinte al Federatiei Romane de Alpinism si Escalada
Virgil Stanescu, Sportiv
Cristi Puiu, Regizor
Adrian Buga, Managing Partner, Argo Art, consilier al Casei Regale a Romaniei
Lector Dr. Arh. Vlad Eftenie, Profesor, Universitatea de Arhitectura si Urbanism Ion Mincu si castigator al sectiunii Open Low Light din cadrul Sony World Photograpy Awards 2014
Mugur Pop, Membru fondator al asociatiei Terra Dacica Aeterna
Camil Moldoveanu, Managing Partner, Connsys Solutions si Campion Mondial la Jiu-Jitsu Brazilian
Irina Alexandru, Cofounder & Program Director, Vector Watch
Catalin Dobre, Creative Director, McCann-Erickson
De-a lungul ultimelor 2 editii Forbes Heroes, Forbes Romania a identificat etapele principale ale "devenirii unui erou", speakerii fundamentand povestile lor de success pe cele cinci concepte ce marcheaza traseul reusitei pentru fiecare dintre ei: Challenge yourself, Practice and get better, Be creative and innovate, Step up and take the lead si Pay it forward.
Partenerii Forbes Heroes, editia 2016 sunt BMW, BCR, ApaNova si McDonald's.
Evenimentul este organizat cu sustinerea ArCub, Privileg Catering, Aqua Carpatica si Beckers Bester.
Parteneri media: Manager, Progresiv, HRB, Train Your Brain, Cariere, FNTM, Femei in Afaceri, IQads, comunicatedepresa, Marketing Romania, Cocor, BlitzTv, Promenada Mall, Sun Plaza.