ParkLake Shopping Center găzduiește a doua ediție Street Food in the Park dedicată iubitorilor de gastronomie, între 13 și 15 octombrie, ieșirea spre parcul Titan. Festivalul va oferi vizitatorilor o varietate de produse culinare, concerte cu muzică live și multe suprize, toate pregătite special pentru a celebra o adevărată sărbătoare a street food-ului.
Organizat de ParkLake Shopping Center, în colaborare cu Gourmet Entertainment, festivalul va reuni cei mai recunoscuți vendori, care vor întâmpina gurmanzii cu o varietate de preparate culinare, de la burgeri delicioși și plăcinte, până la clătite și alte delicatese. Responsabili cu deliciile culinare vor fi: BeanZ Café, Betty Ice, Big John Foodtruck, Burger Peter, Crepes Charmees, Delicii pe Roți, La Finca Alioli, Meat Busters, Plăcinte Boierești, Say Cheese Food Truck, Steakaway, Switchmorn, Za German - WurstWagen.
Gurmanzii prezenți la Street Food in the Park – ediția de toamnă, se vor bucura de un mix de experiență culinară și distracție în mijlocul naturii.
Evenimentul va fi completat și de concerte live susținute de The Motans (vineri, 13 octombrie), Golan (sâmbătă, 14 octombrie) și Culese din Cartier Showcase (duminică, 15 octombrie), începând cu ora 19:00.
Pe lângă varietatea de preparate, muzica bună și atmosfera de sărbătoare, Street Food in the Park își întâmpină vizitatorii cu zone de relaxare amenajate atât pentru cei mici, cât și pentru cei mari.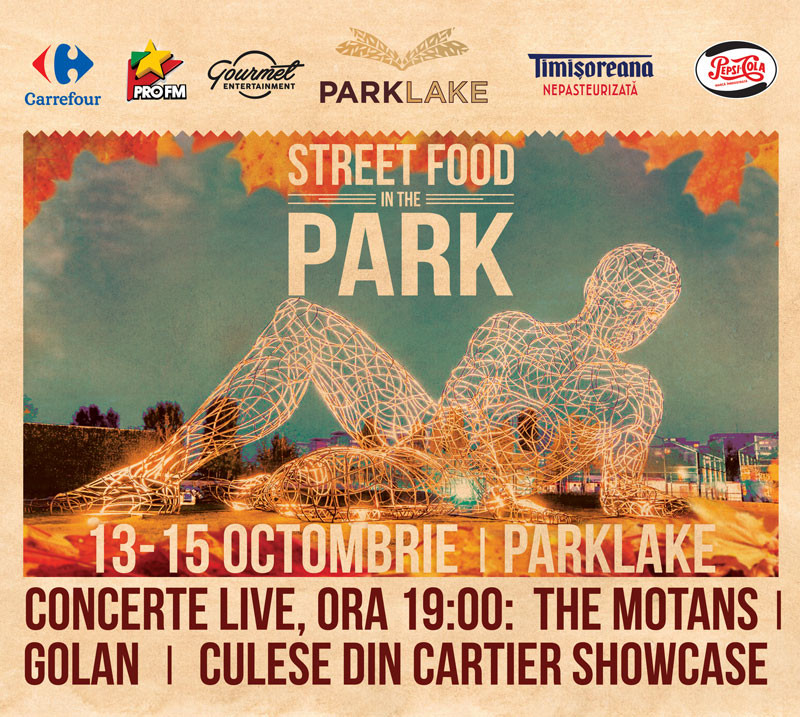 Street Food in the Park – ediția de toamnă, se va desfășura în weekend-ul 13-15 octombrie, în intervalul orar 12:00 – 23:00, organizat cu sprijinul partenerilor Carrefour, ProFM, Pepsi Cola și Timișoreana, iar accesul este gratuit.