Știi maratonul de filme pe care îți promiți mereu că îl vei face? Sau filmul pe care l-ai putea revedea cu fiecare dintre prietenii cărora l-ai recomandat? Grand Cinema & More lansează un abonament anual care susține pasiunea tuturor iubitorilor de film – Grand Unlimited, singurul abonament care oferă acces nelimitat la filme timp de un an, pentru doar 49 de lei pe lună. 
Cu un Grand Unlimited, toți suntem datori. Nouă înșine, din fascinație pentru lumea filmului, sau celor dragi, care ne dau cele mai bune recomandări de film. În baza acestui abonament, în fiecare zi, oricine poate beneficia de acces la toate filmele din programul cinematografului, indiferent de formatul în care rulează – 2D, 3D sau în format de sunet Dolby Atmos, dublat sau subtitrat – chiar și la premiere.
Posesorii unui abonament Grand Unlimited pot vedea până la cinci filme pe zi, în fiecare zi. Adică peste 10 ore de maraton de film, în săli confortabile și performante, sau chiar pe cel mai mare ecran de cinema din țară, în sala Grand Ultra. Iar cum în fiecare săptămână sunt lansate cel puțin două noi filme în cinema, un abonament achiziționat la începutul anului 2018 oferă acces la peste 100 de noi filme și șansa de a le revedea pe fiecare dintre ele.
"Grand Unlimited este un produs adresat tuturor iubitorilor de film care doresc să aibă acces nelimitat la experiențe cinematografice. Ne bucurăm să fim singurul cinematograf din România care lansează un abonament nelimitat de film, aducând, astfel, pe piață o inovație menită să susțină dorințele și așteptările pasionaților de film", a declarat Simona Manea, Entertainment Business Unit Marketing Director.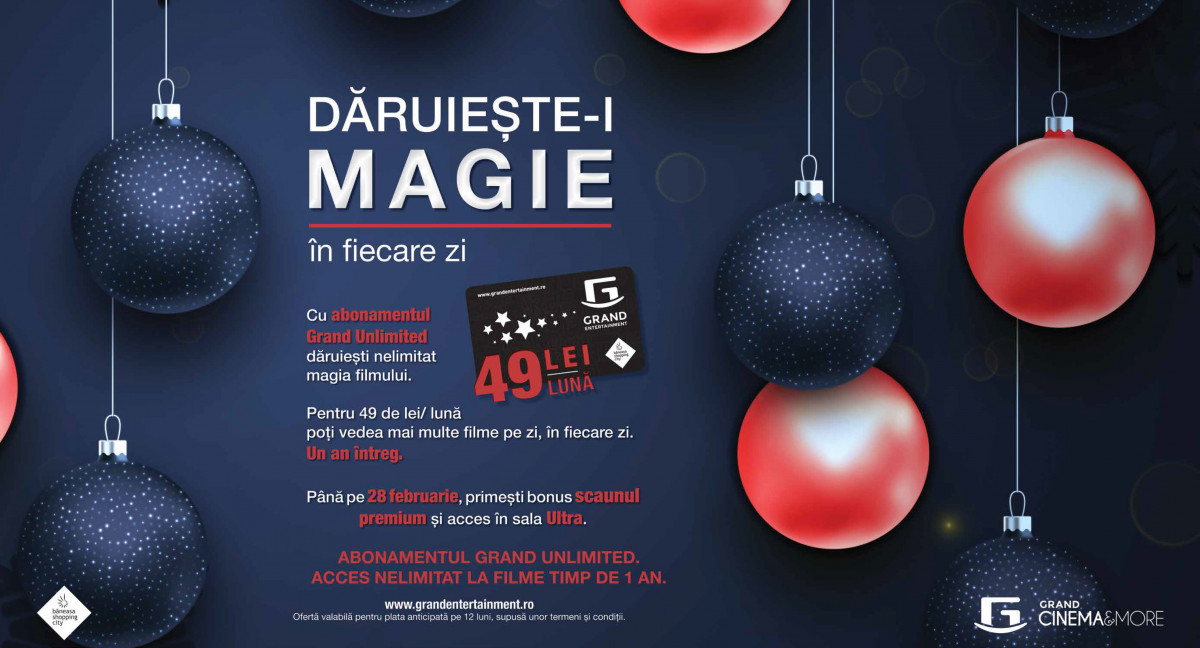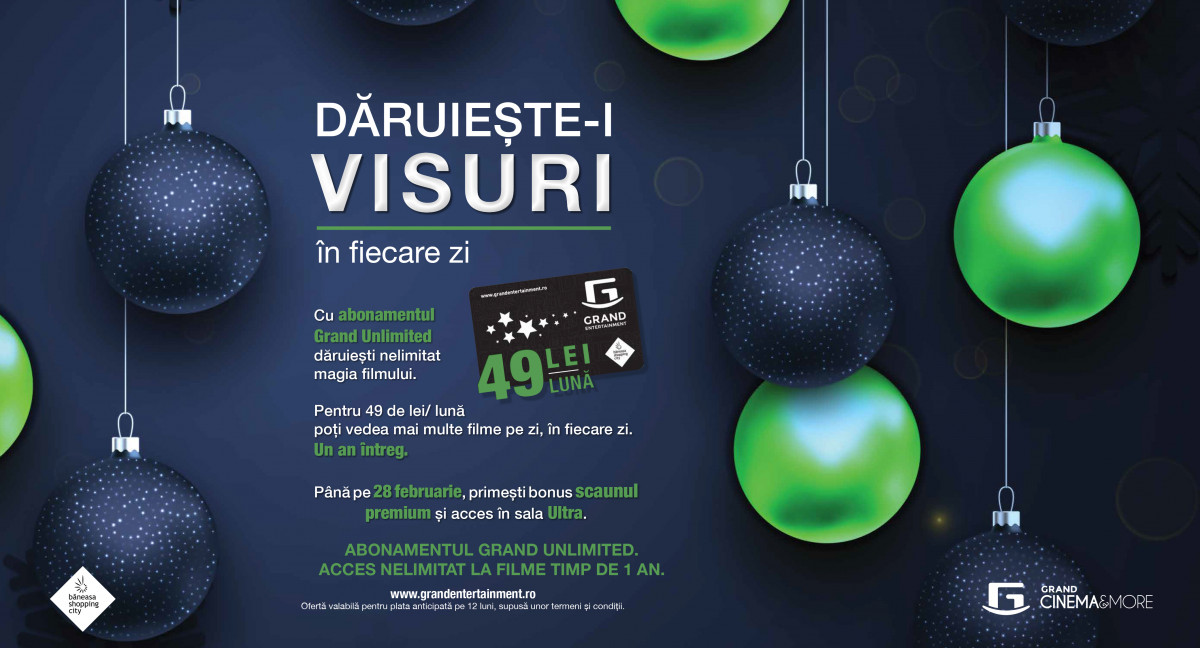 Printre cele mai așteptate blockbustere ale anului viitor la care posesorii Grand Unlimited pot avea acces sunt The Maze Runner: The Death Cure, Fifty Shades Freed, Avangers: Infinity War – Part, Deadpool 2, Scarface, Mary Queen of Scots. Fiecare abonament este personalizat cu numele și fotografia posesorului și momentan, poate fi achiziționat de la biroul Concerge din cinematograf, prin achitarea integrală a sumei de 588 de lei. În curând, se va putea cumpăra și online, prin plată recurentă lunară pentru doar 49 de lei/lună.