Cinema City ți-a pregătit o călătorie plină de aventură, într-o galaxie foarte, foarte îndepărtată. Dacă ești un Jedi adevărat, înscrie-te în concurs până pe 5 decembrie 2019 și poți câștiga o excursie pentru două persoane la Londra, la premiera europeană a filmului "Star Wars: The Rise of Skywalker".
Dacă te simți un Jedi norocos, tot ce trebuie să faci este să cumperi un bilet la orice spectacol "Star Wars: Skywalker – Ascensiunea" la Cinema City, oricând în perioada de pre-sales (22 octombrie - 5 decembrie), și să te înscrii în concurs până pe 5 decembrie pe starwarslondra.cinemacity.ro.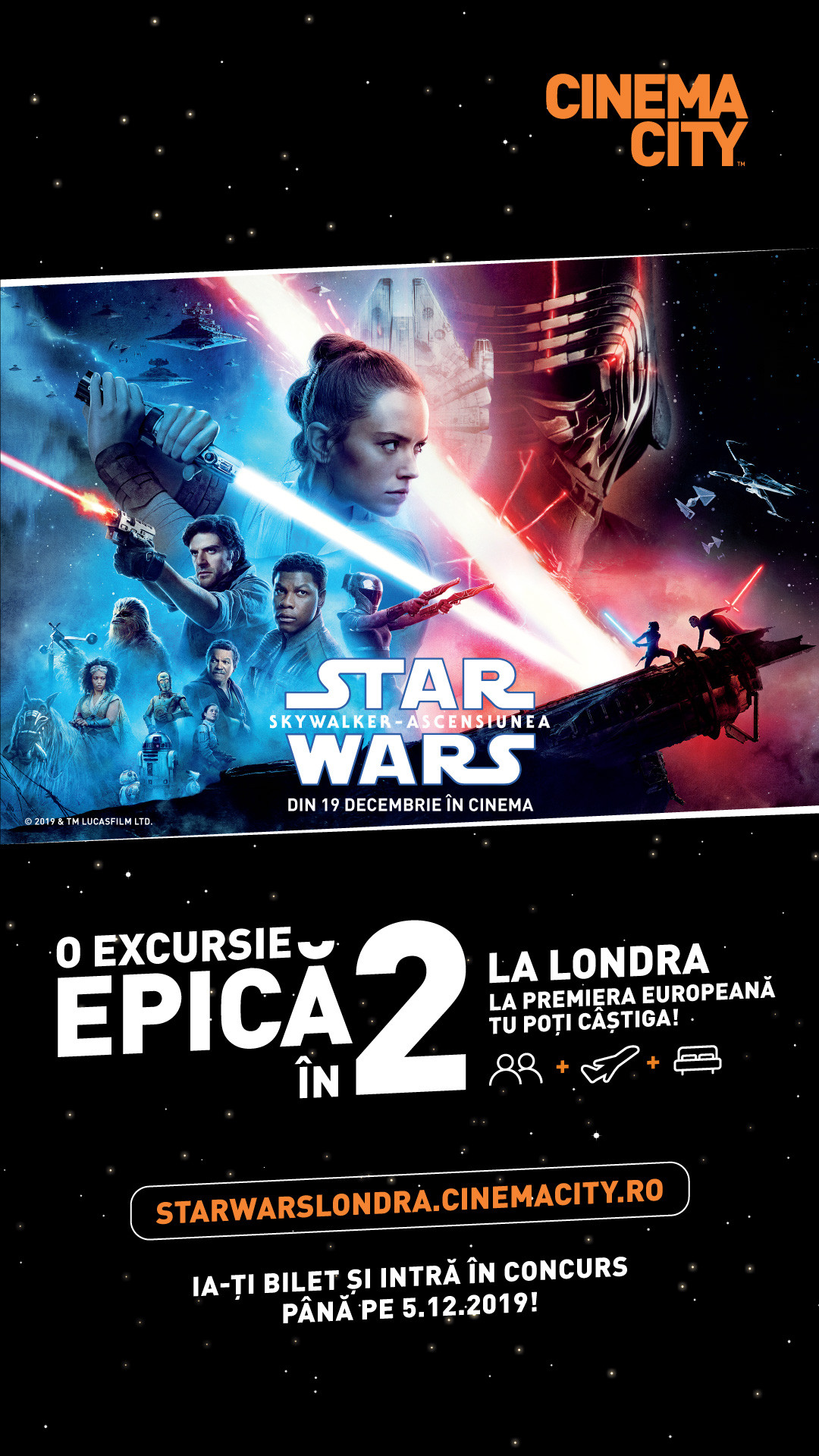 Ai șansa să trăiești o experiență unică și cu adevărat memorabilă – vei ajunge la premiera din Londra a filmului, vei păși pe covorul roșu alături de actorii care interpretează legendarele personaje ale seriei Star Wars și, desigur, vei fi primul care vede mult-așteptatul final al trilogiei, alături de cineva drag. Premiul include biletele de avion, cazare și invitații la avanpremieră, pentru 2 persoane.
În acest ultim capitol al trilogiei lui Skywalker, care încheie saga originală începută în 1977, supraviețuitorii Rezistenței înfruntă încă o dată forța militară a Primului Ordin. Bătălia finală pentru eliberare se poate vedea la cinema din 19 decembrie, în format 3D și IMAX 3D, 4DX 3D sau VIP 3D, în varianta subtitrată, dar și dublată pentru a te bucura de film împreună cu toată familia.